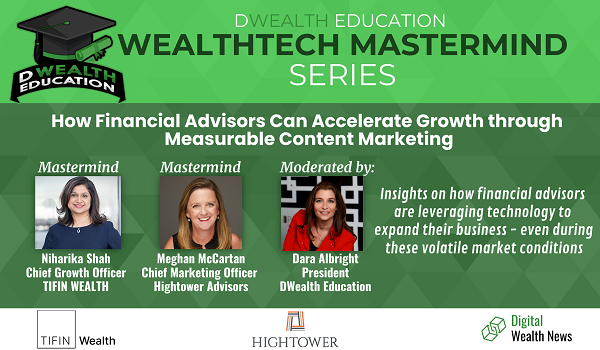 ---
HOSTED by:

Intelligence For Growth Fireside Chat Series: Featuring Niharika Shah & Meghan McCartan
In a video from Digital Wealth News' Fintech Mastermind Series, watch as Niharika Shah of TIFIN Wealth and Meghan McCartan, Chief Marketing Officer of Hightower Advisors discuss how financial advisors can accelerate growth through measurable content marketing. 
Watch to learn how advisors can leverage technology to: 
Strategically expand their businesses through personalized communication 
Share genuine messages that help build trust and keep your value top-of-mind 
Deepen relationships by recognizing the changing role of an advisor in helping clients and their families achieve financial wellness 
Determine what topics resonate with clients and prospects through AI-powered analytics
Create more content that reflects people's needs and wants through marketing automation
Save time while achieving growth at scale
And much more! 
---
PRESENTED BY:

---
The TIFIN Group LLC (together with its subsidiaries and affiliates, "TIFIN"), and its affiliates, are not a client of Hightower Advisors. Hightower Advisors provides cash compensation to TIFIN to be a sponsored fund, which provides greater visibility to Hightower Advisors fund(s). Hightower Advisors pays TIFIN a monthly fee for the sponsorship of their fund(s) on TIFIN's platforms and other promotional activities. TIFIN has a financial interest to promote and market investment solutions from Hightower Advisors that can conflict with the interests of its clients. This material is provided for informational purposes only and should not be construed as individualized investment advice or an offer or solicitation to buy or sell securities tailored to your needs.