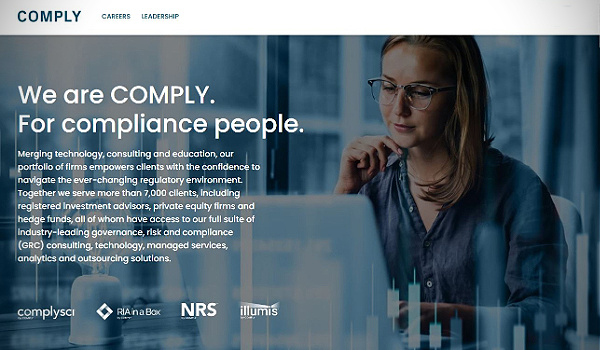 ---
COMPLY, a New York-based provider of compliance software, consulting and education resources for the financial services sector comprised of ComplySci, RIA in a Box, National Regulatory Services (NRS) and illumis, recently named Eric White as president, Nathan Remmes as chief growth officer and Daniel Sanders as chief financial officer. The Company also released its Annual Compliance Review guide, designed to help RIAs navigate the complex annual compliance review filings with the Securities and Exchange Commission (SEC).
The COMPLY parent brand, which was launched in November 2022, unifies its business units under one corporate umbrella. These appointments support a further integrated senior leadership team focused on accelerating growth and better serving the industry with a comprehensive suite of compliance solutions and resources.
"Eric has a well-established track record of successfully leading combined technology organizations with diverse offerings and his expertise will be critical as we explore additional growth and merger and acquisition (M&A) opportunities," said COMPLY's Chief Executive Officer Amy Kadomatsu in a statement.
Prior to joining COMPLY, White served as the chief operating officer at Emburse, an AP automation solutions firm with combined offerings from Abacus, Captio, Certify, Chrome River, Nexonia and Tallie. During the last 20 years, White led and supported more than 25 mergers and acquisitions and helped organizations increase value, realize growth potential and expand their customer base, according to COMPLY.
"In addition, the skills Nathan and Daniel bring to our already outstanding leadership team will strengthen our position as we accelerate our integration and development efforts and unlock the company's full, combined potential as the premier provider of regulatory and compliance software, consulting and education solutions," Kadomatsu continued.
Remmes joins COMPLY from SalesLoft, the creator of a leading digital sales engagement platform, where he served as the executive vice president of its Global Commercial Business Unit and Sanders from TraceLink, a SaaS provider of end-to-end supply chain solutions, where he served as vice president of finance.
Annual Compliance Review Guide
COMPLY's portfolio firms NRS and RIA in a Box published an Annual Compliance Review guide to help registered investment advisors navigate the annual review process.
According to the firm, while SEC rules regarding annual compliance reviews have been a standard for RIAs since 2004, it continues to present challenges for firms, specifically regarding the mandated annual review of an RIA firm's compliance program. The guide provides details on 10 steps to a successful annual compliance review, as well as the resources, including technology and consulting, available to help RIA firms effectively complete their review process.
"We have seen the SEC take a much harsher stance on firms that are not meeting standard requirements," said COMPLY Chief Regulatory Officer John Gebauer. "Firms simply cannot take a check-the-box approach to existing rulings. Given the record number of finalized and proposed rulings in 2022, this year's annual review process may present increased challenges for RIA firms."
The company will also host a webinar on this topic on Jan. 26. addressing best practices and common deficiencies regarding annual review requirements.
---