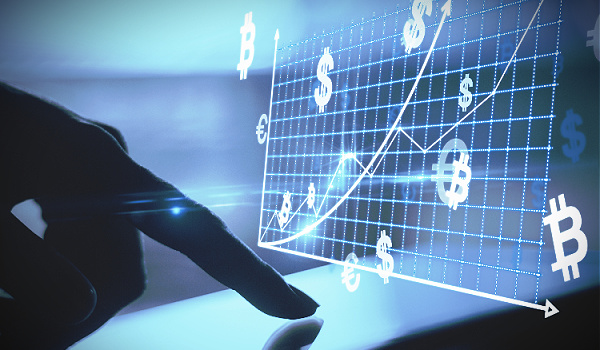 ---
By Christopher Hamman
Sam Bankman-Fried was banned from contacting his prior employees at FTX & Alameda Research.  Twitter is furthering plans to enter the payments space, and the SEC continued to look into inappropriate communications, this time in the broader financial industry with hedge funds were a target.
Tech layoffs continued, with PayPal announcing massive cuts.
This is your week in digital wealth.
---
WealthTech, RegTech and Treasury
SEC
The SEC extended its communications probe beyond the banking industry into the broader financial services sector.
Hedge funds became the new targets as investigations into inappropriate messages, transactions, and trading continued.
Goldman Sachs
Investment giant Goldman Sachs commodities trading desk outdid itself last year with revenues crossing $3 billion. Previous earnings were slightly above $2 billion, with a positive outlook for the year (tweet below).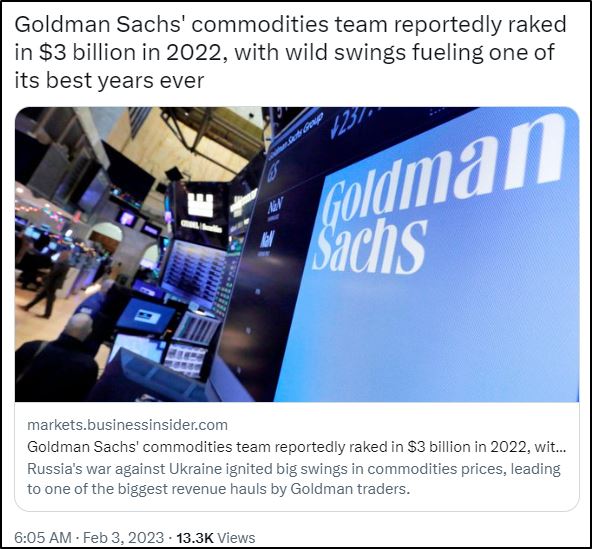 Eventus
The Austin-based trade surveillance firm Eventus launched "Validus", a cloud-based anti-money laundering (AML) platform for both regular and digital assets.
With fines and penalties rising, Validus provides flexibility and a singularly focused approach toward AML and compliance issues within financial institutions.
Crypto, Blockchain and Digital Assets
Sam Bankman-Fried/FTX/Alameda Research
Embattled former FTX CEO Sam Bankman-Fried got banned from contacting present and former employees of FTX and Alameda Research.
The ban was a part of bail condition amendments by New York Southern District Court Judge Lewis Kaplan, following a letter filed with the Court by federal prosecutors.
Bankman-Fried had contacted at least one current FTX employee to alter witness testimony (allegedly).
The Judge also banned from using Signal and other anonymous messaging apps.
BankProv
Pro crypto BankProv halted loans backed by mining rigs to cryptocurrency miners, citing the market situation and regulatory activities.
Before now, miners could get loans from the bank to fund operations backed by rigs as collateral.
Fintech, Personal Finance and Apps
Cash App
Digital finance platform Cash App unveiled a savings feature that enables customers to keep track of and build up their existing balances.
Cash App Savings allows users to save funds in a separate balance, which aids in savings goals and objectives. The feature allows for both target and flexible savings (tweet below).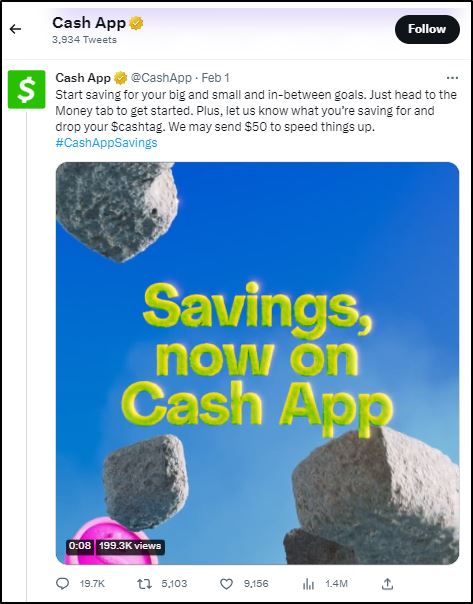 Foro
Lending marketplace Foro launched nationally after a successful $8 million funding round.
The marketplace aims to streamline the credit application process and eliminate bias for business owners.
The marketplace considers applicants impartially and matches them with lenders according to favorable terms and conditions.
Backed by former Bank of America CEO Hugh McColl Jr., the marketplace aims to increase representation in underserved sectors of the economy and provide increased access to credit.
PayPal
Following the recent tech mass layoffs, PayPal CEO Dan Shulman announced the axing of 2000 workers from its human resources.
Citing a refocusing of resources, Shulman wrote, "Today, I'm writing to share the difficult news that we will be reducing our global workforce by approximately 2,000 full time employees, which is about 7% of our total workforce."
Layoffs across the PayPal ecosystem will occur in stages and across organizations within weeks.
Banking, Payments and Infrastructure
Select Innovations/Deserve/Mastercard
High-end FinTech community platform Select partnered with Deserve and Mastercard to launch the Select™ World Elite Mastercard®.
The new card has several benefits, including a 2% cashback on all expense brackets, besides other World Elite Mastercard® perks.
The card waitlist remains open, and the benefits extend to discounts for hotels, restaurants, and top-rated brands.
Revolv3/Worldpay
Subscription FinTech platform Revolv3 collaborated with Worldpay to expand payment routing for merchants and software retailers.
Revolv3 as a preferred Worldpay partner has integrated its infrastructure to enable merchants and clients to extend payment processing, optimization, insights, and risk mitigation capabilities.
Twitter
Twitter reportedly applied for payment licenses to further in-app payment plans.
Director of Product Management Esther Crawford is reportedly creating infrastructure for user data protection and storage.
The social media giant registered with the US Treasury as a payment processor late last year.
REtech, Insurtech and Investing
Cover Whale Insurance Solutions/Nexar
To mitigate the risks associated with trucking activities, Cover Whale Insurance Solutions teamed up with video telematics firm Nexar to provide AI-dual flashing cams to truck drivers.
The partnership enables the detection of risky behavior on the roads and increases the accuracy of claims via optimization and observation.
Nexar's cam integrations will also reduce claim severity and nuclear verdicts (jury claims worth $10 million and above) (tweet below).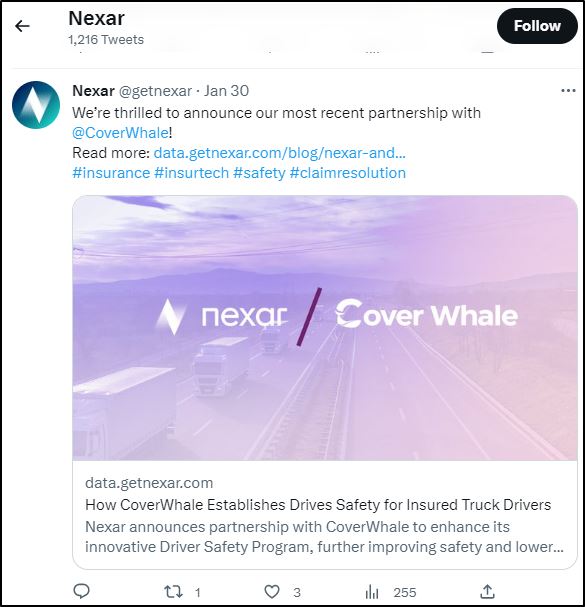 Hippo
Palo Alto-based Hippo introduced "Hippo Builder Insurance Agency (HBIA)" a platform that vertically integrates builders into its ecosystem.
HBIA absorbs the risks associated with agency functions, enabling builders to onboard leads and homeowners directly and seamlessly.
HBIA also compensates builders regardless of policy purchases for each lead generated.
Boston Mutual/Majesco
Boston Mutual selected Majesco, a software cloud services provider, to enhance its business operations and improve customer experiences as part of its technology improvement efforts.
Majesco will enhance Mutual's business processes and leverage its infrastructure to improve customer engagement for the insurance giant.
---