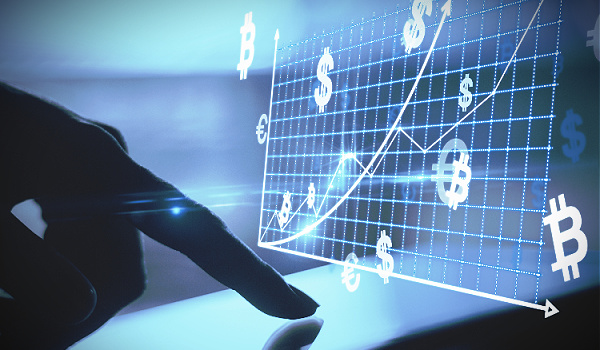 ---
By Christopher Hamman
Is the US economy in a recession?
This is the silent question on everyone's lips as the financial industry continues to lurch from the collapse of three banking institutions. 
The FTC waded into the ICE-Black Knight takeover, and three Wall Street actors went after the SEC following proposals to prevent future GameStop market scenarios. 
This is your week in Digital Wealth.
---
WealthTech, RegTech and Treasury
TS Imagine
The risk management niche got a boost with RiskSmart X, a multi-asset Software-as-a-Service (SaaS) platform by TS Imagine, a portfolio and management solutions firm. 
RiskSmart X provides risk management professionals with a bird's-eye view of portfolios and extended functionality, including analytics, historical modeling, real-time reports, and more. 
Charles Schwab/Citadel Securities/NYSE/SEC
Citadel Securities, Charles Schwab, and the New York Stock Exchange hit back at the SEC for its recent proposals to implement market reforms. 
The three entities appealed to the SEC in a joint letter to abandon two of four proposals published by the regulator in December 2022 and alter a third, showing significant opposition by Wall Street to the mulled changes. 
Intercontinental Exchange Inc. (ICE)
ICE announced the launch of its U.S. dollar (USD) SOFR Spread-Adjusted ICE Swap Rate® by ICE Benchmark Administration (IBA) Ltd. 
Licensees will deploy the benchmark rate in financial instruments and contracts from July 3, 2023. 
The launch follows initial beta testing by the IBA in October 2021 and will operate alongside the operational USD LIBOR® 1100 ICE Swap Rate settings boosting the non-linear derivatives market. 
Crypto, Blockchain and Digital Assets
Silvergate Bank/Silicon Valley Bank/Signature Bank/Circle/USDC
Further contagion continued within the crypto space as three pro-crypto banks failed. 
The crypto industry's leading banking institution, Silvergate, announced it was shuttering operations alongside its "Silvergate Exchange Network" (SEN), making the event the second-largest bank collapse in American history. 
Circle scrambled to prop up its USDC stablecoin after Silicon Valley Bank (SVB) went under. The USDC appears to have recovered following assurances for depositor protection by the Treasury.
Following SVB's failure, regulators in New York announced the closure of Signature Bank, citing systemic risks. 
Alpha Sigma Capital/Transform Ventures
Transform Ventures revealed its partnership with Alpha Sigma Capital, the digital asset investments firm, via the creation of a new holding company Alpha Transform Holdings Inc., and two funds with a combined $100 million in assets under management.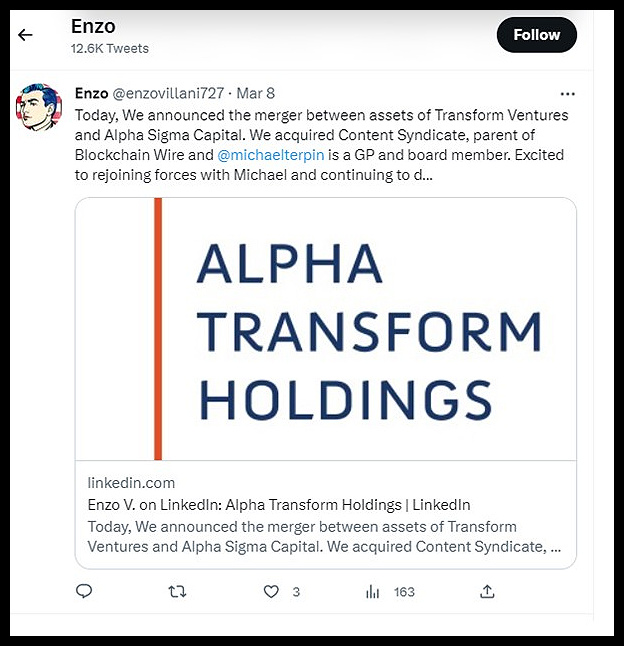 Fintech, Personal Finance and Apps
Galileo Financial Technologies LLC
Artificial Intelligence-driven processes remained at the center stage with the introduction of Cyberbank Konecta, an AI engine that integrates with FinTech firms and financial institutions designed to improve customer engagement and conversational banking experiences by the SoFi Technologies Inc.-owned Galileo Financial Technologies LLC. 
The cloud-based and operated Cyberbank Konecta allows firms to deploy and integrate the solution, allowing for scaling and operational cost reduction.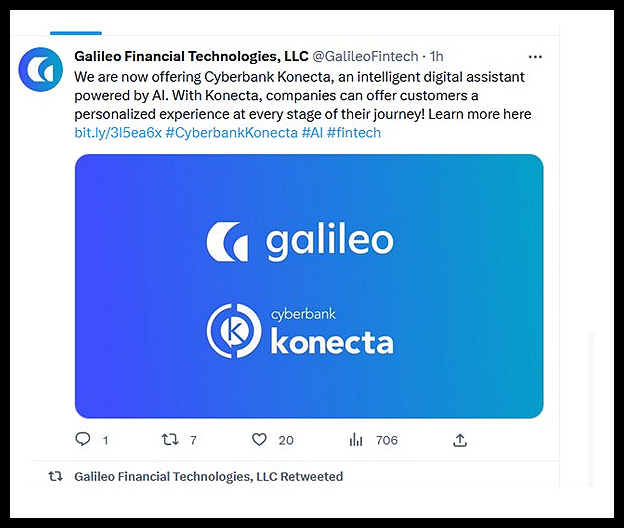 Credit Karma 
Leading personal finance technology firm Credit Karma unveiled Net Worth, a personal finance product aimed at helping users in financial planning and improving credit scores. 
Net Worth also allows users to connect their accounts, including 401ks, brokerage accounts, mortgages, and other liabilities and enables a real-time view of their current financial status. 
Other features, including retail finance analytics, credit rewards
Credit Karma plans to include additional features, including maximization and insights. 
Access is available for consumers with a credit score of 720 and above. 
Banking, Payments and Infrastructure
AvidXchange/Corelation
Payment solutions firm AvidXchange revealed its partnership with Corelation to deepen its foray into the credit union industry. Per the partnership, the "AvidAscend" invoicing solution will be available to Corelation's 190-plus Credit Union customer base.
The automated cloud-based solution provides a basis for a shift from manual to electronic processes. 
Pocketbook/Bond
FinTech solutions firm Pocketbook revealed the launch of its white-label wallet for small businesses via its partnership with Bond, a financial infrastructure provider. 
Small businesses can integrate and deploy the wallet within apps and domains and receive customer payments using Bond's accounts and ACH APIs. 
HMBradley
Digital bank HMBradley revealed it had chosen financial services software provider Thought Machine to power its core banking services. 
This move has allowed for the creation of a customer waitlist. New York Community Bank (NYCB) will handle deposits for the Neobank. 
REtech, Insurtech and Investing
FTC/ICE/Black Knight Inc.
The Federal Trade Commission (FTC) voted 4-0 to prevent the proposed Intercontinental Exchange-Black Knight Inc. $13 billion takeover deal, citing antitrust components in the proposed transaction. 
Per its opposition to the merger, Patty Brink, Acting Deputy Director of the Bureau of Competition, said, "This deal would reduce competition in key areas of the mortgage process, ultimately raising costs for lenders and homebuyers. The FTC will intervene when illegal mergers risk harming competition in such critical markets." 
Responding to the FTC's actions, ICE reiterated that the move was entirely "pro-competitive" and referred to a previous announcement to sell Black Knight's Loan Origination System (LOS) to a subsidiary of Constellation Software Inc. 
LexisNexis Risk Solutions 
In response to improving the needs of home insurers, LexisNexis Risk Solutions indicated it had improved the features and functions of LexisNexis® Flyreel®, an AI-powered risk assessment and prioritization platform. 
Insurers can integrate the platform's specifications with underwriting choices and improve self-service property inspections via seamless workflows. 
---