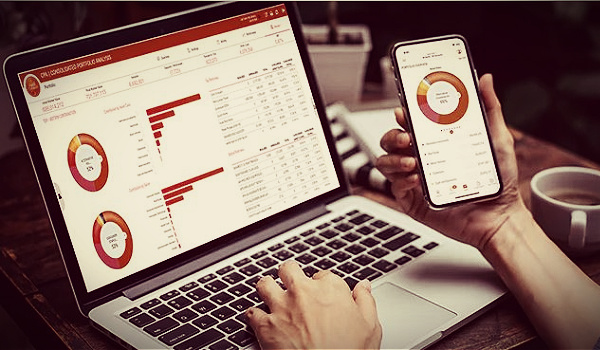 ---
Happy spring, advisortech readers! Though our last publication was officially the first one of the season, something about the warm, then stormy weather makes the happy reality of the season hit home.
And spring, with its early slate of conferences, is a very giving season for the wealthtech space. This week we have announcements from CAIS, Lumiant and Orion, in addition to some interesting updates from Snappy Kraken and donor-advised fund platform Daffy.
I'm sure, like those of us here at Digital Wealth News, you're ready to get to it, so without further ado, we'll jump right into the advisortech headlines for this week.
---
CAIS
CAIS announced a modernized brand refresh to reflect CAIS' leadership role in transforming the world of alternative investing as they enter a new era of access. With financial advisors and alternative asset managers engaging at unprecedented levels, this new era is being driven by a confluence of tailwinds. Led by financial advisors who seek the performance benefits of a modern, three-dimensional portfolio, additional tailwinds include asset managers who recognize the growth opportunity within the wealth channel, regulatory changes to the definition of accredited investor, and technology advancements that pave the way for efficiency. CAIS' newly unveiled brand refresh, which includes the launch of a new public website, displays CAIS' role in transforming the world of alternative investing for each stakeholder in the independent wealth ecosystem including the advisor, the home office, and the alternative asset manager. The visual elements of the new brand represent the movement of this trend. The CAIS Wave symbolizes transformation, connectivity, ease of use, and transparent flow of information among these core constituents, while the CAIS Dot pattern reflects the Company's sophisticated technology, which ensures a seamless platform experience for all members of the CAIS ecosystem.
Daffy
AssetBook announced its partnership with fintech company Pontera to help financial advisors holistically manage their client's full portfolio. Pontera enables advisors to employ cohesive rebalancing and tax strategies across their 401(k)s, 403(b)s and more. Now with this integration, advisors will be able to view, monitor, report and bill on held-away assets in AssetBook's Pulse Platform to ultimately deliver better client experiences and financial outcomes.
Lumiant
Lumiant announced it has closed a seed funding round totaling $3.5 USD million. Funding came from Australian financial planning firm Invest Blue and U.S.-based wealth management firm Savant Wealth Management ("Savant"), bringing Lumiant's total capital raised to date to approximately $9 million USD (~$12 million AUD). This funding round comes on the heels of a strong growth year for Lumiant, which in 2022 increased the number of end clients on its platform by approximately 44 percent. The new capital will support Lumiant's continued U.S. expansion, as well as the buildout of its mobile development and engineering teams, with the aim of bringing the Lumiant experience to Android and iOS in the coming months.
Northern Trust
Northern Trust has enhanced its suite of ex-ante (forward-looking) risk analytics services through the release of its new Market Risk Monitor solution. The service provides institutional investor clients such as pension funds with an extensive library of key risk indicators including stress tests, sensitivity shocks and value-at-risk measures, all available via RADARTM, Northern Trust's digital dashboard for investment analytics. These can be used by clients for purposes ranging from monitoring the risk targets and limits of their external fund managers to reporting on their adherence to regulations and accounting standards. It utilizes a partnership with Confluence Technologies' RiskAPI product, combined with a data management and processing layer, to generate insights into the market risk profile of a clients' assets and liabilities. Results are provided on an absolute and relative basis over time with asset coverage spanning derivatives, public and private market assets.
Penny Finance
Penny Finance, an online financial planning platform for women, is preparing to showcase its technology at the TechStars Future of Longevity Accelerator's "Demo Day" on April 3, 2023. The TechStars program, run in partnership with Pivotal Ventures, a Melinda French Gates company, focuses on innovative, tech-based solutions that address the unmet needs of older adults and their caregivers. Penny Finance is one of the ten extraordinary startups selected to participate in the program, culminating with the invite-only Demo Day on April 3.
Riskalyze
Orion and Riskalyze announced an enhancement to their existing integration that allows firms to seamlessly bring accounts and models directly into their proposal process in Riskalyze. Additionally, the upgraded integration now includes setup as easy as entering in a username and password and it's self-serviceable. Also, Orion's Portfolio Groups are now reflected as Account Groups in Riskalyze. Functionality from the prior iteration of the integration between firms — including risk analytics in Orion's Client Portal and a dedicated sub-report in Orion's Report Builder — are still available in the enhanced offering. The two firms also intend to deliver another integration this year which will bring Orion's aggregated account feeds into Riskalyze's compliance analytics to drive growth and alignment visibility across an entire firm.
Snappy Kraken



Snappy Kraken announced the launch of its new packaged offering, Freedom360, to handle all the vital aspects of an advisor's modern marketing strategy. This new set of capabilities is aimed at helping busy advisors who are only getting a fraction of the results they could see from their marketing if it were handled by an expert. In addition to the sophisticated technology, content, and marketing support, this will free advisors' time to serve existing clients and grow effectively without spending so much of their time on marketing.
---