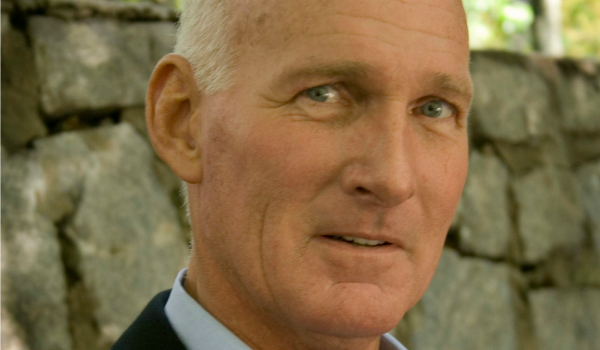 THE TAYLOR REPORT WILL BE REBRANDED AFTER THIS POST – LOOK FOR A NEW FORMAT AND COLUMN NAME COMING SOON!!
---
Opinions expressed below are my own & do not necessarily represent those of Entoro Capital
---
We compare the price of Bitcoin, Ethereum, & Gold, using the CME Bitcoin Indexes (BRR & BRTI) and the CME Ethereum Indexes (ETH_RR_USD) & (ETH_RTI_USD) for reference as well as the London Bullion Market afternoon price settlement. We also include the S&P 500 for reference.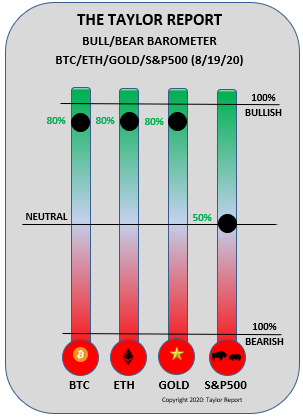 ---
8/19/20 Closing Prices:
Bitcoin: $11,849.51 (-$147.26)
Ether: $412.78 (-$8.89)
Gold: $1,934 (-$63.00)
S&P 500: 3,374.85 (-14.93)
---
Trading Summary Notes for Wednesday, 8/19/20
BITCOIN GETS BIG BOOST FROM COVID 19!!
The global pandemic, better known as the Coronavirus, has been giving BITCOIN (and GOLD) a major boost over the past few months. Why? The virus has been destroying the world's economies at a rapid pace with many nations seeing their fiat currencies literally destroyed. In a rush to safety investors (and just the ordinary populace) have bought GOLD and the "new" store of value…….BITCOIN……..to protect against further economic uncertainty. Remember, BITCOIN barely existed when the last financial crisis ravaged the globe.
Note: touching or holding/passing a BITCOIN or a digital GOLD token has not killed one parson through this pandemic (let that sink in a second or two)
So where are we going?
First off, my previous upside target (5/8) after the March "crush" for BITCOIN was $8,500. It broke right through;
BTC ran up to (and slightly above) $10,000. BTC solidified its gains, burst through that area and our price target of $12,500 is just about here;
BITCOIN'S momentum is powerful and gaining strength. A sold break above $12,500 will result in a BTC price of $15,000;
WHY? The pandemic is causing the Fed (all global central banks for that matter) to "dump" stimulus (aka $$$) on the economy. Inflation be damned. The fear of not pumping the economy is creating future problems and demand for safe haven products (BTC, ETH, GOLD);
AND, with that, a whole new "batch" of big name investors have stepped in. Institutional types buying not only BTC but also BTC futures. Meaning, sophisticated investors have now accepted the digital asset world;
And, AND with the virus sparking a conversation among global central banks to move toward digital fiat currencies, BTC will gain more acceptance and respect;
Of course ETH followed "big sister" BTC down with the market meltdown and, of course, is following BTC back up;
ETH has rocketed ahead as more and more central banks have begun steps to create digital currencies mostly based on ETHEREUM blockchain;
Our previous ETH near term price target of $230-$245 was obviously met (and seems so last three months ago) and exceeded;
Can ETH keep it up? Yes, probably with the renewed BTC strength. Look for ETH to move to $550;
GOLD also shook a whole lot of long holders out way back in March. New long term investors have gone on a buying spree with GOLD hitting all time highs. We have been "yelling" BUY, BUY, BUY for well over a year and continue to yell!
GOLD near upside target is $2,500……yup, $2,500. Longer term? $3,000-$3,500.
Ignore the rhetoric. Forward looking, after throwing money (and continuing to print $$$) to ensure a recovery, inflation may soon be on the rise and geopolitical/pandemic risks are only getting stronger. Positive for GOLD;
A near term pullback for GOLD would not be unexpected….perhaps down to $1,825-$1,850. Again, buy the dips;
GOLD? Stay long. Super powerful move under way. $2,500 next target. Buy the dips.
NEW COVERAGE!! What is up (literally) with the equity markets? Our we in the midst of a huge "melt up"? Yes, pretty close. Exuberant valuations plus a very crowded bullish investor bias is spelling "WATCH OUT." Might want to start putting some S&P short positions on. You can't always pick the exact top, but you can come close;
Current trading positions: LONG BITCOIN, ETH & GOLD. Getting short S&P 500.
---
Bill Taylor is Managing Director/CIO at Entoro Wealth & is widely published in financial industry media throughout the world