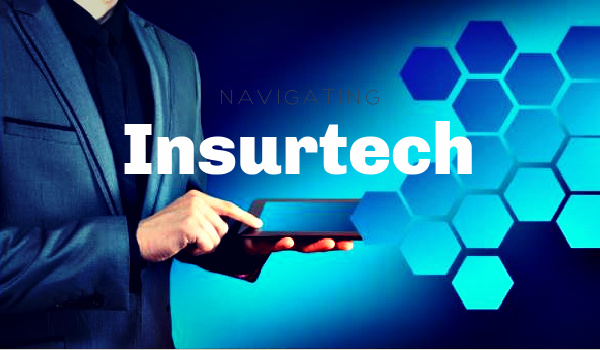 ---
When Covid-19 pushed most of the financial services industry into remote, work-from-home environments, the insurance industry was perhaps the least-prepared for the transition – there was no app to sell annuities. Life insurance and long-term care policy sales were still very much an in-person affair.
That all changed almost overnight, said Matt Essick, chief marketing officer at Ensight, an insurtech, and it's not likely to change back. Insurance-oriented fintech is finally making its way to prominence.
"Today, every financial service experience out there, whether it's financial planning software like eMoney or MoneyGuidePro, or the technology in our 401(k) account, all the way to our investment accounts is consumer-centric and driven by a digital experience," said Essick. "The last bastion is in what we would call complex insurance products."
Essick said that insurance companies have thus far deployed more technology intended to serve the middle market in the U.S. with basic services like car insurance, pet insurance and co-insurance, but that the focus is shifting into term life insurance and more complex products – permanent life, annuities and long-term care insurance.
To date, most well-known insuretech has been built as direct-to-consumer apps, said Essick. That's because underwriting term life insurance is usually a simple process – the user can answer a few questions, get a quote and buy a policy in an all-digital experience.
More complex insurance products, so far, require a much more human touch, but Ensight is helping to close the gap, with hopes of bringing younger clients – Gen Xers and millennials – into the insurance marketplace..
"We've digitized the sales process and created an interactive experience around those three product lines with everything a wholesaler, financial advisor or insurance agent would need to tell a simpler story that makes these products easy to understand," said Essick. "We know people are more self-service, and we believe the industry needs to support that type of engagement. Consumers are playing around and analyzing these products for themselves more, and it's their expectation that they will be able to do so. They want the best digital tools."
Founded in 2017, Ensight creates a digital, user-friendly experience around life, long-term care and annuity sales.
Ensight is growing, said Essick, in 2020 having touched 250,000 financial advisors through its 500-plus relationships with carriers and the distribution community. On St. Patrick's Day, the company's insurance sales platform crossed the 1,000,000 digital presentations mark.
Part of that growth is being caused by older millennials – now up to age 42 – entering the market for more complex insurance products, said Essick.
"Once people hit 40, they usually begin to grow more conservative with how they look at financial planning," he said. "Millennials are starting to reach the target segment that can use something like a life insurance product for supplemental retirement."
The growth of fintech has the potential to reshape the insurance industry as data from digital sales is being used by companies to refine products – and the sales process.
That sales process is becoming increasingly virtual, said Essick.
"The historical model, of sitting down at someone's kitchen table or at a desk and conducting sales face-to-face, is going to be replaced by a more hybrid model," he said. "The virtual model, engaging on Zoom, whether that be on the wholesale level or engaging with a client at points within a sale, is becoming more the norm than the anomaly."
This will make wholesaling insurance a leaner, more effective process, with fewer wholesalers on the road and more engaging via video-chat.
Fewer insurance sales will be made through events and entertainment, said Essick, and more will be made via client education via technology.
"It's just not the way new generations want to engage," he said. "Having some one to come into office for 1½ hours, with the print collateral going in the trash on the way out the door is just not in line with how they engage within their own personal relationships. I have to think that with Reg BI, the regulatory environment might have an impact on travel and entertainment."
Insurance platforms have to encourage self-education and offer an element of play, said Essick, and be easy for both intermediaries and end-clients to understand.
"That's been part of the issue with returning life insurance and annuities to their strong growth potential, everything has been locked into a standstill because complexity prevents a wider spectrum of people from adopting them, selling them and offering them to clients," he said. "We have to create, through technology, experiences that make it easier to access these products so someone new to the industry can quote, present and sell them."
What Is Vinay Nair Up To?
This week, the TIFIN GROUP, the Boulder, Colo.-based fintech holding company founded by Vinay Nair, announced two huge acquisitions – Totum Risk, a widely used risk-profiler, and myFinancialAnswers, a personal financial planning platform.
TIFIN has big plans for both firms, announcing that it will merge its own risk-tolerance platform under the Totum brand, and a financial planning platform under new branding.
The Totum news raises some interesting possibilities for TIFIN, which already owns client-engagement personality tool Positivly. Combining Positivly with a risk-profiling platform like Totum would offer advisors the ability to understand clients across several different facets of their personalities.
The real curiosity is what Nair, an entrepreneur who founded and developed 55ip, a tax-smart model portfolio trading tool, is going to do with myFinancialAnswers and his launch of new financial planning software. Nair successfully sold 55ip to J.P. Morgan last year.
---