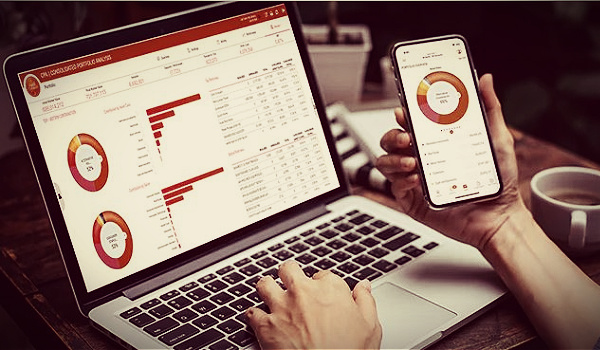 ---
Another week is in the book for advisor tech news, and it was a busy one indeed.
Aside from the rescue of Credit Suisse and the ongoing fallout from the collapse of several large banks and financial institutions, there were a lot of important storylines in the wealth tech universe, including the acquisition of First Ascent Asset Management, a TAMP popular with next-generation advisors and a revamp of Black Diamond's integration with Right Capital.
What we're not covering directly here are reports about a major shakeup at Skience, a wealthtech that offers a wealth management platform as well as a system for advisor transitions. Several executives that spent a lot of time in the media's eyes, including president and COO Marc Butler, have recently left the company.
We do have the launch of a new "Engagement Engine" to power Absolute Engagement's platform, new data from Smart and a fundiing raise for Lumiant on tap in this week's feature. Without further ado, here's the latest advisor tech news.
---
Absolute Engagement
Absolute Engagement launched the Absolute Engagement Engine, a quantum leap forward in empowering financial advisors to deliver an efficient and deeply engaging prospect and client experience. In order to drive engagement, advisors must go beyond meeting service expectations to co-create an experience that is responsive to the true needs, feelings and unique challenges of each of their prospects and clients. Because these things are highly personal, are often fluid, and can differ within a couple or family, responding in real time is incredibly challenging. The Engagement Engine reveals those true needs and enables advisors to respond by triggering the right action at the right time—automatically—effortlessly enhancing the experience in real time.
The Engagement Engine technology is rooted in a "reveal-and-respond" framework developed by Julie Littlechild, founder and CEO, and the team at Absolute Engagement. Building on Absolute Engagement's deep experience developing thoughtful, one-to-many surveys that capture sentiment and needs at a given moment in time, the Engagement Engine allows advisors to capture one-to-one input at each stage of the client journey in real time. The core features of the Engagement Engine not only reveal the perceptions, preferences and expectations of prospects and clients, but goes deeper to reveal their needs, feelings and priorities.
AssetBook
AssetBook announced its partnership with fintech company Pontera to help financial advisors holistically manage their client's full portfolio. Pontera enables advisors to employ cohesive rebalancing and tax strategies across their 401(k)s, 403(b)s and more. Now with this integration, advisors will be able to view, monitor, report and bill on held-away assets in AssetBook's Pulse Platform to ultimately deliver better client experiences and financial outcomes.
GeoWealth
GeoWealth annoucned that it will aquire  First Ascent Asset Management, a full-service TAMP that offers outsourced portfolio management to smaller RIAs. Combining the two platforms provides advisors with a tech-forward, robust platform capable of serving RIAs ranging from growth-oriented state-registered firms to multi-office national brands with billions under management. GeoWealth firmly believes that modern TAMPs must offer greater personalization, choice, and ultimately, flexibility in their investment management programs. And with their acquisition of First Ascent, that's exactly what GeoWealth will provide. For advisors with no direct custodial relationship and who need full-service, outsourced investment management inclusive of account administration, online account onboarding, and more, First Ascent is an industry-leader.
First Ascent will become a wholly owned subsidiary of GeoWealth, but its name, investment offering, service model, and flat-fee schedule will remain unchanged. First Ascent pursued this transaction because of repeated requests for more portfolio management services, and "replatforming" to GeoWealth will enable those capabilities. Its existing team will remain in place to support advisors and manage portfolios that are appropriately tailored to meet clients' needs. 
Lumiant
Lumiant announced it has closed a seed funding round totaling $3.5 USD million. Funding came from Australian financial planning firm Invest Blue and U.S.-based wealth management firm Savant Wealth Management ("Savant"), bringing Lumiant's total capital raised to date to approximately $9 million USD (~$12 million AUD). This funding round comes on the heels of a strong growth year for Lumiant, which in 2022 increased the number of end clients on its platform by approximately 44 percent. The new capital will support Lumiant's continued U.S. expansion, as well as the buildout of its mobile development and engineering teams, with the aim of bringing the Lumiant experience to Android and iOS in the coming months.  Founded in Sydney, Australia, and launched in the United States in May 2022, Lumiant offers an award-winning client experience platform that helps advisors uncover what truly matters to clients and their family members. Its cloud-based solution provides advisors with the tools to design and stage memorable, measurable and scalable transformational values-based advice experiences. Its modules help transform qualitative client conversations into quantifiable outcomes, visualizing the impact and value of advice. Currently, more than 60 advisory firms use Lumiant's enhanced advice experience to deepen their relationships with clients and prospects.
Smart
Smart published the US findings from its annual Future of Global Retirement report.This year's report looks at how knowledge, attitudes and concerns about retirement savings have progressed. The report includes findings from 8,000 people worldwide and 2,000 savers across the US.
Key findings include:
Healthcare and living costs present concerns: 58% of respondents said healthcare tops the list when it comes to retirement-related concerns, followed by 57% of respondents who cited being able to afford day-to-day living costs.
Americans plan to work into retirement: 35% of respondents plan to work into their retirement, indicating that retirement is becoming a transition rather than a one-off event.
Inflation impacts outlook on monthly spend: 43% of respondents aged 45-54 see their average monthly spend going up in retirement, which may reflect concerns about the impact of inflation.
Retirement plan providers can improve guidance: 32% of respondents cite their financial advisers as the most useful source of information, while just 17% say they receive their most useful advice from their retirement plan provider and 10% say their employer. This presents an opportunity for service providers to step up guidance and education measures.
Americans desire a combination of autonomy and assistance: 66% of respondents consider the most important feature of a retirement plan to be online access; 59% of respondents want a blended approach to managing their retirement finances, combining autonomous control and assistance when needed.
SS&C Technologies
SS&C announced the launch of its new native financial planning experience within the SS&C Black Diamond Wealth Platform to cover the past, present and future of a client's financial life. The SS&C team designed the tool in close collaboration with RightCapital, a leading software company specializing in financial planning in the Wealth Management market. This two-way integration enhances one of the more popular integrations by natively pulling key financial planning data from RightCapital into Black Diamond's platform as account and portfolio information flow from Black Diamond to RightCapital. The continuous loop takes the advisor-investor dialogue to new levels by creating a seamless experience for the end user. This new integration goes beyond the typical surface-level integration by synchronizing the underlying platforms of both partners to enable deeper workflows in Black Diamond.
---