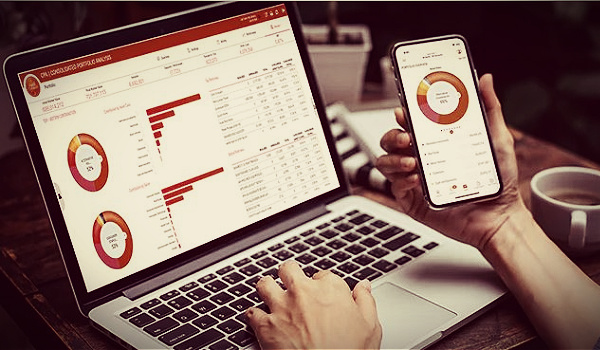 ---
When the weather gets warm, fintech news often slows down–maybe all those coders are out playing softball in the beautiful spring sun, maybe it's something else. For whatever reason, there's a peak in activity around the early spring conferences usualy, and then things usually decrescendo all the way through the first half of the year.
Well, this week in advisor tech talk is bucking the trend, because a lot was happening. For example, Skience, fresh from a dustup that saw some of its more prominent leadership exit the firm, is launching its new cloud platform, and speaking of cloud, InvestCloud CEO John Wise has left the company and is being replaced by an interim executive.
On top of all of that, we have a couple of big hires, some new partnerships and Orion's new website to keep the advisor tech watercooler discussions going until our next set of headlines, which will hopefully be just as lively.
Without further ado, here are your advisor tech headlines for the week:
---
CapIntel
CapIntel announced today a strategic partnership to leverage CapIntel's intuitive technology to help advisors guide more data-driven conversations with their clients. With the increasing complexity of the financial markets, it has become more important than ever for advisors to be able to build trust with their clients. This new partnership will help advisors deliver customized proposals that ensure their clients understand and are confident in their recommendations. CapIntel's innovative digital experience will help LP Financial continuously improve their offering for advisors, helping them initiate better conversations with their clients, provide more personalized and tailored communications, and create more frequent touch points.
InvestCloud
InvestCloud announced that Chief Executive Officer John Wise has left the Company. Richard Lumb, a current director on the InvestCloud Board of Directors and experienced leader in the financial services industry, has been appointed interim Chief Executive Officer. The Board also has initiated a comprehensive search for a permanent Chief Executive Officer. Lumb has been a member of InvestCloud's Board of Directors since February 2021, and brings four decades of experience within financial services to the role. He was also Group Chief Executive – Financial Services and a member of the Executive Leadership team at Accenture. Richard has been an Industry Partner at specialist fintech private equity firm Motive Partners since 2019. He also sits on the Board of Directors at Bakkt and was previously on the Board of Finastra.
Orion Advisor Solutions
Orion announced the launch of its new website to align with the ambitious strategic vision as a cutting-edge technology company designed to power advisors and win for investors. Reflecting recent integrations and workflows designed to drive efficiency across Orion's technology ecosystem, including Redtail CRM, Orion Risk Intelligence and Orion Compliance, the new website was built by a team of in-house and external UX designers and programmers and based on defining brand research and insights.
Seeds Investor
Seeds Investor announced a new strategic partnership with Citizen Mint, a platform built to connect investors with private market opportunities that change the world, one investment at a time. Through this partnership, Seeds advisors can present well-vetted private impact investments to certain investor clients as part of a total asset allocation. Seeds' investor assessment tools empower advisors to understand which investment choices will best resonate with every prospect. Citizen Mint's extensive network and rigorous due diligence process affords advisors the opportunity to source top-tier opportunities that align with their clients' overall risk tolerances, time horizons and values.
Skience
Skience announced the rollout of its Wealth Management Cloud Technology Blueprint ("Blueprint"), formalizing its strategic planning framework for digital transformations. This methodology, available as part of Skience's award-winning Consulting Services offering, can be employed as a stand-alone process or incorporated as part of a larger implementation project. It is designed to help wealth management firms clearly articulate and unify their optimal data, integration, business process automation, and advisor and investor user experience strategy. For many wealth management firms seeking to elevate the client experience and introduce internal efficiencies, digital transformation has emerged as a strategic priority. However, the absence of a cohesive strategy may result in siloed data, employee pushback, and disconnected systems—ultimately hampering transformation efforts.
Snappy Kraken
Snappy Kraken announced its new Snappy Kraken Morningstar Wealth Edition. The platform will provide advisors that use Snappy Kraken's Original Content andMarketing Automation services with access to timely Morningstar Wealth articles that can be leveraged in client engagement campaigns. The Snappy Kraken Morningstar Wealth Edition platform is available to users of Morningstar Office, a web-based portfolio and practice management platform for independent financial advisors. This offering will afford existing Morningstar Office clients access to a custom version of Snappy Kraken's Original Content and Marketing Automation that features Morningstar Wealth articles, as well as an integration with the Morningstar Office client contact information. This will significantly expand the digital marketing resources at advisors' fingertips. The deeper bench of content will enhance advisors' ability to deliver a differentiated client experience and attract prospects.
Ubiquity
Ubiquity announced the promotion of Nasrin Mazooji to Chief Operating Officer and the hiring of Mo El-Emari as SVP of Client Experience. The announcement comes on the heels of another quarter of record growth.  Mazooji has served Ubiquity as a senior executive responsible for overseeing the company's corporate and ERISA compliance and regulatory affairs since 2013. Mo El-Emari brings to Ubiquity over 25 years of experience as a consummate customer care executive with an extensive background in management of SaaS, post-sales consumer activities, reputation management, and relationship building. At Ubiquity, he will oversee the company's growing Client Experience team providing customer service to plan participants, advisors, TPAs, partners and plan sponsors
Voya
Voya announced today it has hired Michael Raneri for the position of Senior Vice President (SVP) and Chief Technology Officer (CTO) of Enterprise Digital & Data Solutions. In this new role, Raneri will be responsible for elevating our innovation capabilities and commercial mindset, as well as driving integration across a variety of internal and external partners while ensuring measurable customer outcomes.
---