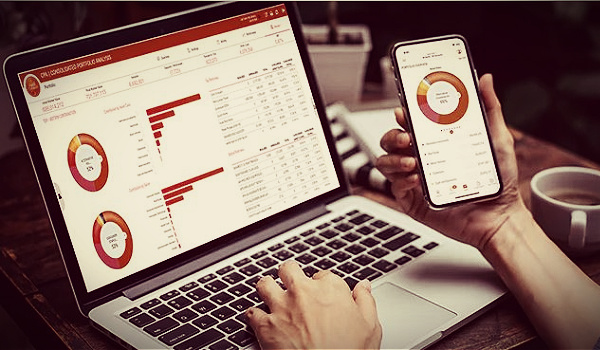 ---
A truncated holiday week still leaves us with plenty of news to cover in Advisor Tech Talk. 
For example, two big TAMPs, SMArtX and SEI, announced that they are adding new strategies. And XY Planning Network is going to host their third annual AdvisorTech Expo. Though there are several advisor tech-oriented conferences around, the space is still trying to replace the void left from the demise of the tech-friendly TD National Linc conference that was offered by TD Ameritrade every year. Perhaps XY Planning's expo, now in its third year, will fill the void.
We also have two new AI applications from Wealth.com and Confluence Technologies. 
Among other headlines, we have news from tech-forward clearing and custody firm Clear Street regarding the launch of a new investment bank and four big hires made towards that end, and an integration between MaxMyInterest and eMoney.
Let's get right to the advisor tech news for this week: 
---
Clear Street
Clear Street, a New York-based independent prime broker, announced that it has hired a team of experienced investment bankers who will build an investment banking and advisory offering. Upon regulatory approval, the business will provide strategic advisory, transaction, and creative capital solutions to emerging growth companies.  The four senior hires will focus on building an investment banking practice that offers traditional and alternative capital markets services. The team will include the following industry experts:  
John D'Agostini, Co-Head of Investment Banking, joins Clear Street after more than 12 years as a Managing Director, Investment Banking at JonesTrading and started his career in equity sales and trading at Cantor Fitzgerald. 
Nicholas Hemmerly, Co-Head of Investment Banking, has nearly two decades of experience. Prior to Clear Street, he was Senior Managing Director, Head of Investment Banking at Bridgeway Capital Partners and held senior positions at JP Morgan, PwC, Jefferies, JMP Securities, and more. 
Ryan J. Gerety, Managing Director, Investment Banking, comes to Clear Street from JonesTrading, where he most recently served as Managing Director, Equity Capital Markets. He began his 11-year tenure at JonesTrading in equity sales and trading before moving to the equity capital markets team.  
Wes Heffernan, Executive Director, Investment Banking, joins the team from EF Hutton, where he was a Senior Vice President, Investment Banking. He also served as an analyst at Guggenheim Partners and Maxim Group.  
Confluence Technologies
Confluence Technologies, Inc. ("Confluence"), a global technology solutions provider to the investment management industry, announced the first development out of its innovation lab that leverages AI technology to solve complex industry problems. As the first application, the Confluence innovation lab applies Large Language Models (LLM) to solve reconciliation challenges from the SEC's Tailored Shareholder Reports (TSR). The new tool, Confluence Unity Rex, mines and pinpoints discrepancies in language and numeric information between financial reports and the TSR, delivering significant efficiency and cost savings in the reconciliation process. 
Docupace
Docupace announced the appointment of Leon Weiss as chief financial officer (CFO) for the company. Weiss joins Docupace's senior leadership team and will lead finance and accounting functions for Docupace. Weiss is a gifted finance leader and CFO who possesses both the technical skills and cultural fit to complement a deep bench of senior executives at Docupace. His accomplished career includes financial services companies with a mix of enterprise and SaaS relationships, along with significant experience across several innovative technology companies like XOi Technologies, Nitrogen, Inland Business Systems and others. During his time at Nitrogen, Weiss earned trusted relationships with the company's board of directors; playing a significant role in the company's 2021 sale to Hg Capital.  
MaxMyInterest
MaxMyInterest ("Max"), a provider of intelligent cash management solutions for individual investors and their advisors, announced an advisor connection within the financial planning platform of eMoney Advisor, a provider of technology solutions and services that help people talk about money. The connection enables financial advisors using eMoney and Max's solution to report on held-away balances and incorporate this data into their clients' financial plans. Max helps clients open and maintain multiple FDIC-insured bank accounts to earn more on their cash while reducing the risk of uninsured deposits. Max's patented solution helps clients make sure they're earning the highest yields even as banks change their rates. Today, Max clients are earning up to 5.10%, which is dramatically more than the national savings average and considerably more than that offered by other online banks or brokered cash sweep solutions. 
SEI
SEI announced the addition of three sets of strategies to its suite of model portfolios using ETFs managed by Dimensional Fund Advisors (Dimensional). Building upon the existing set of models, SEI Strategies featuring Dimensional, the full set of strategies now consists of 24 models, comprised of four sets of six model portfolios across a broad range of investment objectives and risk profiles. Launched in 2022, the SEI Strategies featuring Dimensional seamlessly blend SEI's disciplined investment approach and connective technology with Dimensional's ETFs to create strategies that are grounded in an investor's goals and decades of economic theory. Dimensional's ETFs are built on 40 years of experience using financial science to pursue higher expected returns for investors. Together with SEI, the models provide advisors with the ability to offer clients greater investment flexibility and factor-based investment capabilities through the SEI Wealth Platform. 
SMArtX Advisory Solutions
SMArtX Advisory Solutions announced it has added 15 strategies to its managed accounts platform, with Blue Sky Asset Management, ST Capital, and Stansberry Asset Management joining the SMArtX model marketplace.  The platform now features 1,232 strategies from 294 asset management firms. Blue Sky Asset Management added 3 of its Genfolio model portfolios, designed for active multi-asset allocation exposure, and ST Capital added its mid-cap value model portfolio.  Stansberry Asset Management added 7 strategies that collectively target a wide range of exposures across market capitalization and asset classes. The SMArtX platform also welcomes 4 additional strategies from existing asset management firms Argent Capital Management, Miller/Howard Investments, Scarecrow, and T. Rowe Price Associates, Inc. These firms continue to deepen their presence on the platform as SMArtX continues to expand its scope within the managed accounts industry. \ 
Wealth.com
Wealth.com announced the official launch of Ester, a first-of-its-kind artificial intelligence (AI) legal assistant that enables financial advisors to make high-quality estate planning more accessible, cost effective and scalable. Ester harnesses the power of AI and machine learning (ML) to automate tedious and laborious tasks traditionally handled by financial analysts and in-house paralegals, empowering financial advisors to efficiently deliver customized wills, trusts and other estate planning documents. As many as 93 percent of clients anticipate receiving estate planning guidance from their advisors, but a mere 22 percent claim to have received such assistance. Bridging that gap, Ester enables advisors to meet and exceed their clients' estate planning needs by providing them with a cutting-edge solution to create adaptable plans that evolve with changing circumstances. By implementing Ester, advisors can build lasting multigenerational relationships, attracting tech-savvy younger clients while demonstrating their commitment to staying current with the latest fintech innovations for existing clients.
XY Planning Network
XY Planning Network announced their third-annual AdvisorTech Expo will take place Wednesday, September 20, 2023, during XYPN's annual conference, XYPN LIVE.  A reimagined take on their highly-regarded FinTech Competition, the AdvisorTech Expo positions technology companies front and center to showcase their established or never-before-seen tech solutions, and get a chance to win "Best in Show" from a highly-engaged voter audience of advisors at leveling up financial planning. 
---