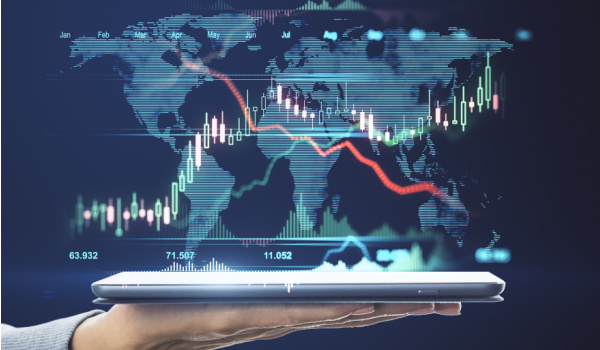 ---
The industry seems set for the fall, which may spring a few surprises!
With T+1 settlement cycles coming, CBOE will launch a T-Bills futures product.
State Street will retire a key 20-year-old indicator.
The IMF was busy at the G-20 summit with new crypto guidelines.
PayPal felt generous with nonprofit options on several of Meta's platforms.
BNY Mellon launched an open banking-linked product.
Plus, Microsoft expanded its tentacles into the insurance industry.
It's your week in digital wealth!
---
WealthTech, RegTech, Regulatory, and Treasury
Chicago Mercantile Exchange Inc. (CME Group)
CME Group, the global derivatives behemoth, revealed the increase of its interest rate solutions with its October 2nd Treasury Bills futures launch.
CME's T-Bills futures will allow traders to hedge their short-term positions with cash settlements and a 13-week auction discount yield.
State Street Corporation
State Street, the boutique financial services giant, revealed the shuttering of its monthly 20-year-old Investor Confidence Index (ICI) on October 25th, 2023.
The ICI, a leading risk tolerance indicator, will be replaced with "Risk Appetite Indicators" and " Institutional Investor Holdings".
Both launched in May 2023.
Bloomberg L.P.
Bloomberg, the financial services giant, launched its alternative data solution (" ALTD <GO>").
Financial professionals can access the "other side " of data with other fundamentals from Bloomberg's terminal.
OptionMetrics
OptionMetrics, a leading financial data provider, enabled access to its "IvyDB Beta" dataset for academic researchers.
"IvyDB Beta" comprises data from the top 500 SPY participants from 2007-date.
Crypto, Blockchain, and Digital Assets
International Monetary Fund (IMF)/Financial Stability Board (FSB)
On the sidelines of the recently concluded G-20 summit in India, the FSB and the IMF released a policy document to regulate digital assets.
The joint FSB/IMF document warned total crypto bans won't work and called for implementing Financial Action Task Force (FATF) compliance standards.
The report also identified several risks digital asset classes pose to financial systems.
ARK Invest/21 Shares
The Cathie Wood-backed ARK Invest and 21 Shares filed for America's first Ether spot ETF.
The two parties filed the "ARK 21Shares Ethereum ETF" similarly to other recently filed Bitcoin ETFs.
MetaMask, the popular wallet, unveiled a feature that allows users to exchange tokens for cash.
Wallet users can exchange Ethereum tokens for cash deposits in their PayPal or bank accounts.
The option is available (currently) to UK, US, and several European Union (EU) residents.
FinTech, Personal Finance, and Apps
According to Visa's "Biannual Threats Report" for this year's fall, merchants have become targets for hackers and bad guys at an alarmingly increasing rate. 
Per the report, there was a 91% increase in ransomware attacks between February and March 2023 (62% increase for the same period).
Enumeration attacks increased by 40%, while 58% of online merchants were the prime targets. 
Premium payment solutions company Affirm revealed a partnership with travel ecosystem booking.com. 
The cooperation enables several payment rails from within Affirm's platform at checkout, including flexible payment options. 
PayIt/Commonwealth of Massachusetts
Government payment services firm PayIt, added the Commonwealth of Massachusetts to its growing list of clients.
State residents have access to multiple government services from a single user interface. 
SlicedHealth/PatientPay
Healthcare-focused solutions firm PatientPay revealed its partnership with leading HealthTech PatientPay. 
Per the collaboration, SlicedHealth's customers can access PatientPay's ecosystem and several advantages, including payment digitization and automation. 
Banking, Payments, and Infrastructure
Buevine, the leading digital banking ecosystem, revealed a twelvefold increase of FDIC protection to $3 million from the usual $250,000 for business account holders.
The offer is available via its partner banks, including Coastal Community Bank.
BNY Mellon/Trustly
Banking giant BNY Mellon reached out across the pond to partner with a Swedish open banking firm to launch a new consumer-focused solution ("Bankify").
"Bankify" helps businesses to focus on consumer payment flows, including bill payments and data insights.
PayPal/Meta
PayPal partnered with social media behemoth Meta to enable donations on Instagram and Facebook.
Nonprofits can receive donations for causes via payment buttons powered by PayPal's charity-driven product ("the PayPal Giving Fund").
Trolley
Trolley, the premier payment systems firm, unveiled the latest iteration of its enterprise product (Trolley Plus).
Upgrades include tax compliance integrations, higher API limits, and a dedicated account manager.
REtech, InsurtTech and Investing
Majesco/Microsoft
Majesco, a leading InsurTech firm, revealed the extension of its collaboration with Microsoft, the software giant. 
The cooperation will enable key insurance players to deploy operations digitally via Majesco's cloud-based solution. 
Matic Insurance/Dart Financial Corporation (Dart Bank) 
Matic Insurance, a premier InsurTech firm, revealed its partnership with Michigan-based Dart Bank.
Per the cooperation, Matic will offer Dart Bank's customers property and casualty (P&C) insurance. 
Matic's insurance marketplace, which has over 50 A+ carriers, is also available to Dart Bank's customers. 
FOXO Technologies/Artrio Insurance/Singular Insurance Brokerage 
Leading life insurance-focused ecosystem, FOXO Technologies revealed its integration with Miami-based Artrio. 
The collaboration enables the nationwide sales of "Life Insurance Designed to Keep You Alive™" via Artrio's/Singular network. 
---