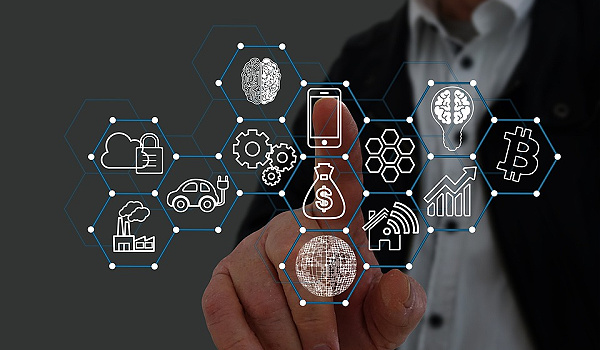 ---
By: Gerelyn Terzo 
Fixed income ETFs are evolving to better capture the latest technology. Advisors can gain access to two new crypto and blockchain funds. And the cloud is making investing more efficient.
BondBloxx Investment Management: A new ETF issuer is in town, and it is focused on the bond market. A group of seasoned industry professionals has introduced BondBloxx Investment Management, an ETF issuer dedicated to the fixed income asset class. The platform will "harness innovations in bond market pricing and trading technology" to deliver ETFs that better replicate fixed income securities. The ETFs give investors an opportunity to better manage their risk/reward profiles across "credit quality, maturity and industry sector," according to the announcement. BondBloxx Founder Leland Clemons pointed to an evolution in the bond market with tech innovation in "price transparency and electronic trading" that paves the way for changes in fixed income ETFs. 
GeoWealth: Chicago-based turnkey asset management program (TAMP) GeoWealth has integrated Franklin Templeton Model Portfolios onto its platform. GeoWealth has an open-architecture system that lends itself to "advisor-managed and third-party model portfolios," which helps advisors to gain scale and provide tailored solutions for clients. The Franklin Templeton Core Multi-Manager Model series comprises a number of target allocation portfolios coupled with an Alternative Completion approach to deliver "liquid alternatives in client portfolios." The Core series provides exposure to Franklin Templeton's investment managers and third-party managers across active and passive investment portfolios. 
Intelliflo: Intelliflo solution RedBlack has unveiled the cloud version of its rebalancing and trading platform. More than 150 RIA firms in addition to investment managers and family offices are on the platform across more than $300 billion in assets. According to the announcement, "The RedBlack Cloud Edition provides a high-performance software-as-a-service (SaaS) solution to deliver advanced, personalized rebalancing and robust order management at scale in a multi-custodian environment."  There are a number of features available, all of which are designed to help wealth managers to access greater efficiency in the cloud. 
Invesco: Global asset management firm Invesco has caught crypto fever. The firm has introduced a pair of digital asset and blockchain-fueled ETFs. The funds, dubbed the Invesco Alerian Galaxy Crypto Economy ETF (SATO) and the Invesco Alerian Galaxy Blockchain Users and Decentralized Commerce ETF (BLKC) give investors "thematic exposure" to public companies operating in the space in addition to investment funds that participate in the crypto and blockchain industry. Invesco has partnered with Mike Novogratz's Galaxy Digital as well as Alerian to deliver the funds, which will be listed on CBOE Global Markets. 
IQvestment: FusionIQ's RIA arm, IQvestment, has teamed up with the American Stock Transfer & Trust Company (AST) to deliver a new wealth advisory platform. AST will use iQvestment's wealth advisory services and investing infrastructure to bolster its suite of services and give investors and plan participants the opportunity to gain exposure to new investment options. For example, "participants will be able to invest incremental amounts on a dollar equivalent basis (i.e. fractional shares) in balanced, diversified portfolios of U.S. equities and ETFs," according to the announcement.
---