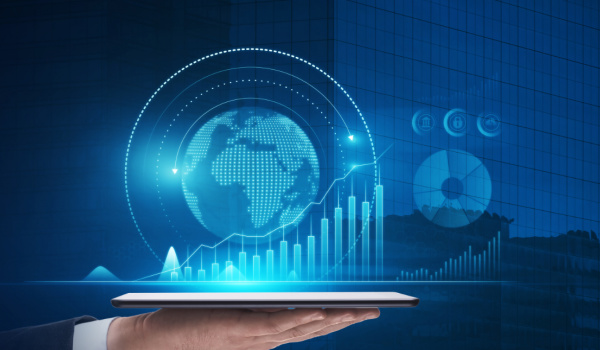 ---
By Christopher Robbins
What a week it was in digital wealth!
In Wealthtech and Investments, Shaping Wealth is offering a new program to bring behavioral finance into advisor-client relationships throughout the industry, while in the personal finance fintech realm MoneyLion has signed a big deal to offer financial literacy resources to student athletes.
In billing and payments, EPayPolicy is yet another company trying to make inroads in digitizing insurance billing and finally end a paper-centric process, while in the crypto universe Canadian exchange Balance is opening up its platform so users can access yield-generating opportunities with their crypto investments.
---
WealthTech and Investments
Shaping Wealth-Shaping Wealth, a pioneer in applied behavioral finance, announced a new and original offering for the global wealth industry. In order to meet the soaring need for training advisors in the psychology of financial planning and delivering inspired human-centric advice, Shaping Wealth is launching the Outsourced Chief Behavioral Officer™️ (OCBO™️) membership program.
A chief behavioral officer translates the science and wisdom on financial wellbeing into transformative experiences which improve the lives of clients and the advisors who serve them. While few firms can hire a standalone CBO, most firms need the many benefits the role provides. OCBO™️ fills this need for behavioral insights that are easily digestible, immediately impactful, and affordable.
Snappy Kraken-Snappy Kraken announced it has initiated two-way data synchronization from three of the industry's top customer relationship management (CRM) providers – Redtail Technology, Wealthbox and Salesforce – saving advisors considerable time and hassle by offering one accurate source of information at their fingertips.
In the absence of data flowing freely in both directions, advisors are perpetually on the hunt for the most updated source of people's addresses and other demographic information. These bidirectional integrations with three top-tier financial services CRM providers solve that problem by ensuring data is updated in real-time, saving advisors from the needless pain of having to constantly double check and second guess the accuracy of their information.
Sterling Trading Tech—Sterling Trading Tech announced that Jennifer Nayar has been appointed President & Chief Executive Officer, effective immediately. Nayar most recently served as Chief Executive Officer of Vela Trading Systems, a leading independent provider of data and execution technology for global multi-asset electronic trading. Prior to joining Vela, Nayar spent over a year at REDI Global Technologies as its technology chief of staff and over four years at NYSE Technologies as Global Head of Market Data and Business Operations.
Vestmark-Vestmark announced that it is expanding its executive leadership team, welcoming fintech industry and E*TRADE veteran Karl Roessner as Chief Executive Officer. As CEO, Mr. Roessner will be responsible for the vision and strategic direction of Vestmark, including new business growth, expansion into new adjacent product lines and broadening Vestmark's partnerships across the fintech ecosystem.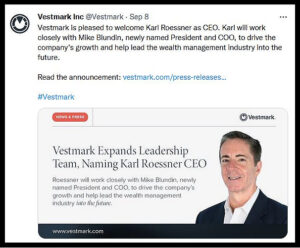 In the newly created role as President and COO, Mr. Blundin will focus on Vestmark's core business supporting client success. He will continue to lead internal operations, VestmarkONE platform development, Vestmark's advisory services including direct indexing, and service programs for Vestmark's asset management and wealth management clients.
Fintech, Personal Finance and Apps
UNest—UNest announced the launch of UNest Crypto, becoming the industry's first all-in-one financial solution for parents and kids to offer digital assets.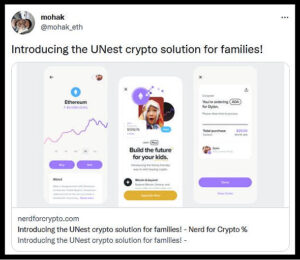 In addition to the company's existing lineup of managed portfolios, parents can now add crypto to their child's UNest account.
MoneyLion—MoneyLion and INFLCR announced a partnership to make MoneyLion the official money app of INFLCR and its student-athletes. Through this partnership, the companies will work together to teach the next generation of student-athletes how to money through engaging and easily digestible educational videos, which will cover topics such as improving credit scores, money-saving hacks and investing. Since the adoption of the new NCAA NIL regulations, collegiate athletes nationwide have benefited from partnerships with a wide range of brands, resulting in new sources of income. In this new sector of sports, MoneyLion and INFLCR are uniquely positioned to promote financial preparedness to all student-athletes through the amplification of their unique experiences.
Banking, Payments and Infrastructure
Bill.com-Bill.com announced that Loren Padelford has joined the company as Chief Commercial Officer (CCO) responsible for sales and strategic partnerships, reporting to CEO and Founder, René Lacerte.
EPayPolicy-ePayPolicy launched CheckMate, designed for rapid routing, processing and reconciliation of paper check payments for the insurance industry.
ePayPolicy's founders experienced firsthand the operational pains of check collection and manual reconciliation in insurance. This led to the company's first product – secure, online payment pages that were fully customizable to match the insurance company's brand. Additional capabilities – like industry-specific management system integrations, custom API connections, network payables, and more – were added as ePayPolicy's customer base swelled above 5,500 insurance companies.
Ocrolus–Ocrolus announced the launch of Ocrolus Detect, a comprehensive fraud detection solution for lenders. Detect provides high-quality, decision-ready data that can help lenders minimize risk and prevent losses. Lenders traditionally perform manual review of documents to inspect for file tampering, document manipulation, inconsistencies, and other suspicious activity. This time consuming, tedious, and error-prone process can result in significant losses. Ocrolus Detect automates fraud workflows, providing detailed signals and clear visualizations of fraudulent activity undetectable to the human eye.
JPMorgan-J.P. Morgan announced that it has signed an agreement to acquire Renovite Technologies, Inc. (Renovite), a leading cloud-native payments technology company.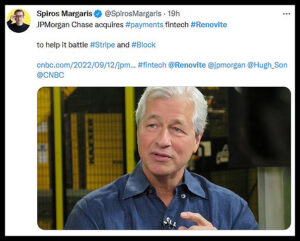 The strategic acquisition of Renovite will help J.P. Morgan Payments build its next-generation merchant acquiring platform, bolster the firm's payments modernization strategy and support its journey to the cloud. Upon closing of the transaction, Renovite will become part of J.P. Morgan Payments.
Blockchain, Crypto and Digital Assets
FTX Ventures-FTX Ventures, a multi-stage venture capital fund, announced that it will acquire a 30% stake in SkyBridge Capital ("SkyBridge"), a global alternative investment firm. The financial terms of the deal have not been disclosed.  FTX Ventures' investment will provide SkyBridge additional working capital to fund growth initiatives and new product launches. Further, SkyBridge will use a portion of the proceeds to purchase $40 million in cryptocurrencies to hold on its corporate balance sheet as a long-term investment. SkyBridge remains profitable and debt-free, notwithstanding market conditions.
Bakkt-Bakkt announced that Chip Goodroe was appointed as its Chief Accounting Officer. In this role, Mr. Goodroe will report to Karen Alexander, Bakkt's Chief Financial Officer, and will lead the Accounting function, including SEC and regulatory reporting.
Enclave Markets–Enclave Markets announced the launch of Enclave Cross, a novel service that allows participants to trade blocks of digital assets at the given market price without any information leakage or market impact.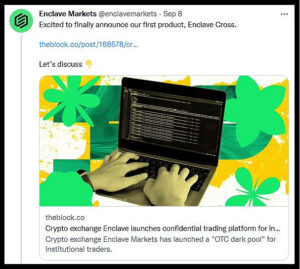 Enclave Cross enables approved participants to execute block trades in a fully private and secure manner. The platform uses an advanced technology based on secure hardware that implements an enclave where code executes a smart contract free from interference.
Balance—Canadian crypto custodian Balance unveiled Balance Yield, a turnkey solution which enables clients to participate in yield generation workflows such as staking, delegating, or pledging assets through third-party partners of their choice.
---