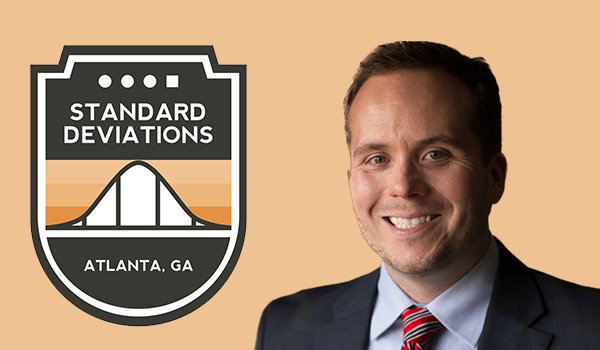 ---
This week on the Standard Deviations Podcast, Dr. Daniel Crosby is joined by best-selling author Sam Sivarajan.
Sam Sivarajan is a best-selling author and senior financial services executive and leader. He has spent over 25 years advising investors on achieving their investment goals, advising companies and business leaders on achieving their strategic objectives, and leading teams to personal and professional success. By weaving his academic and practical background in law, finance, strategy, and leadership, Sam helps his clients make better decisions to achieve better outcomes.
As a writer, he writes narrative non-fiction to help readers make better decisions. His bestselling book, Making Your Money Work: The Secrets to Financial Health, gives people actionable tips and tools to make better financial choices and achieve financial health. His upcoming book, Uphill: How to Apply Ancient Wisdom and Modern Science to Life's Choices and Challenges, provides actionable insights for everyone to deal with life's inevitable setbacks and make better choices – in investing, in building and growing businesses, in leading teams, and in their personal lives.
Sam has written articles in several academic and mainstream publications and has been a guest on broadcast media. He believes that science, philosophy, and experience are important to make better decisions that lead to better outcomes.
Away from his desk, Sam loves adventure and new challenges. Some memorable experiences include summiting Kilimanjaro and Gran Paradiso in the Italian Alps, trekking the Himalayas and the Andes, cycling 1400 km from London to Monaco, and setting a personal best at the Boston Marathon. For some of these, he looks for guides to help him make better choices that lead to better outcomes. Closer to home, you can often find him reading or enjoying a good meal or a glass of wine with friends and family.
Tune in to hear:
 In his new book, why did Dr. Sivarajan feel that a story was the best means to convey behavioral and philosophical truths?

What steps can we take to ensure we are "climbing the right ladder" and why do we often get this so wrong?

If we find ourselves pursuing the wrong goals and being motivated by the wrong things how can we start fresh?

What is the story of Ferrari vs. Lamborghini for those who don't know and how does Dr. Sivarajan relate this to mimetic desire and mimetic competition?

In a particularly bad year, how do we encourage our clients to embrace the idea that markets, and life more generally, are just this way sometimes and there's not much we can do about it?

What interesting takeaways did Dr. Sivarajan find in his research on risk tolerance questionnaires?
---
ABOUT STANDARD DEVIATIONS PODCAST:
Educated at Brigham Young and Emory Universities, Dr. Daniel Crosby, the personality behind STANDARD DEVIATIONS podcast, is a psychologist and behavioral finance expert who helps organizations understand the intersection of mind and markets.
Dr. Crosby's first book, Personal Benchmark: Integrating Behavioral Finance and Investment Management, was a New York Times bestseller. His second book, The Laws of Wealth, was named the best investment book of 2017 by the Axiom Business Book Awards and has been translated into Japanese, Chinese, Vietnamese and German. His latest work, The Behavioral Investor, is an in-depth look at how sociology, psychology and neurology all impact investment decision-making.