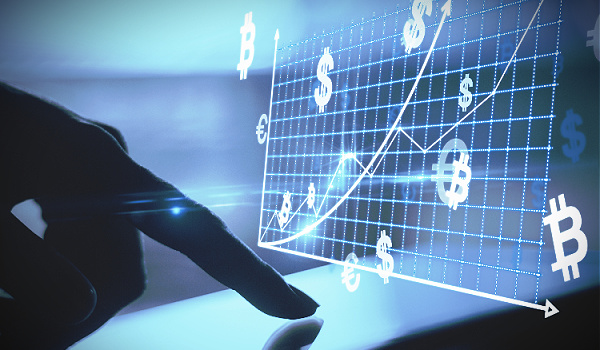 ---
By Christopher Hamman
We hope you enjoyed a Happy Memorial Day!
With treasury yields falling, many think this is "the end" of things as we know it.
We will have to wait and see about that.
Bloomberg adjusted its rule builder solution as the Treasury launched its "public-private" cloud working group.
Coinbase continued to lead the charge against the SEC. Longshore benefits got easier.
Mastercard's Touch Card is available, even though high net-worth individuals (HNIs) will get it first.
This is your week in digital wealth!
---
WealthTech, RegTech and Treasury
Bloomberg L.P
To improve automated trading conditions, financial services, and media behemoth, Bloomberg revealed additional features to its Rule Builder (RBLD) solution.
RBLD users can now automatically route orders via timed releases, integrate economic data during rule-based periods, and resubmit trades when rule-based trade orders timeout.
Department of the Treasury
The Treasury launched the Cloud Executive Steering Group (CESG) in collaboration with key private sector players to resolve the various issues surrounding increasing cloud adoption by financial service providers.
The CESG will report to the Financial Services Sector Coordinating Council (FSSCC), the Financial Stability Oversight Council (FSOC), and the Financial and Banking Information Infrastructure Committee (FBIIC).
Barchart/ChartIQ
Traders, market operators, and financial professionals can get the best of both worlds with Barchart, the leading industry data solutions platform integrating with the S&P-owned ChartIQ.
Industry pros can now access interactive charting via ChartIQ with Barchart's market data.
BridgeFT/Zoe Financial
Financial data solutions platform BridgeFT revealed its partnership with Zoe Financial, a wealth solutions platform that connects individuals with financial advisors.
Per the cooperation, Zoe Financial selected BridgeFT's WealthTech API to collapse tech stacks and provide advisors with seamless workflows.
Crypto, Blockchain, and Digital Assets 
Ava Labs
No code Web3 tools hit the Web3 streets with the launch of AvaCloud, an easy-to-deploy and scalable launchpad that allows for all-in-one blockchain ecosystem creation and more.
AvaCloud has a blockchain builder, validators, pre-compiled smart contract code, and data assessment tools with cross-chain interoperability.
Coinbase/SEC
Coinbase continued its pushback against the SEC with the cryptocurrency exchange, filing a response to the SEC's Third Circuit Court of Appeals' request urging the court to disregard Coinbase's position.
Per the filing, Coinbase asserted that the regulator had predetermined to deny Coinbase's petition, referring to recent comments by Chairman Gary Gensler.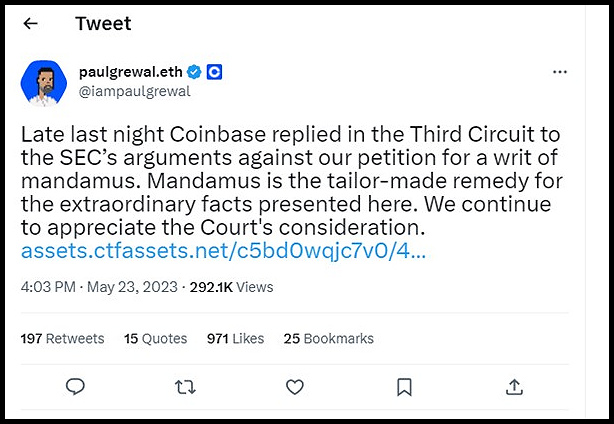 Digital Currency Group (DCG)/TradeBlock
Cryptocurrency investment behemoth Digital Currency Group (DCG) indicated it was shutting down its crypto brokerage unit, TradeBlock, on May 31, 2023.
DCG cited crypto losses and regulatory issues as reasons for the closure.
FinTech, Personal Finance, and Apps
Line Financial/Column Tax
The deployment of AI-driven solutions continued with the expansion of Line Financial's AI-driven processes.
The FinTech solutions provider indicated that federal and State taxes (in partnership with Column Tax), with a $10,000 maximum IRS penalty protection and a refund guarantee (up to $250), were available.
Line also improved backend money movement processes with the AI upgrade.
Cantaloupe/AWS (Amazon Web Services)
Boutique payment services firm Cantaloupe announced the selection of AWS for the cloud deployment of its solutions.
The migration enables increased latency, Service Level Availability (SLA), redundancy, and operational efficiency for Cantaloupe.
Avalara, Inc.
Tax compliance solutions firm Avalara launched "Avalara E-Invoicing and Live Reporting", an all-in-one e-invoicing solution for all kinds of businesses.
The solution vertically integrates tax reporting solutions, enabling plug-and-play deployment via its API.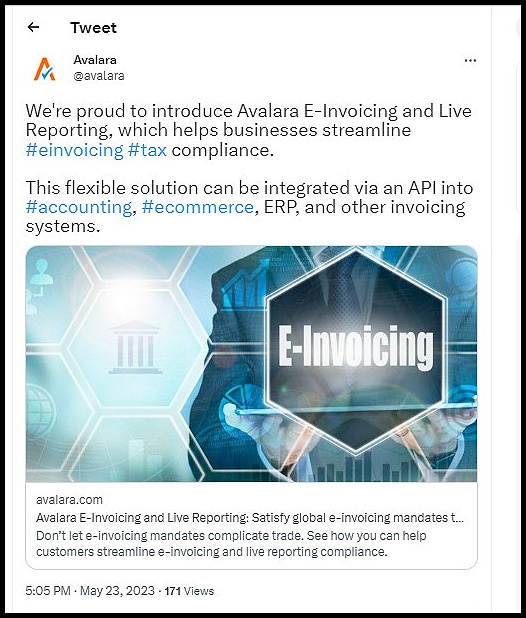 Banking, Payments, and Infrastructure  
ACI Worldwide Inc./Red Hat, Inc. /Red Hat OpenShift
Cross-platform payments, confirmations, and other processes got a boost with the revealed cooperation between payments giant ACI Worldwide Inc. and Red Hat, the world's leading open-source solutions firm.
Per the collaboration, financial institutions will have access to ACI's payment features within Red Hat's Kubernetes ecosystem.
Kubernetes is a leading open-source cloud computing framework that enables process automation, application deployment, and scaling.
ACI Worldwide Inc./Swift
In related news, ACI enabled Swift payments on its "ACI Enterprise Payments Platform", improving cross-border transfer solutions for customers.
Citizens Bank/Mastercard
Wealthy clients got access to perks offered by Citizens Bank, including 2% unlimited cash backs, TSA pre-checks and airport entry rebates, and more with "Citizens Private Client World Elite Mastercard", the first touch card by the payment services provider in America.
Touch card technology enables visually impaired individuals to identify their cards, make payments, and more.
nCino Inc./Zest AI
Cloud banking solutions provider nCino, and automated underwriting solutions firm for financial institutions Zest AI partnered to integrate Zest's backend into nCino's consumer banking platform.
The collaboration covers three product lines-personal loans, auto loans, and credit cards.
REtech, Insurtech and Investing
Blend/Nations Lending Corp.
Premier cloud banking solutions provider Blend went all the way for mortgage lenders by enabling soft credit inquiries within its ecosystem.
This shift represents a growing trend that cuts costs at the prequalification stage.
Nations Lending Corp. also selected Blend's ecosystem for operations, including origination, income verification, and more.
Gainbridge Insurance Agency, LLC
The insurance industry gained a "plus one" with Gainbridge's business-to-business (B2B) "insurance-as-a-service" platform, which will launch later in the year,
The Group 1001-owned subsidiary indicated that the new product includes white labeling of solutions for partners, including annuities and other products.
Signal Mutual/Gradient AI
Longshore benefits recipients will have shorter wait times for claims (triage and compensation) and risk assessments with the new partnership between Signal Mutual and Gradient AI, the AI insurance solutions provider.
Per the cooperation, Signal integrated Gradient AI's solutions to enable faster processing of complex claims.
Signal Mutual is America's largest self-insured provider of longshore benefits.
---