---
HALLELUJAH!
Larry Fink, CEO of BlackRock, must have recently spent some time at a good old revival camp. Not just any revival camp either. A bitcoin revival camp. Gasp! Larry has become a crypto/bitcoin convert. Several years ago Mr. L. was decidedly bearish on bitcoin, likening it to just a way to launder money. But why the change? Mr. L. realized HE (BlackRock) could make a pile of money with bitcoin. HALLELUJAH!
Just in case you may be unfamiliar with BlackRock, it is the world's largest asset manager with roughly US$9 trillion in assets under management. It is also "home" to iShares, a large stable of ETFs (Exchange Traded Funds) offering different investment strategies. And now, BlackRock wants to have a Bitcoin ETF. Better known as "the Holy Grail" among investment firms.
Problem. As always, that pesky SEC (Securities Exchange Commission) stands in the way. The SEC has made it well known they don't really like crypto and are cracking down  (bullying) on exchanges/firms/etc that offer investors access to the digital asset world. Regulation on steroids. BUT, just maybe, bitcoin and ethereum might be OK. Enter Larry Fink and BlackRock.
First, BlackRock doesn't do things unless they think they can be successful (pretty sound business plan) and they have a superior track record. For example, BlackRock had only one (1) ETF application denial — from 2014 — out of over 575 applications. Nice. So, filing an application for a bitcoin ETF now must(?) mean Mr. L knows something. Right?
So Gary Gensler (Chairperson of the SEC) 'meet' Larry Fink (CEO BlackRock) and let the hype begin. Mr. L has been out pumping up crypto and putting pressure on Gary. "BlackRock hopes to make crypto much cheaper for investors."  "A spot bitcoin ETF could help to "democratize" crypto" (uh yeah, that's the true premise). "Bitcoin could possibly replace gold."
More from Larry…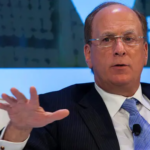 "I do believe the role of crypto is it's digitizing gold in many ways."  Bitcoin could be an "international asset."  "Bitcoin could revolutionize finance."

With that kind of massive PR coming from the world's largest asset manager pumping up investors appetite for a bitcoin ETF, could the SEC even consider saying NO? Probably not.
When Larry Fink and BlackRock "smell" new huge piles of money and AUM watch out. Mr. L got Bitcoin Religion.
HALLELUJAH!
---