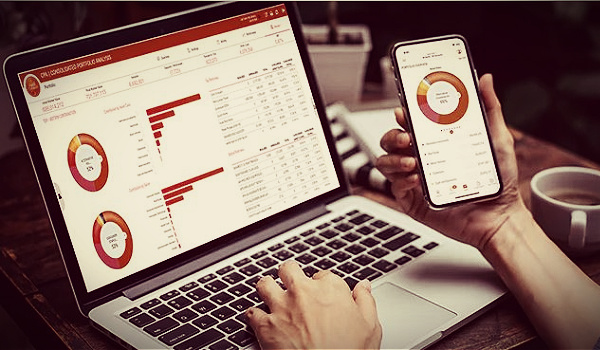 This week in advisor tech headlines, we have a bevy of AI-infused briefs. 
While the traditional wealth tech industry seemingly took a breather from a very busy summer—there were few doldrums during the high summer season—next-gen technology is picking up the slack this week.  
In addition to the AI announcements, we also have news from DriveWealth, where long-time executive Bob Cortright is handing off CEO duties, and an interesting partnership between TAMP GeoWealth and Halo Investing. 
We'll leave the rest of the gems in this week's Advisor Tech Talk for you to uncover. 
---
Atlas Point 
Atlas Point, a fintech company providing financial services firms and their professionals with a proprietary, innovative, AI-powered platform, announced the formation of its Advisory Board, comprised of five industry titans with deep expertise in private equity, leadership, entrepreneurship, large financial institutions, risk management, and more. These exceptional individuals will harness their extensive skills and knowledge to provide guidance, direction, and constructive feedback to the Atlas Point executive team. Their collective expertise will further empower and enrich the platform's solutions and solidify Atlas Point's position as a pioneering leader in the industry. Atlas Point's Advisory Board members include: 
Pete Bowman, Managing Director, Oyster Consulting, LLC 
Randy Bradshaw, Former Edward Jones Principal 
James E. Hays, CEO, Coastal Range Capital, LLC 
Tony Leal, Advisor, Envestnet 
Bob Mooney, General Counsel, Oyster Consulting, LLC 
DriveWealth 
DriveWealth, the innovative global fintech with the mission to empower investing for all, has announced the appointment of Michael Blaugrund as Global Chief Executive Officer (CEO). Robert Cortright, the DriveWealth founder, and current CEO, will transition to the role of Executive Chairman, in which he will continue to shape the strategic vision at DriveWealth. Blaugrund joins DriveWealth from the New York Stock Exchange (NYSE), where he most recently served as Chief Operating Officer, overseeing strategy and operations of the NYSE Group's five equity exchanges and two options exchanges. Joining NYSE in 2016, he was responsible for the exchange's trading and data businesses, including product development, commercial policy, market structure positioning, and relationship management. Before NYSE, Blaugrund was the Director of Business Development at Tower Research Capital, where he was responsible for expanding the firm's global market access and developing strategic assets. He previously led U.S. equity product strategy at NASDAQ and held product management roles at Thomson Reuters. He previously served on the boards of SIAC, the Options Clearing Corporation, and tZERO. 
ForwardLane 
ForwardLane, the provider of AI-powered intelligence solutions, announced the launch of its new generative decision intelligence platform EMERGE to help solve many enterprise challenges, such as data transparency, data privacy, and data security issues within the wealth, asset management, and insurance industries. Following conversations with C-Suite executives and Data & Analytics teams in financial services firms, it became clear to ForwardLane that the complexity of deploying private, secure, and accurate generative AI is a big challenge and a large drain on resources. EMERGE enables a new generation of professionals in advisory, distribution, sales, marketing, business intelligence, management, and product to harness the power of generative AI to easily find, create, preview, publish, and interact with entirely new and unknown insights – while remaining private, secure and accurate. 
GeoWealth 
GeoWealth, a proprietary technology and turnkey asset management platform (TAMP), announced a new partnership with Halo Investing, an award-winning platform for protective investments. As a result, GeoWealth delivers a new-to-market capability, offering customizable structured note portfolios as a component of a Unified Managed Account (UMA). With access to Halo's easy-to-use structured notes tool, Registered Investment Advisors (RIAs) can more efficiently deploy and manage structured note exposure to client portfolios and model programs. RIAs that take advantage of this partnership and incorporate structured notes into UMAs can view, report, and bill at the individual sleeve level, made possible by GeoWealth's proprietary sub-accounting software. 
Posh 
Posh, an AI platform of purpose-built solutions for financial institutions, has announced a new milestone: they have successfully reached over 100 deployed solutions with 58 live clients. This accomplishment highlights Posh's AI solutions' consistent momentum within the financial industry and demonstrates strong client retention within the Posh AI ecosystem. Posh's comprehensive AI-powered solutions across mobile and digital channels specialize in streamlining customer conversations, assisting with lead generation opportunities, and internal knowledge management. By harnessing the capabilities of our AI, these solutions offer swift assistance and answers, freeing up time for employees to focus on helping customers achieve their financial objectives. Each solution is built to empower banks and credit unions by enhancing customer and employee experiences. Since January, Posh has witnessed a remarkable 41% surge in Helpful Banking Moments, a metric Posh uses to gauge successful customer outcomes. Additionally, there has been a 49% increase in voice chats and a 40% increase in digital chats, showcasing Posh's ability to effectively scale its products without compromising exceptional results. This achievement further cements Posh's position as an AI-native company and represents its continued commitment to creating AI solutions to answer the needs of financial institutions. 
Qraft Technologies 
Qraft Technologies, a leading invest-tech company developing artificial intelligence solutions, has formally entered into a strategic technology research partnership with LG AI Research, an artificial intelligence research hub of LG group, by signing a Memorandum of Understanding ("MoU"). Through this partnership, Qraft and LG AI Research intend to collaborate on exploring new ways to leverage both firms' unique and cutting-edge approaches to big data processing and artificial intelligence capabilities. Qraft Technologies aims to provide investors with a competitive edge through AI-driven investment solutions leveraging cutting-edge artificial intelligence models in collaboration with LG AI Research and offers forecasting and optimization models based on data intelligence, a large-scale multimodal AI model called EXAONE, and other advanced machine learning technologies.
Rightfoot 
Rightfoot announced the launch of its zero-login consumer-permissioned data product, Connect Magic, and a $15 million Series A fundraising. The financing round was led by Blue Lion Global and Renegade Partners, with participation from Bain Capital Ventures (BCV), Box Group, and Kraken Ventures. Rightfoot has been building and testing Connect Magic with financial institutions, lenders, and technology companies across the United States and will use the funds to launch and expand access. 
---