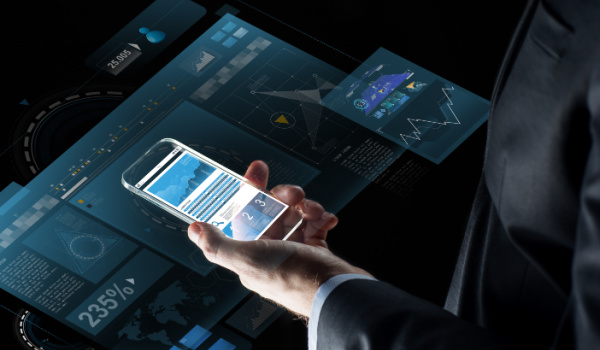 ---
You've probably heard this one before, but we had another busy week in advisor technology headlines—but while the bulk of the news usually comes from a set of wealthtech industry heavyweights, today we have headlines from a handful of new innovators, as well as a couple of stories from the more consumer-facing side of the business but which are still-important-for-advisors. 
For example, Schwab is launching a new consolidated suite of trading tools that incorporates functionality from TD Ameritrade's Think or Swim platform. 
We believe that there's a place for a couple of consumer-facing stories in our feature of advisor technology headline because of the ongoing technological inversion happening. For years, many knowledge workers commuted into offices and were met there by technology they could not possibly keep in their homes: more powerful computers, fax machines, specialized printers, audio and video conferencing capabilities, large monitors and ergonomically designed workspaces all tended to be vastly superior to what the average worker could afford on their own. 
Now, especially in highly regulated industries like wealth management, the technological scales have tipped in favor of the home versus the office and the consumer versus the professional. Individual investors working with advisors only as validators—or working away from the advisor altogether—will often be able to access more sophisticated investing, communication and behavioral technologies than their financial professionals. 
With the advent of more advanced fintech applications, it's not out of the question that the average consumer may soon be able to access more comprehensive and more sophisticated solutions than the average individual financial professional will be able to offer them. 
The only way for wealth management to draw even with the consumer in this arms race is to embrace technology in new ways, as Wells Fargo is attempting to do with the expansion of its LifeSync app. 
That's enough philosophizing, let's get to the advisor tech headlines.
---
Altoo 
Altoo AG, a Swiss-based fintech that empowers investment professionals, family offices and individual ultra-high-net-worth clients to conveniently oversee their wealth through the cutting-edge Altoo Wealth Platform, announces the introduction of Altoo Insights. The news and features channel on the company's website aims to bring clients and the broader public closer to Altoo digitally and worldwide.  
Altoo Insights is designed in line with the company's mission to deliver "Simplicity for Complex Wealth." Altoo Insights not only details information about the Altoo Wealth Platform but also serves as a comprehensive source for news and stories within the field of wealth management and beyond. They get macroeconomic updates and explore articles on ESG investing and philanthropy. Furthermore, art, travel, vehicles, and timepieces are among the lifestyle features that might assist affluent people enjoy their wealth. Readers will also delve into the cutting-edge topics of IT security and software-based digital wealth management solutions. Visitors can currently read almost 500 articles in English, German, and French. 
Bitgo
This week, Bitgo Holdings, Inc. announced the acquisition of HeightZero, a digital asset management platform (TDAMP) focused on providing wealth managers the tools for digital asset exposure on behalf of their clients. The acquisition of HeightZero establishes BitGo as one of the first digital asset companies to provide a comprehensive solution for wealth managers.
Recent industry research indicates that 90% of advisors are fielding questions about digital assets, but only 15% are actually allocating to crypto in client accounts. Advisors are concerned about centralized institution failures, custody issues, and limited investment options as significant barriers of entry for digital asset allocations.
In response to industry concerns, HeightZero developed a scalable all-in-one solution designed to streamline digital asset management, offering familiar capabilities and experiences for advisors. This includes a suite of professionally managed strategies from top index providers and portfolio products such as portfolio rebalancing, statement generation, tax loss harvesting, and automated billing. When paired with BitGo's qualified custodial solutions, investment managers can now have their assets safeguarded in segregated accounts, adhering to strict standards subject to regular independent audits.
DACFP 
The Digital Assets Council of Financial Professionals introduced an Ex-US track so financial professionals worldwide can become Certified in Blockchain and Digital AssetsSM. The Ex-US track is offered in nine languages: Arabic, Chinese, French, Hindi, Japanese, Korean, Portuguese, Spanish and English. This is the fifth track offered by DACFP, joining tracks for client-facing financial advisors; financial professionals in operations, compliance, marketing and management not directly serving clients; those working in the crypto industry; and a track for investors, consumers and students.  
The new Ex-US Track omits modules unique to U.S. tax law and regulation, making the entire program valuable and relevant for financial professionals worldwide. Already, professionals from 37 countries have completed the course.  
The CBDA designation is the industry's oldest and largest certification course, with thousands of enrollments. The world-class faculty includes Dr. Scott Stornetta and other luminaries in the field. The online, self-study program lets participants pursue the CBDA designation at their own pace, and offers up to 18 Continuing Education credits. In the U.S., the Financial Industry Regulatory Authority lists the CBDA as a professional designation for financial professionals. 
DL Holdings 
When it comes to the "Digital Family Office", it is often linked to the management of virtual assets, such as digital currencies. However, DL Holdings (1709.HK) aims to establish a genuine "Digital Family Office" that integrates big data, cloud computing, and blockchain technologies. DL Digital FO will gradually help the professional investment grade clients in the asset management category enjoy family office level investment services and favorable returns through the artificial intelligence investment advisory system. In this context, the term "digital" denotes intelligent, user-friendly, and customized financial technology, rather than limited to digital or virtual assets. 
DL Holdings Group Limited ("DL Holdings" or the "Company", together with its subsidiaries, the "Group", Stock Code: 1709.HK) recently announced the official upgrade of its subsidiary DL Asset Management to DL Digital Family Office ("DL Digital FO"),  emphasizing that DL Holdings continues to expand its presence and exploration in the family office domain, following the acquisition of its multi-family office's entire equity business. 
DL Digital FO will be complementary to the existing multi-family office business, with a coverage of professional investors above the entry level (US$1 million), providing them with basic family office diversified investment services and asset allocation services, and targeting potential clients in advance, so as to increase the number of clients and the total amount of assets under management. 
F2 Strategy 
F2 Strategy announced that Jaclyn Stanton and Wade Spencer have been appointed to ensure F2's wealth technology expertise and subject matter expertise deepens and expands with focus on specific industry segments, needs, and capabilities. Stanton and Spencer will serve F2 Strategy's clients in the broker/dealer and large wealth advisory spaces respectively. These appointments come on the heels of the strategic addition of industry veteran Laura Korbel as President earlier this year as F2 Strategy positions for further growth.  
Stanton, who has served as a member of F2 Strategy's "Executives in Residence" program since joining the company in May of 2023, will transition to her new role immediately. The former Vice President of RIA Operations and the Director of Advice Capabilities at Thrivent, a Fortune 500 diversified financial services organization, will lead F2 Strategy's broker-dealer consulting division.   
Spencer, a vastly experienced wealth management technologist and strategist, joins F2 Strategy from the Boston Consulting Group (BCG), where he served as an Associate Director in the wealth and asset management practice. Spencer's diverse leadership experience, coupled with his proven track record in delivering transformative initiatives, will bring substantial value to F2 Strategy's clients. His deep understanding of operational needs within international securities brokerage, banking and wealth management further strengthens his contribution to the team. 
FinMason 
FinMason, a leading financial technology, investment data and analytics firm, has appointed business development executive Samantha Foerster, Global Head of Business Development and Relationship Management to build on FinMason's significant recent growth. Foerster is responsible for deepening relationships with existing clients, building the company's new-business pipeline and leading FinMason's expanding marketing activities.  
Foerster brings extensive experience in sales, relationship management and business development to FinMason. She started her career as a sales executive at Bloomberg. Since then, she has continued to take on business development leadership positions with a variety of firms, including Credit Suisse and IHS Markit. Most recently, she held a business development leadership position with Greenwich Associates (now Coalition Greenwich). 
Schwab 
Schwab introduced Schwab Trading Powered by Ameritrade, a reimagined trading experience made possible by the combination of two of the industry's most innovative firms, Charles Schwab and TD Ameritrade. Schwab Trading Powered by Ameritrade unites the award-winning thinkorswim trading platforms with Schwab's trading capabilities on Schwab.com and Schwab Mobile, alongside extensive trading education and specialized service designed for traders of all types and levels of expertise to create an exceptional trading experience. 
At the core of Schwab Trading Powered by Ameritrade is the thinkorswim platform suite and its highly popular paperMoney trading simulator. Long lauded by industry experts for the depth and breadth of its trading capabilities, the thinkorswim platforms provide powerful charting and analytics tools, trader-friendly navigation, and extensive customization.  
In addition to making thinkorswim available to all clients, Schwab has also rolled out an ongoing series of meaningful enhancements to trading features and functionality on Schwab.com and Schwab Mobile to give clients the flexibility to trade the way they want. Recent additions include SnapTicket, an order ticket that allows clients to enter orders directly from the most frequently visited Schwab.com pages , and streaming market data on trade tickets, watchlists, options chains, and order status via web and mobile to help clients stay informed of the latest market moves in real-time. 
Vestwell 
Vestwell announced it has appointed John Rettig, Executive Vice President and Chief Financial Officer of Bill, to its board of directors. Rettig joins a team of leading fintech executives serving on the Vestwell board, including industry veteran and chairperson, Lori Hardwick. Rettig will work closely with Vestwell's CEO, Aaron Schumm, and CFO, Dave Sheen in leveraging John's experience and track record creating one of the most revered public fintech companies in the market. 
Rettig brings a wealth of experience to Vestwell with more than 20 years of strategic finance and operational leadership experience in both private and public companies. Prior to Bill, he was the CFO of Exponential Interactive, Inc., a leading digital media company. Rettig is on the Board of Arcadia, a climate crisis-fighting tech company, and holds a B.S. from St. Mary's College. 
Wells Fargo 
Wells Fargo & Company announced today the expanded availability of LifeSync, a personalized digital approach to aligning customers' goals with their money, to all consumer customers. Available in the Wells Fargo Mobile app, LifeSync launched to all Wealth & Investment Management (WIM) clients earlier this year. This expansion comes in conjunction with a pivotal move for WIM's Advice and Planning group, which will now be an enterprisewide Center of Excellence, providing more customer segments with tailored solutions. 
Through an intuitive digital experience, LifeSync can provide real-time progress on goals and track key information — including their full Wells Fargo account summary, FICO® scores, market indexes, and credit card reward balances. Timely and relevant Wells Fargo content is delivered through its "Newsfeed" feature as goals or life events change and evolve. 
LifeSync will be fully integrated with a customer's branch experience, providing the option to create a multichannel experience through both digital and banker touchpoints. Customers can choose to either have a goals conversation with a banker and then track those goals in LifeSync, or articulate their goals in LifeSync first and then follow up with a banker.
---