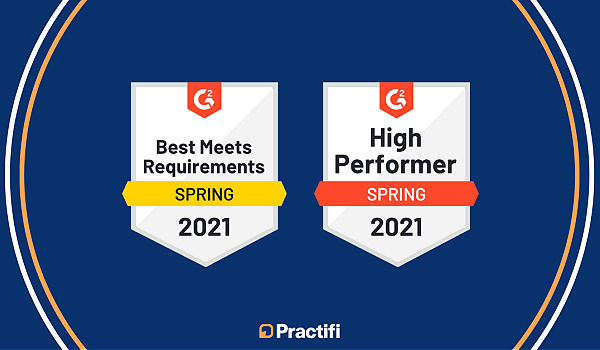 ---
We're proud to announce Practifi has won the Best Meets Requirements and High Performer badges in G2's 2021 Spring Grid® Report for the Financial Services CRM category! This report acknowledges the top-rated solutions in the industry, as chosen by the source that matters the most: our clients.
With 4.6 out of 5-stars, the highest in the category, we're thrilled to see our positive reviews and satisfaction ratings continue to increase across various categories like Platform Functionality and Case Management.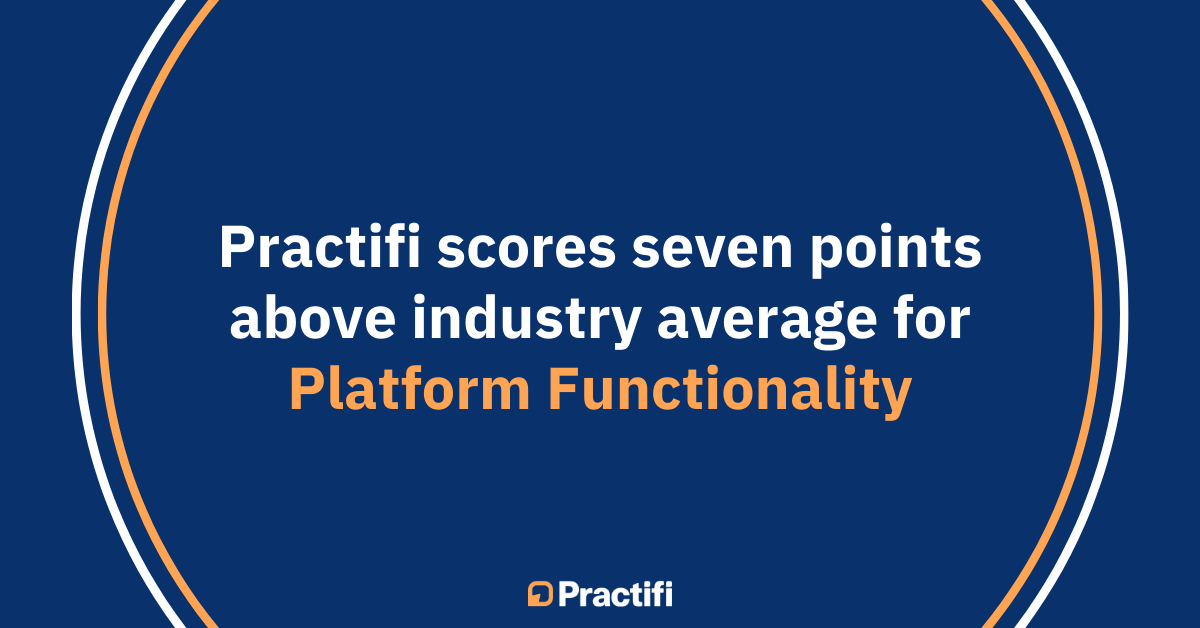 We're a 'High Performer'
G2's quarterly Grid® Reports compare products within a given category based on user reviews, satisfaction and market presence scores. Products designated as high performing are recognized for their high customer satisfaction ratings compared to others in the same category.
Software buyers can use the Grid® to quickly determine the right product for their business. For investors, sellers and analysts, the Grid® provides industry benchmarks for product comparison and market trend analysis.
As a High Performer, the basis for this recognition is in the high levels of user satisfaction from our clients. Out of 55 platforms, Practifi ranked 5th overall in G2's Financial Services CRM category. To celebrate this huge milestone, we wanted to share some stats around our user satisfaction:
93% of users believe Practifi's quality of support is excellent
92% of users are likely to recommend Practifi
91% of users feel Practifi is easy to operate
90% of users feel Practifi are easy to work with
90% of users believe Practifi meets and exceeds their requirements
We best meet our client's requirements
In G2's Spring 2021 Usability Index, Practifi achieved the highest user rating in the financial services CRM category, based on product usability, functionality and customer support.
Using a proprietary algorithm, G2's Usability score is calculated from a series of industry-related review questions and user satisfaction ratings. Buyers, analysts and investors can then use this ranking to compare software and services in the Financial Services CRM category.
Securing this new position speaks volumes about our customer's satisfaction and their adoption of our platform, both of which are essential markers to our success. We feel this recognition is a testament to our ongoing commitment to delivering innovative business solutions for high-performing financial advice firms."The best part is the ease to which you can navigate the platform. It uses the engine of Salesforce without all the confusion of navigating Salesforce."

Practifi Client
G2 Review
We're dedicated to innovation
With a focus on client success and product innovation, we work hard to provide the foundation and support needed to build the advisory firms of the future. A few ways we do this is by introducing five product releases each year that improve the day-to-day for our users, building deep integrations with the industry's best partners, and continuously strengthening our technical capabilities.
We're grateful to all of our loyal clients who have voiced their support for Practifi as a best-in-class solution for the industry!
Interested in learning more?
If you want to see how we compare to our top competitors in the Spring 2021 G2 Financial Services CRM Category, head here. Or if you'd like to see more of our wonderful client reviews on our G2 profile, follow this link here.
---