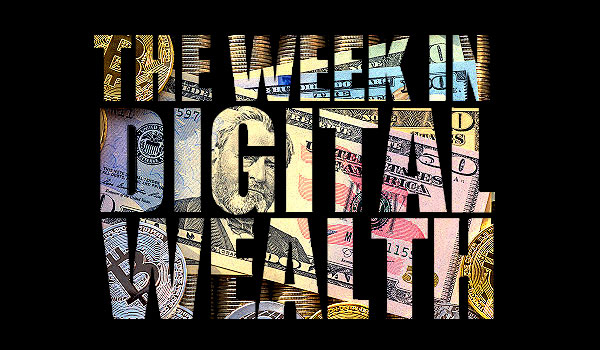 ---
By Gregory Bilecki
TWIDW 5/3/22: Fed News & Market Impacts – watch out for market makers, Solana just suffered their 7th DDoS attack this year last weekend, and, are NFT sales finally flatlining? Tezos hits 1k TPS, Coinbase predicts 1 billion crypto users soon, Algorand begin marketing campaign initiatives with FIFA, Crypto.com ends their staking rewards program and then…offers it again? Finally, PayPal and Aon partner up in a boon to SMB users across the U.S.
Fed News & Market Impacts
Spot on with my post from a few weeks ago, BTC ended the month under $41k with April giving us more than its fair share of volatility over the month ending with a less than desirable contracts expiration on the 29th. Now May is here, and if you've read one of the recent editions of the Taylor Report here, then you may just want to stay put on open positions short-term as the volatility train moves forward.

That said, I can't say if I know that Warren Buffet and Charlie Munger have been perhaps losing some of their colloquial marbles, if they actually don't understand how the landscape of finance is changing at warp speed in front of our very eyes at this moment, or simply if their level of trolling goes well beyond any of our understandings. Case in point: last week we saw Munger (also VP of Berkshire Hathaway) on Fox News touting Bitcoin as "evil", then, oddly afterward sending warm praise to President of China Jinping Xi for banning the use of Bitcoin entirely.
Interestingly enough, Berkshire Hathaway invested $28 million in Chevron and Occidental Petroleum in Q1 of this year alone…let's stop and think about that one for a moment before considering any real villian in this scenario. His comments also came a day after Jim Cramer was quoted on an edition of Mad Money last week calling for a – get this – a 40% rise in Ethereum. While it's not out of the realm of possibility, they were also some daring words. This was all mentioned to the dismay of many investors after a series of other calls of varying levels of questionability he's made on both his show and interviews recently.
The point of this information is that it's important to remember that as we learn new things about blockchain technology, as other innnovations are developed in the midst of experiencing ongoing new "real world" use cases presenting themselves for the first time for blockchain to adapt to, market makers who carry enough weight on their own to steer markets a certain way sometimes don't have our best interest at hearts…simple Finance 101 theory.
Chain Updates and Upgrades
Solana was hit with yet another DDoS attack on Saturday crashing the network for about 7 hours due to a large number of transactions coming from NFT minting bots which used Solana dApp, Candy Machine. 100 gigabits of data per second afflicted the network causing only a few thousand transactions-per-second able to be executed on the network during that time rendering most validators inoperable at around 4:00 PM EST on Saturday. The attack was equivalent to 4 million TPS, up from the previous record of 400k TPS in the September 2021 DDoS attack of last year. Solana on its own typically operates at around 50,000 TPS. Due to the hybrid decentralized model in which Solana operates, this leaves the continuously open to these types of vulnerabilities. A botting penalty for Candy Machine is currently being implemented in efforts to stabilize the chain since the attack. This has been the 7th time this year so far Solana was on record experiencing an attack directly affecting network performance.
Tezos recently hit a major milestone, hitting 1000 TPS after bringing in consulting group Tarides recently who are helping with the implementation of the upcoming Octez v13 release. This new benefit along with others brings along an increased speed of about 5x, which for illustrative purposes, Bitcoin operates only at about 5-7 transactions-per-second. Solana is still ranked the fastest chain which however we've seen, is to a fault. Additionally, Tarides further stabilized the Tezo storage layer and reduced the memory usage component required by 80%. This is a huge improvement for Tezos users, which overall creates a more stable network, with rewards now much more predictable.
FIFA got a new first American sponsor of the men's World Cup in the last 11 years this past Monday, penning a deal for this year's tournament in Qatar with none other than crowd favorite Layer 1 solution – Algorand. The deal is noted as a "technical partnership" which will help FIFA develop a digital assets initiative, most likely in the form of FIFA soccer-related NFT's. Algorand is the first new U.S. based sponsor for FIFA's marquee World Cup since 2011, coming after Johnson & Johnson signing for the Brazil edition of the tournament in 2014. Qatar, known as the world's third richest country, features a GDP per capita (PPP) currently at approximately $94,000 USD.
Brian Armstrong, CEO of Coinbase U.S., believes that in the next decade the industry will undergo further expansion within the realm of digital assets. Armstrong claims that within a decade the number of cryptocurrency users worldwide will reach one billion. The claim was made this past Monday during the Milken Institute Global Conference. Approximately 200 million cryptocurrency and digital asset enthusiasts exist now around the world, with that figure expecting grow over the next 10 years according to the CEO's new forecasts.
NFT Pulse Check
The sale of NFTs fell to a daily average of about 19,000 this week, a 92% decline from a peak of about 225,000 last September, according to new data released by blockchain analytics firms recently. In relation, the number of active wallets in the sum of the NFT marketspace fell 88% to about 14,000 last week from a high of 119,000 in November, with many NFT owners now finding their investments worth significantly less since buying in. With total NFT highs that peaked in November, BTC has since fallen by about 43% – and with new fed monetray policy that ends the party for 0% borrowing for big banks, investors seem to now be turning to less risky investments in turn.
The Payment Space
In a sudden and much unexpected maneuever yesterday, Crypto.com decided to abruptly end staking rewards offered on its prepaid Visa cards offered via a company blog post – with the move affecting all membership tiers. Shortly after this announcement came a freefall in the exchanges token value (CRO) of about -11%, ending the day at $0.26 on Sunday. Because the internet wastes no time for action, and promptly after backlash the company recieved afterward online among their user community on almost every popular social media channel, CEO of crypto.com, Kris Marszalek, went to say the company will continue again offering staking rewards to its card users, that move coming within just 24 short hours after their initial announcement. The new staking rewards however are being currently offered at a more deeply slashed rate from before, with an overall reduction of staking rewards rates across the board of about 40% in their revised format.

Insurance broker Aon and digital payment service PayPal recently announced a program to help PayPal's SMB customers in the U.S. access insurance simply and quickly. The new digital insurance offering initiative will enable PayPal's SMB customers in the U.S. to shop for, purchase and manage insurance coverage via Aon's CoverWallet app on the PayPal platform. Customers can also connect there to Aon's licensed insurance advisors. PayPal's customers will now be able to access information on typical coverages and costs for insurance, access a range of online quotes and coverage options from multiple carriers, ultimately enjoying the convenience of purchasing insurance simply online via their PayPal accounts.
---
Gregory Bilecki is a freelance editor at Digital Wealth News, as well as full-time finance, digital marketing, and sushi aficionado. Follow him on Twitter and Instagram at @omgreaktmedia.