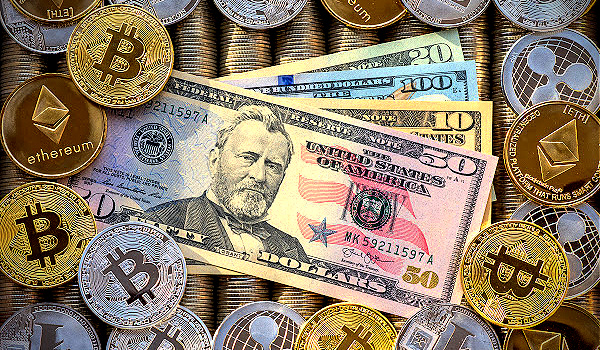 ---
By Gregory Bilecki
TWIDW 4/12/22: Fed News & Market Impacts, and whoa – Walmart, McDonald's, Whole Foods (and more!) are next in line to accept Bitcoin for payments. Dubbed "Crypto Coachella", Bitcoin 2022 failed to impress investors, Telegram seems to be a breeding ground for crypto threats, and Trust Machines is planning the biggest Bitcoin ecosystem. Finally, we talk about how bitsCrunch partnered up with MasterCard as means to get around crypto's entry barriers…lot's of things going on this week, read more below!
---
Fed News & Market Impacts
Coming off of the heels of what seems to have been already volatile couple of weeks with one of the largest rallys since last year in November, with it briefly touching a new weekly low of $39,215 USD, signs are pointing to the possibility of BTC now ending the month below $41k USD as it heads towards futures expirations this month on April 29th which look like it can throw BTC right back into bear territory while geopolitical conditions as well as other blockchain and web3 intiatives are currently in the boat and rocking it as they are met with both wide criticism as well as global fanfare which we'll take a look at further below.
With that said…always remember folks, with new highs always come new lows.

XRP seems to be ripping through the courts with another win this week, with the loser none other than the SEC, whom were denied their request to have Ripple's plea of fair notice dropped by U.S. district courts judge Analisa Torres. As one of the first tokens available to trade to the American public, the SEC's claims stem from the original Securities Act passing in 1933, which quite simply disallowed the the unregistered sale of securities. The exceedingly failing misnomer in the SEC's case is that since Ripple's launch in 2012 is that the IRS still has not yet concluded on if in fact digital assets are actually securities, while increasingly more aware signs are pointing to the fact that they just might not be pegged into this realm as one of the pink elephants in the room is that wash sale rules don't even apply to crypto transactions. Ripple's kryptonite against the SEC isn't just about a timing issue in relation to the law as this seems to be their only method of attack, for Ripple this is also about producing something in nature that's functionally different from it's predecessor.
Guac is 0.000025 BTC, is that OK?
In probably one of the biggest pieces of news this week comes with the announcement of retailers Walmart, McDonalds, Chipotle, Lowes, Whole Foods, and all active Shopify websites now possessing the ability (in the very, very, short near future) of being able to accept Bitcoin as a payment solution via the Lightning Network, an L2 solution which will utilize smart contracts as a means to settle payments with almost zero in fees and in tandem, instantly convert those payments into fiat currency should the retailer choose to do so. As alluded to prior there's no current target date for this implementation but with those partnerships now currently all in active status, we can assume dates will be mentioned any day at this point.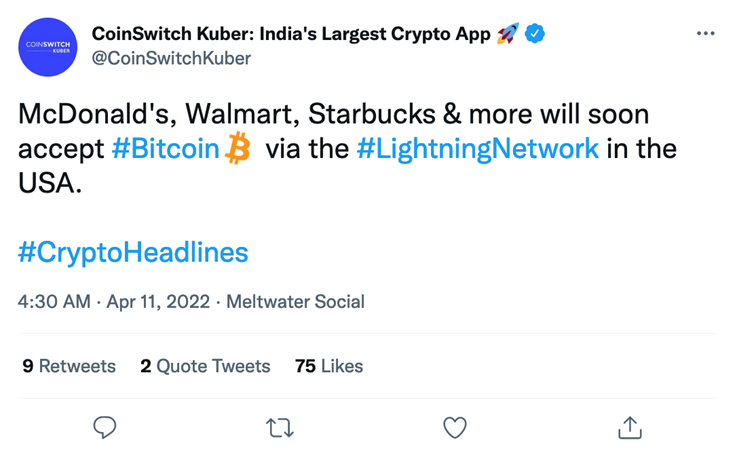 Oh, we forget to mention Starbucks too…
Crypto Coachella Didn't Come to the Show
With the recent Bitcoin 2022 conference dubbed "Crypto Coachella" by some ending on April 9th last week in Miami turned out to be a seemingly lackluster event by non-industry A-listers (with some even describing it as having an "MLM vibe" in some circles), last weeks event also had at least somewhat of a marginal effect on the price of digital assets globally with market cap leaders such as Solana and Cardano losing around 10% on average in value. During the live feed while many "scam-coins" were being pushed in the feeds chat room, YouTube even decided to cut off the live stream due to blatant investor manipulation as it was being aired as this series of events exemplifying the current dichotomy being prolmugated within the digital asset sector played out with lots of fluff from both angles. Crypto markets also failed to nab the "Consensus Effect", not showing any signs of rallies leading up to the conference as game-changing developers and and market makers were expected to discuss future initiatives.
Telegram Users…Be Wary
A recent surge in phishing bots designed to target crypto investors within the popular encrypted social networking arena Telgram has emerged, which has made users disclose their two-factor authentication codes allowing the total of their digital assets to be released from accounts targeted. "BloodOTPbot" is the latest product being used by hackers currently where a small fee of $300 is paid allowing access to the service which robodials targets falsely informing them of their accounts being penalized or in jeopardy of termination which then subsequently asks for their related 2FA authentication codes and related exchange information, which may or may not include a related phishing text. The service, now exceedingly popular on Telegram, also provides users of the bot service access to other various CPNI data extracted from other social media platforms Facebook, Twitter, and Instagram for an extra monthly fee of around $20-30 USD. The bot also targets account owners of other payment platforms PayPal, and Venmo.
The Payment Space
WIth Trust Machines recently raising $150 million USD last month in its most recent funding round, last week the announcement was made of onboarding crypto influencer Aubrey Strobel as Communications Advisor and Rena Shah as Head of Operations, formerly of Binance.US. The move comes as the company solidifies plans to build out the largest payment settlement solution within Bitcoin – arguably still currently the most decentralized digital asset network via a combination of DeFi and Web3 apps, potentially unlocking a projected a total $1 trillion USD in asset value built upon the Stacks protocol, currently the largest protocol for building DeFi apps on Bitcoin also featuring its own token, STX – which Trust Machines co-founder Muneeb Ali also founded.
Last week it was announced that MasterCard partnered with NFT solutions provider bitsCrunch as a means to enter the crypto realm in efforts to help later stage startups grow and reach customers on a global level. Being incubated through MasterCard's "Master Start Path" startup engagement program, bitsCrunch efforts will help non-crypto users secure digital assets via their product line which include Unleash NFTs, Scour, Liquify, and Crunch DaVinci. MasterCard will be the facilitator of the transactions in order for the fiat-to-digital transactions to take place, while also allowing bitsCrunch further access to global sales markets.
---
Gregory Bilecki is a freelance editor at Digital Wealth News, as well as full-time finance, digital marketing, and sushi aficionado. Follow him on Twitter and Instagram at @omgreaktmedia.