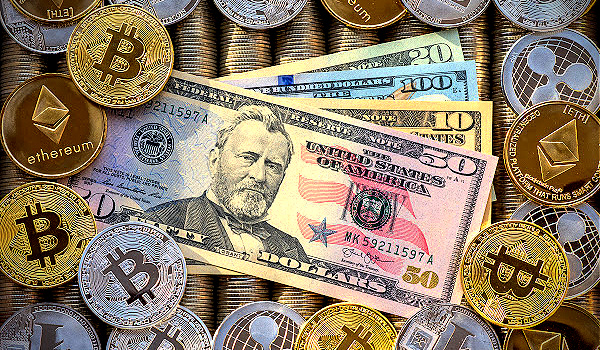 ---
By Gregory Bilecki
3/28/22: Russia & Ukraine updates, the Administration's crypto plans with the 2023 budget package, and former prosecutor Katie Haun breaks fintech boundaries. Zilliqa adds life to the Metaverse with a new MaaS solution, Florida accepts Bitcoin as tax payments for business filers this year with Colorado in tow, prePO removes more barriers from Wall Street, Digits will help close your books and save time, and finally, the Bank of England taps the help of MIT to help with its CBDC implementation.
---
Fed News & Market Impacts
This week, Russia stated that it's now "considering" Bitcoin as payments for its barrels of oil and gas, stating that "friendly" countries will have this option if decided, while "unfriendly" countries will not. Furthermore, those "unfriendly" countries as defined would have to pay for their oil and gas with the exceedingly worthless roubles which currently have lost approximately 20% of their value since the Russia/Ukraine conflict began with Russia still maintaining its position as the leading exporter of crude oil in the world. This directive perhaps gives some credence to the school of thought surrounding the further usage of permanently implementing Bitcoin as a solution for sanctions which have been implemented by most of the world due to the ongoing war in Ukraine. 
In more Federal tax related digital asset news, the Biden administration has released its official Fiscal Year 2023 U.S. Government Budget which simultaneously solves a $10 billion-dollar problem in the deficit by expanding tax reporting requirements for the trading of digital assets which will provide much needed cash back to the economy. Additional measures of the budget include $52 billion for the DoJ to employ a wider range of analytical and engineering professionals as well as various other agents to aid in the fight against ransomware attacks, and also addresses threats associated with climate change as it relates to blockchain network functionality and mining.

Just five days ago, Florida governor Ron DeSantis announced that the state will be accepting Bitcoin as tax liability payments solely for businesses for the 2021 reporting year, with plans for next year not yet mentioned. This effort will potentially hasten the city of Miami's progress of turning the city a self-proclaimed "crypto-hub" for the world which may in fact be the case, as Blockchain.com and FTX now have headquarters there. Following suit Colorado also plans to accept bitcoin for liability payments this year – albeit in their state, for individuals only at the moment. Both projects will not only in effect be boost to state economies and create a more "frictionless" payment system, this directive will also greatly help in aiding the process of accelerating overall adoption of crypto and DeFi solutions worldwide.
BTC back to $50k soon?
With countries ramping up crypto and blockchain adoption at an exceedingly higher rate every day it seems, as well as new infusions of investment money which have been getting poured into web3 projects and various crypto startups worldwide, the crypto Fear & Greed Index is currently sitting at 60 as of the date of this article. The last time we all saw this number was about 19 weeks ago in November. If this all suggests explanation for the bull run over the last week, it could be only a short moment in time away until BTC finally sees $50k again.

A Unicorn Takes Flight
Records were completely broken this week and a new unicorn took flight when former federal prosecutor and tech VC firm Andreesen Horowitz partner Katie Haun completed the raise of $1.5 billion for her new firm, Haun Ventures. This amount is the largest initial fund ever raised by a woman, subsequently marking a first within Web3 industry as well. The firms goal is to help with equity raises for new startups making strides within the DeFi and Web3 realm as well as support the implementation of new tokens for those companies.
If that wasn't enough groundbreaking news, the first Metaverse as a Service (MaaS) was announced on the Zilliqa network this week, the Metapolis, shooting the token up over 200% in a matter of a few days. In a partnership between Zilliqa and global talent reward app Agora, the goal of the new platform is to have completely customizable metaverse locations for businesses, ushering in a new era of creativity and innovation within that realm. Through Metapolis, brands and clients are able to create digital web3 locations that suit their needs. Metapolis has already built multiple cities for clients, including top esports teams and various luxury brands such as Ninjas in Pyjamas, RRQ, and MAD Lions.
Deals, Deals, and more Deals…
Following last year's $1 million dollar seed round, Australian DeFi trading platform prePO has raised an additional  $2.1 million USD in a series A round this week which will be boon to unlocking access to private markets like SpaceX and OpenSea and effectively aids in the democratization of pre-public investing and providing the same access to opportunities that only VC's, institutional investors, and PE firms only used to enjoy. Featuring their own token to launch on the Arbitrum network, Ethereum's own scaling solution, the first version of their product will launch which is also being ticketed as an option to more traditional approaches to investment portfolio hedging.
With a fresh $65 million infusion of fresh capital, Digits additional cash which was brought to the company by a Series C round of funding will help the startup launch its first product, Digits Reports. With a solution that has helped in testing save companies an average of 3-4 hours per set of books when performing their monthly close process, their new reporting tool will help streamline an enterprises accounting process and aid largely in the typical business processes of cutting costs. The Series C round was led by SoftBank's Vision Fund, 20VC Growth, as well as GV and Benchmark.

The CBDC Project
Recently  the Bank of England tapped the resources over at MIT to help with its digital currency adoption for the U.K. with a joint research project that will examine all the many risks, opportunities, and various challenges that introducing a CBDC into the U.K. would pose. This comes on the heels of a similar research-project-turned-executive-order introduced by the Biden administration which the U.S. Treasury handled that covered many of the same areas in scope with the war in the former Soviet Republic has allegedly gave rise to a portion of the increase in digital financial asset related crime happening currently.
---
Gregory Bilecki is a freelance editor at Digital Wealth News, as well as full-time finance, digital marketing, and sushi aficionado. Follow him on Twitter and Instagram at @omgreaktmedia.