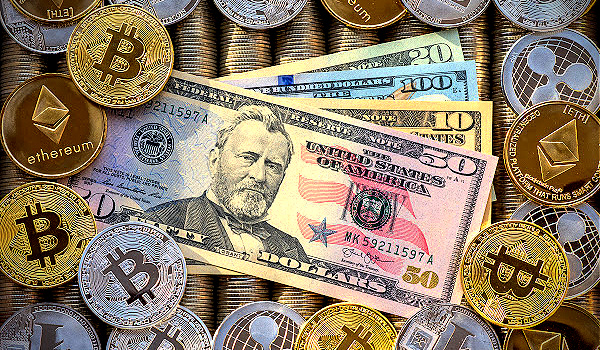 ---
By Gregory Bilecki
TWIDW 3/21/22: Russia & Ukraine updates, a pivotal point in time for Bitcoin, El Salvador's progress with implementation, crypto is a go in Honduras, the new president-elect of South Korea has big plans, Exodus begins trading on Securitize markets, Web3 company Gauntlet becomes a unicorn, and please…don't butcher that pig.
---
Fed News & Market Impacts
If you were any type of investor in digital assets this week, then the news of BTC breaching $42,000 won't be much of a shock to you, however I implore you to read on. In almost a reflex type of response afterward, Senator Elizabeth Warren introduced yet another crypto-related bill – this time attempting to thwart all business done by cryptocurrency companies with those companies affected by global sanctions related to the current Russia-Ukraine war. With plenty of rumor surrounding the possibility of Russia having enough reserves of various other world currencies on deck to affect global fiat trade markets, does this measure really go for the jugular?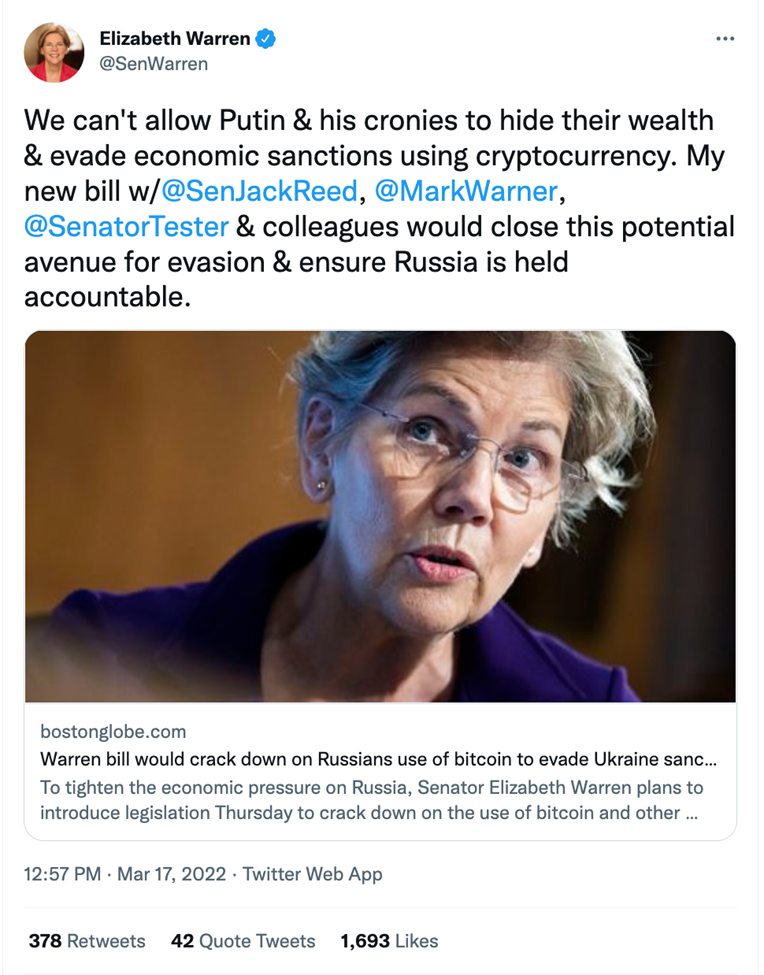 With this move seeming that it likely could be the case, Russia's central bank is currently experiencing growing trouble handling the exchange of the ruble including withdrawal requests from its citizens, limiting those who currently reside within the countries borders to only $10,000 USD per day. As Turkey attempts to position itself as a mediator, Turkish foreign minister Mevlut Cavusoglu went on record this week stating that the two warring nations have inched (somewhat) "closer" to a peace agreement as the world hopes and waits together for the end of this foreign crisis.
A Pivotal Moment in Time for BTC
In a recent Glassnode report, more than half of Bitcoin tokens purchased at BTC's all-time-high of $69,000 USD just four months ago have since sold their holdings at loss of about $22,000-$25,000, a signal that may be signaling the beginning of the end of the current bear market. The report focused on Bitcoin's UTXO realized price distribution model which is analogous to the amount of remaining BTC after tokens are spent. The current distribution of realized losses have been following a similar trend since November, with long-term holding still being the remaining winning strategy – even during the ongoing conflict between Russia and Ukraine.

Global Progress
El Salvador is still barreling ahead with it's plans for a digital-asset backed future, even to the dismay of much of the Latin American countries 6.5 million inhabitants. The country's first Bitcoin-backed bond (aptly named "volcano bonds" – also issued the country's first state-run thermal energy company, La Geo) was poised to hit markets this week alongside a 6.5% coupon payment, however due to current overarching international context, the bond's initial sale seems to have been delayed with the country still not yet having mapped out regulation for the sale of the new securities valued at $1 billion USD, local newspaper La Prensa Gráfica reported.
Lawmakers and other authorities are also pointing to current global supply chain issues as further reasoning for the delay. The sale, which was announced in November of last year, was originally projected to have began last week. The capital infusion that the country stands to receive after the issuance of the bond will be used to build much needed infrastructure for El Salvador and…wait for it…to buy more Bitcoin. The bonds, whose inaugural sale date is now TBA will not be available to investors located within the U.S. as they will be trading exclusively on Bitfinex.
Honduras is expected to be the next sovereign nation in line after El Salvador to legalize Bitcoin and for it to be accepted as legal tender across the country. The plans are for the most popular token to be used in tandem with the countries current form of fiat currency, the lempira. In contrast the Honduras economy is seen as predominantly independent and stable and also the 18th largest economy in Latin America in terms of GDP. With this new adoption, further use cases will be more easily implemented for the digital asset while positioning Honduras as another attractive "hub" for digital asset investors of all types.
President-elect Yoon Suk-yeol of South Korea is planning to make his country a figurehead within the digital asset realm. With goals of attracting crypto "unicorns", one of the 13th president elects campaign promises is planning to make the country an even more lucrative place to invest by raising the "kick-in" threshold on capital gains taxes to $42,450 USD, a stark and more progressive contrast to how other countries have decided to regulate the digital asset trade within their economies, truly placing Korea far apart from other countries within the same scope. The former prosecutor whose legal history includes playing a special role in convicting former president Park Geun-hye and Lee Myung-bak for abuse of power will assume office on May 10th.
Deals and Capital Raises
Popular tech company Exodus has begun trading on the Securitize Markets platform following a $75 million Mini IPO capital raise – a record for Securitize, as the entire process was completed using the forward-thinking digital asset platform, whose benefits allow investors to place orders around the clock – 24 hours a day, 7 days per week is also currently fee-free. The funding initiative allowed would-be investors the earliest chance possible to become stakeholders prior to the company's listing on Wall Street in the form of Class A common stock, further breaking down barriers between the traditional stock market and reducing the friction that currently exists for companies wanted to raise additional capital between funding rounds. Exodus Class A common stock is part of the Algorand blockchain via common stock tokens. Exodus' mission is to further transform the traditional landscape of finance as we know it with the implementation of non-custodial functionality. The technology, which encrypts funds locally on users' own devices, ensures privacy, security and complete control over their own wealth.
Crypto startup Gauntlet has officially achieved the sought-after "unicorn" status, raising $23.8 million in a Series B round for the financial modeling and simulation company. Participants supporting the capital addition included Polychain capital and Paradigm. The fresh infusion of cash will further support new company verticals related to gaming as well as staff expansion. A key player in the crypto space, the Web3 company also runs "stress tests" for various institutions to help decide on optimal levels of lending and collateral.
With Love…Comes Scams
With global affairs currently at play, one particular scam and a favorite of many in organized crime rings, has begun to take foothold in America. "Butchering the Pig", also known in China as "Sha Zhu Pan", has targets of this particular scam engaged with for days and (most often) months in attempts to lure digital assets such as Bitcoin from them, in a sense "fattening up" their targets before their "kill", departing from the connection with as much money as they can. Often the criminals are found on average dating apps such as Tinder, Bumble, and the like with the endpoint almost always culminating in the same way. After a bit of rather flirtatious and suggestive banter, small and modest amounts of money are slowly sent to perpetrators who are able to quite easily demonstrate massive gains to their target. As their target's interest becomes further piqued, additional funds are sent to the criminals ranging (in some cases) up to $5 million USD.
As may be expected at some point down the line, the target's false "love interest" mysteriously vanishes from the online chat space, never to be seen again. This scam has been so successful that in 2021 alone, the FBI received almost 2,000 complaints of "butchering the pig" types of scams with actual estimates of cases considerably higher.
---
Gregory Bilecki is a freelance editor at Digital Wealth News, as well as full-time finance, digital marketing, and sushi aficionado. Follow him on Twitter and Instagram at @omgreaktmedia.