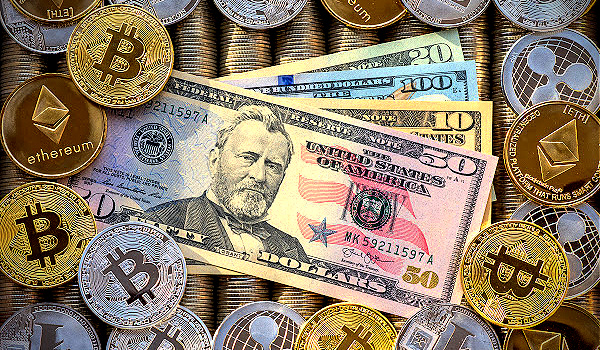 ---
By Gregory Bilecki
TWIDW 3/14/22: A friendly reminder, Russia & Ukraine updates, Biden signs a crypto-related executive order, the EU rejects a PoS-only model, and the Ethereum testnet looks like a go for for proof-of-stake launch. Austin is getting a Web3 upgrade, Jamaica is ready to release their first CBDC, and  A-Rod pitches capital at a new trading platform. Finally, pledge your tokens with Milo and get a 0-percent loan.
---
I wanted to start this week's column off with a small word of caution.
As the conflict in the former Soviet Republic grows more dire, make sure you or your firm is currently taking every precaution available with funds particularly held in foreign (non-U.S. based) digital asset exchanges. A particular exchange (nor its host country) who will not be mentioned for the sake of this article changed their terms of service suddenly on yours truly earlier this week, and per the auto-generated e-mail I was sent I had 30 days to withdraw all funds and close my account or risk seizure of assets. Luckily I was given this grace period (which may or may not have been entirely truthful), however it's good to remember there's a lot of exchanges in countries that serve us all many different purposes thus their service terms can very wildly between each and are always subject to change without notice. It's during these uncertain times that protecting our livelihoods requires just an additional level of vigilance from each of us. – GB
Fed News & Market Impacts
This week it was clear that the Biden administration is wasting no time on its summer deadline to adopt new crypto measures in light of recent actions by Russia in its attempt to evade sanctions by virtue of digital assets. Much to the dismay of naysayers of blockchain technology however, the administration is choosing the more academic approach by utilizing the US Treasury Department as a means gathering data as well as additional research to review risks which include the implications and use cases digital assets have within the realm of ransomware, its advantages, and potential various ramifications of implementing a CBDC digital token within the U.S. financial system. Currently, around 100 additional countries are exploring similar CBDC options. USD-backed stablecoins have since responded favorably in response to the news with the week's high for 1 BTC breaching $42,000 USD this past Wednesday as markets adjust to regulation and implementation efforts with price having averaged at around approximately $39,000 during this past week.
The EU voted today (Monday) on a measure which could very well have jeopardized the use of digital assets in the region and also potentially have undermined Ukranian war efforts currently in operation, on the eve of Ethereum's biggest upgrade to date with its planned move to a proof-of-stake model. The measure would have banned all further use of crypto assets based on a proof-of-work model from January 2025 on. Reasoning for the measure comes shortly after emerging studies which have shown that digital assets based off of proof-of-work models have proved to be unsustainable in parts of the world. The measure would have accepted only the operability of proof-of-stake based chains, so long as they are within the scope of being "small scale", albeit the term itself being undefined in the referendum currently. The vote was rejected in the EU parliament by 30-23.

The Next Phase of Ethereum
As one of the biggest upgrades to Ethereum now just around the corner is the proof-of-stake model (PoS) which is currently running on Ethereum's testnet, Kintsugi. Launching in December 2021, it has allowed DeFi app devs to begin testing applications on the new protocol in a sandbox environment. The newest testnet configuration, Kiln, released this week, is the latest contestnet configuration which was also dubbed in a tweet recently as the "dress rehearsal" before the transition into PoS (also called Eth 2.0) by Ethereum's co-founder Tim Beiko. Testing is expected to last around another few months, as $26 billion USD in Ethereum is currently locked for staking on the network unable to be currently withdrawn as the value allocations are currently being used for additional validation resources. The proof-of-stake concept is expected to increase further use cases for the token as it it is expected to use significantly less energy for its mining resources and be overall more efficient compared to the current proof-of-work model Bitcoin still runs on in addition to other ERC 2.0 tokens and DeFi applications also being utilized at the moment.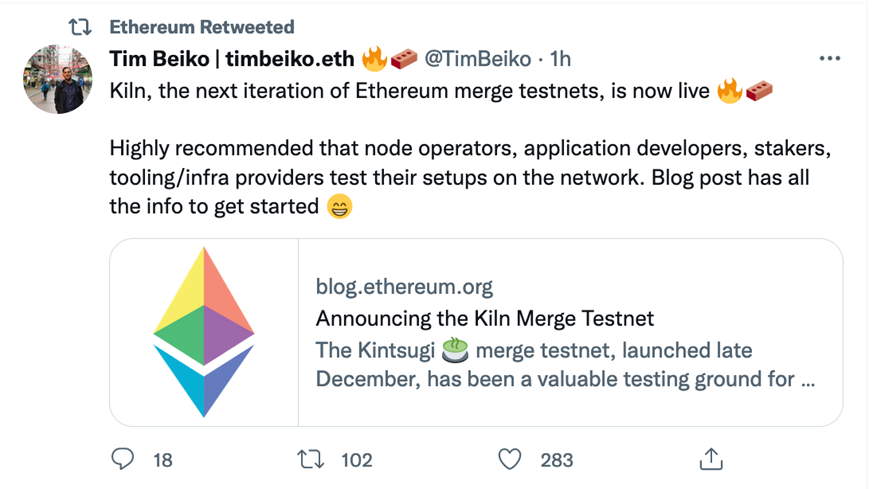 Deals and Capital Raises
Mojo is a New York based company which just raised $75 million in a capital funding round, of which Yankee favorite Alex Rodriguez is playing a huge part in. The platform aims to have investors buy and sell baseball players, much like stocks on the stock market, with a target date of late 2022 for launch. The platform also aims to have a traditional trading GUI much like traditional handheld or desktop equity trading applications such as E-Trade or Ally.
Miami based fintech company Milo recently raised $17 million in a Series A funding round. Led by VC firm M13,in addition to QED and Metaprop, provides the Web3 loan solutions provider to continue the company's vision of bridging the digital and fiat currency divide for those with "unconventional" wealth, with the company's first product being a crypto-backed loan solution for foreign nationals with $500 million USD in applications from over 90 countries having already been processed. Their latest innovation plans to allow crypto holders to place their digital assets down as collateral in exchange for 0-percent loans. An industry first, this is in line with the city of Miami's vision to be a "hub" for digital asset activity, and ultimately the capital in America for crypto.
The CBDC Experiment
Austin, Texas's mayor Steven Adler is now exploring Bitcoin as a form of payment to add additional value to the city whose home prices have skyrocketed about 15% since this same time last year. As more and more tech leaves California and heads for the state which offers various other incentives this may give yet to the rise of another influx of inhabitants as the city sits particularly close to what some call the "crypto capital" of Texas, Rockdale, where companies like Riot Blockchain currently operate mines due to the state's particular ability for businesses and residents alike to alternate between energy service providers translating into lower rates overall.
Jamaica is now only months away from releasing their first CBDC, with residents of the island country able to receive $16 in an airdrop as a "thank you" from their central bank, Bank of Jamaica. A pilot project was completed in January which issued $230 million Jamaican dollars worth of JAM-DEX tokens (approximately $1.5 million USD). The country's goal is to gradually replace fiat currency with digital dollars at the rate of about 5% every year. The effort comes after similar projects began in neighboring Caribbean nations, who's inhabitants are largely excluded from traditional banking institutions.
---
Gregory Bilecki is a freelance editor at Digital Wealth News, as well as full-time finance, digital marketing, and sushi aficionado. Follow him on Twitter and Instagram at @omgreaktmedia.