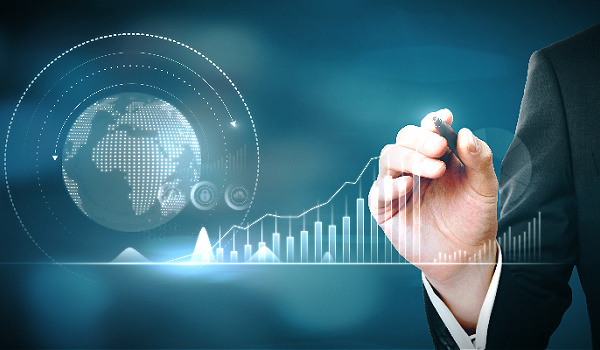 ---
By Chris Robbins

Thanksgiving didn't slow the always busy activity in digital wealth this week. In crypto, one of the founders of Cardano announced a new media firm to progress the conversation around the Cardano token, while the CFP Board updated its standards to account for the digital assets space.
In banking, Finastra announced a new partnership with an AI-driven virtual assistant, something like a beefed-up chat bot, while in personal finance, Intuit is buying the maker of some of Credit Karma's credit-building tools.
In real estate, a major build-for-rent REIT announced a partnership with a "smart home" fintech to increase efficiencies.
There's even more to uncover in this week's digital wealth headlines.
---
Crypto, Blockchain and Digital Assets
EMURGO Group
EMURGO Group, the official commercial arm and a founding member of the Cardano blockchain, announces a newly formed business entity, EMURGO Media, to create media-related products and services for the Cardano ecosystem. EMURGO Media's vision is to empower and connect Cardano enthusiasts to do the things that inspire them; changing the world together. 
Alloy
Alloy announced that it will help crypto companies prevent fraud while also staying ahead of compliance requirements. New integrations will build on Alloy's commitment to securing the next wave of crypto, working with leading customers in the space to power their onboarding solutions and transaction monitoring. Alloy helps clients find more good customers and bring them into their products without increasing fraud risk. While traditional financial products have solved risk with friction, Alloy's platform is designed for transparency and efficiency to safely onboard the next billion crypto users.
CFP Board
The Certified Financial Planner Board of Standards, Inc. (CFP Board) has released a new guide about cryptocurrency-related assets to help CFP professionals uphold the Code of Ethics and Standards of Conduct (Code and Standards) in their practices. CFP Board recently issued a Notice to CFP Professionals Regarding Financial Advice About Cryptocurrency-Related Assets in response to questions about the application of the organization's Code and Standards to financial advice about cryptocurrencies and other financial assets whose value is tied to cryptocurrencies (collectively "cryptocurrency-related assets").
Payments, Banking and Infrastructure
AllWork
AllWork, the end-to-end platform that helps companies onboard, manage and pay their freelancer and contingent workforces, announced the completion of a $4.9 million Series A funding round. AllWork will use the funds to expand its software, payment services and team to meet the increasing need by companies and freelancers for an easier way to work together. The funding round was led by FINTOP Capital based in Nashville, Tennessee who completed the whole round. Chris Haley and Rick Holton from FINTOP will be joining AllWork's Board of Directors.
Medius
Medius, a provider of AP Automation and wider spend management solutions, announced the full integration of OnPay Solutions into the Medius platform, providing an end-to-end payments offering for customers in North America. The acquisition of Jacksonville-based OnPay Solutions in March 2022 enables the company to integrate payments into its source-to-pay platform. The six-month integration has combined OnPay Solutions' technology, its network of 360,000 vendors and 40 different banking integrations into Medius's source-to-pay suite.
Finastra
Finastra announced that Clinc, the leading conversational AI specialist serving global financial institutions, will deliver its Virtual Banking Assistant technology fully integrated within Finastra's Fusion Digital Banking platform. The application enables Finastra's bank and credit union customers, utilizing Fusion Digital Banking as their digital platform, to increase digital engagement and streamline the customer experience. By enabling customers to manage common banking requests through voice and chat, the application creates efficiencies by dramatically reducing call center volume. 
Personal Finance, Applications and Fintech
First Bank and Trust
First Bank & Trust Company announced a partnership with College Ave Student Loans, a student loan fintech lender, to offer student loan and student loan refinancing products. For local families pursuing higher education, the referral-based partnership provides access to college financing through a trusted partner in the student loan industry.
JG Wentworth
JG Wentworth announced that it has acquired the digital lending platform from Stilt Inc., a San Francisco-based fintech and personal loan lender. Stilt was backed by leading venture capital firms, raised $322 Million in debt and equity to build a powerful end-to-end digital lending and servicing platform. The acquisition combines JG Wentworth's nationally recognized brand with a state-of-the-art fintech platform, accelerating its entry into the consumer lending space and supporting its mission to provide financial solutions for millions of everyday Americans looking to improve their situation.
UNest
UNest, a fintech company that makes it easier for parents to invest in their kids' future, announced a charitable initiative in partnership with The Shaquille O'Neal Foundation. During the 2022 holiday season, UNest is offering matching donations for money invested through its platform, with a goal to contribute up to $100,000 to the Foundation's Shaq-a-Claus holiday program, which has provided tens of thousands of toys, clothing, meals and more to underprivileged youth across the country.
Intuit
Intuit announced today it has entered into an agreement to acquire SeedFi, the partner behind Credit Karma's Credit Builder, which helps low, or no-credit borrowers build credit while saving money, all for free. Credit Builder offers a line of credit and a secured savings account enabling members to build their credit while building up savings. By combining SeedFi's Credit Builder technology with Credit Karma's long standing relationships with credit bureaus and others in the credit ecosystem, Intuit will be able to move with greater speed and scale to help Credit Karma members make financial progress.
Real Estate, Insurance and Investing
Marlette Holdings
Marlette Holdings, Inc., a financial technology company that operates the Best Egg platform, announced the acquisition of Till, Inc., a flexible rent platform. Till will be rebranded as Best Egg and incorporated into the Best Egg financial platform, providing customers with a unique payment flexibility tool to further increase their financial confidence.
Newfront
Newfront announced the addition of industry veteran John Newell as Chief Commercial Officer. Newfront reached an inflection point this year as a top 40 broker based on revenue, with close to 1,000 employees across the US. Given this key milestone, Newfront hired John Newell to lead the insurance, benefits, and retirement services as it continues to transform the insurance brokerage industry.
SmartRent
SVN | SFR Capital Management, a private REIT, announced its partnership with property technology solutions provider, SmartRent. SmartRent's smart home solutions aim to help SVN | SFR reduce costs and increase operational efficiencies within its dedicated rental communities while enhancing resident quality of life, safety and retention.
Access Softek
Access Softek, an omnichannel digital banking provider, has launched EasyVest YourChoice, an integrated investment solution that gives users the ability to trade stocks, fractional shares, and mutual and exchange-traded funds from within a digital banking platform.
---