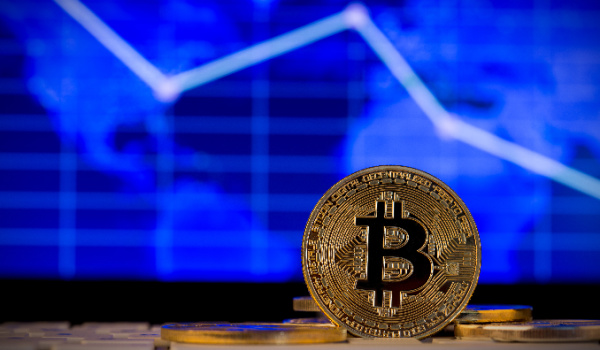 ---
By John Sarson
Last week, for the first time in a long-time, crypto prices have started going up. In some instances, they have started going up sharply.
The Crypto Recovery Begins!
We entered the New Year cautiously optimistic that the seller exhaustion that we sensed in the market in December would be overpowered by new buyers in January and it seems to be the case.  
Bitcoin, at time of writing, is trading above $21,000 and has now recovered more than 35% from its November low of around $15,000. Other cryptocurrencies have seen even greater recoveries, albeit off even more dramatic declines.  
Certain sectors that we have been closely watching such as, Artificial Intelligence, Gaming, DeFi and Metaverse have seen rallies in excess of 50%. And while we are glad to see the prices recover, we realize that even with this rally most small-cap projects still have token prices are still down more than 75% from their 2021 highs.
Some of our holdings such as Gala Games (GALA) and AI company Singularity (AGIX) have more than doubled off recent lows.
At Sarson Funds we believe that last week's stable inflation data, Microsoft's massive $10B purchase of Artificial Intelligence platform ChatGPT and news from Apple regarding its VR headset can all be seen as contributing to the rally.
But Will it Last?
We believe that the recovery in the market is sufficient to attract new capital that had been hiding on the sidelines, but that is ultimately earmarked for crypto. Momentum traders that have been on the short side of the market will be soon switching teams – something that becomes more likely with the completion of the first positive month in 14; which we expect to see at the end of this month.
Yes, there are still "problem children" in the crypto markets. More exchanges and/or specific companies fail in 2023.  Some projects will die. Some because of fraud, others because they lose the trust of their communities.  We do our best to avoid those projects when possible and we trust that our portfolio construction rules requiring project and sector diversification will minimize the impact that these events have on our portfolios.  Below please find the current sector weights of our Small Coin Strategy. This is the fund that we think is best positioned to maximize returns in the first several months of market recovery.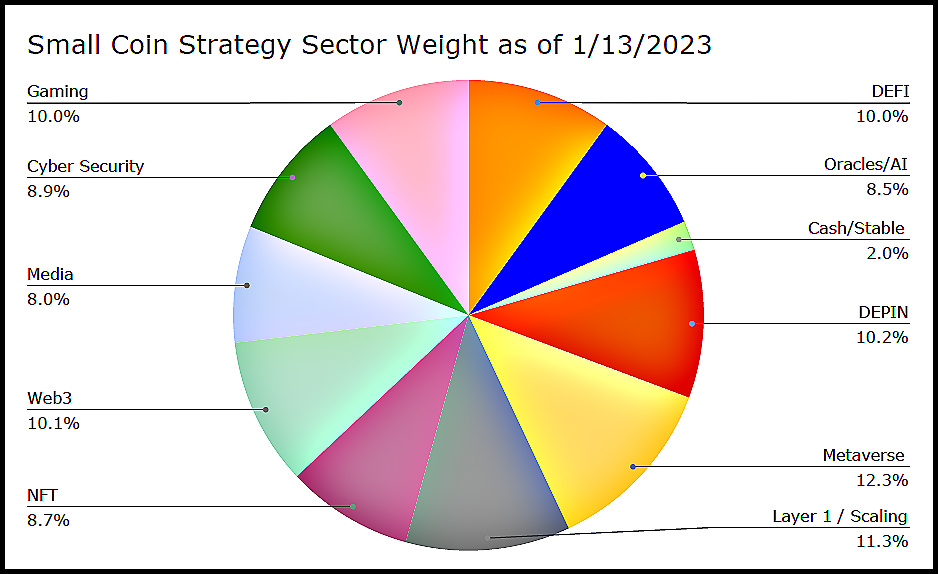 What we are sensing now is that, for the most part, the market has flushed out weak hand sellers. The market is no longer panicking over every negative headline, and it is rallying again on good news.  For this reason, it is our opinion that the bottom is in for crypto.
The adoption we see for cryptocurrency, blockchain and web3 in the United States and around the world is undeniable.  There has been great progress in normalizing the integration of crypto assets into existing regulatory frame works around the world. (United States excluded).  Already in 2023, the BIS (Bureau Of International Settlement) released guidelines for central banks around the world to start holding cryptocurrency.  Brazil's regulatory framework for currency was recently completed. The IRS went on record this week saying Cryptocurrencies are not going away and recently Fiji hinted that they'll be making Bitcoin legal tender.
Is Now the Time to buy/add to Holdings?
In short, we think so. While we don't have a crystal ball, it does seem to us that the bottom for this bear market in cryptocurrency is behind us.  Development activity and user growth are dramatically higher than a year ago. Even the old guard of Finance, the World Economic Forum which is getting the financial world's attention at the moment says cryptos will go mainstream soon despite a 'difficult' 2022. If you agree, or would like to know more about ways to get exposure to this asset category, we are happy to help and can be contacted at [email protected].
Author's disclosure: The Author, Sarson Funds, and its associated Managers currently hold Bitcoin (BTC), Gala Games (GALA) and Singularity (AGIX)
---