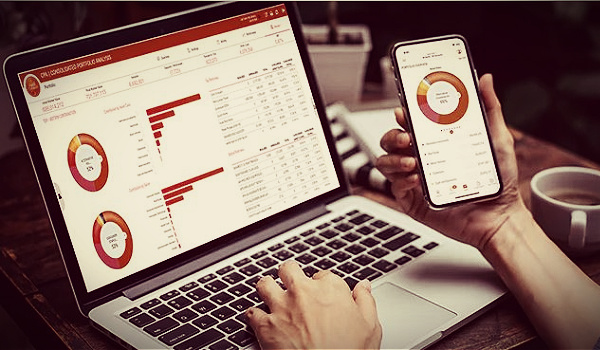 ---
What a busy week in advisor technology news, with a lot of important headlines to share.
Perhaps no story was more important than the news from Orion that it had completed work stitching together several of its major acquisitions of recent years together into a coherent, integrated whole. Creating a more streamlined user experience for advisors has long been the end-goal of Orion's efforts to build a greater wealth technology stack for the financial services industry.
Elsewhere, we have big banks making deals with wealthtech providers like SigFig, a new asset manager signing on to CAIS's ever-growing alternatives platform, and Yieldstreet signing its first official RIA partner.
There's a lot to chew on in the advisor tech news this week—we'll let you get to it:
---
AIMR Analytics
AIMR Analytics, a fintech corporation dedicated to promoting financial literacy and transparency between investors and their financial advisors, released a user interface update to its marquis product, AdvisorCheck.com. New features include a first-of-its-kind fully comprehensive "compare" function which allows for a side-by-side comparison between advisors and the ability to share advisor profiles with others. The new tool, also groundbreaking within the industry allows users to pull information on up to three financial advisors, side-by-side, to get a detailed comparison at their physical location, disclosures (if any), years of experience, firm history, certifications, exam history, average account size (at their firm), assets under management (at the firm), number of employees at their firm, the total number of clients, the ratio of clients to employees, and more pertinent metrics.
BridgeFT
Dynasty Financial Partners has chosen BridgeFT's WealthTech API as its primary custodial data partner to power Dynasty's integrated wealth technology offerings across the Dynasty Network. BridgeFT is a cloud-native, API-first wealth infrastructure software company that enables financial institutions, FinTech innovators, and registered investment advisors to deliver better, data-driven outcomes for their clients.
CAIS
CAIS announced that Graham Capital Management, L.P. ("Graham"), a global alternative investment firm with approximately $17.9 billion in assets under management that specializes in providing quantitative and discretionary macro strategies, is partnering with CAIS to add select alternative investment funds on the CAIS Marketplace. The announcement coincides with positive performance across macro strategies over the last year, with assets under management in this asset class reaching an estimated $890 billion in 2022. The Graham fund currently listed by CAIS has undergone a third-party due diligence process conducted by Mercer and will be made available to thousands of RIAs and independent broker-dealers (IBDs) who oversee more than $3 trillion in assets. These independent advisors are provided with leading technology through the CAIS Platform that enables a more efficient pre-trade, trade, and post-trade experience. In addition, Graham will receive access to CAIS' Asset Manager Experience, a data-rich dashboard, which provides product interest and investor pipeline from advisors using the CAIS Marketplace.
FNZ
FNZ, the global wealth management platform, has confirmed the completion of its acquisition of YieldX, a US-based provider of fixed-income portfolio management technology and optimization services for the wealth management industry. The acquisition brings together the full-service end-to-end platform of FNZ with YieldX's market leading digital infrastructure and technology solutions, providing financial institutions, advisors, and their clients with innovative, personalized fixed-income solutions. These innovative capabilities, which will be integrated into FNZ's wealth platform, enable clients to scan the universe of fixed income opportunities globally, and quickly identify the outcomes that mirror their desired term and yield, based on their risk profile.
Orion Advisor Services
Orion announced Orion Advisor Academy, a new on-demand learning platform that provides practical, actionable education for advisors to improve and grow their businesses while earning continuing education (CE) credits. Built on the cornerstone of the research and insights of Dr. Daniel Crosby, Orion's chief behavioral officer, Orion Advisor Academy offers a mix of CE-approved courses and practical training for running a successful fiduciary advisory firm taught by Orion's award-winning experts, all at no cost to advisors. Advisors can access a wide range of courses for leadership, marketing, financial planning, behavioral finance, investing, operational processes, and more.
But Orion wasn't done there. The fintech also announced the integrations of three recent acquisitions into Orion's technology ecosystem. With integrations now complete for Redtail CRM, Orion Risk Intelligence (formerly HiddenLevers) and Orion Compliance (formerly BasisCode Compliance), Orion saves advisors time and eliminates the need to swivel back and forth between systems. Moving forward, the firm will also offer clients the opportunity to opt into integrated tech stacks that provide greater value and convenience via a unified, seamless wealthtech experience.
Firms choosing Orion Stacks will see benefits of discounts and a better, integrated technology experience designed to power their growth. Clients can get the best of Orion, and save, by using more of Orion's technology and services. Orion Essentials is a powerful combination of Orion's portfolio accounting features, plus access to additional capabilities, including Redtail CRM, Orion Planning, proposal and new account opening tools. Orion Advantage includes everything in the Essentials Stack plus: A Redtail suite including Speak and Imaging, Orion Risk Intelligence, Orion Compliance (Employee, Firm and Client Oversight) and advanced Business Intelligence.
SIgFig
Santander Bank announced that it is developing and integrating new digital solutions in partnership with SigFig that bring investment and advisory solutions to banking clients through Santander Investment Services. SigFig develops next-generation financial planning and servicing tools for banks and wealth management firms. Through its relationship with SigFig, Santander Investment Services has built Santander PathFinder, an automated investment management tool, also referred to as digital advice. This tool now allows all Santander clients—no matter where they are in their financial journey–to work toward their long-term financial goals or start to save for retirement from virtually anywhere.
Wells Fargo
Wells Fargo & Company announced the launch of LifeSync, a personalized digital approach to aligning clients' goals with their money. LifeSync, in the Wells Fargo Mobile app, will be available at the end of March to Wealth & Investment Management (WIM) clients. Delivering simplicity and personalization though the convenience of a digital app, LifeSync highlights Wells Fargo's commitment to prioritizing intuitive digital experiences and offering customers and clients simple, intuitive ways of planning for what they want to accomplish with their money.
Yieldstreet
Yieldstreet announced Kubhera, a national financial advisory firm, has joined the direct-to-consumer platform as its first Registered Investment Advisor (RIA) partner. Equipped with Yieldstreet's easy-to-use tech platform and access to a wide range of alternative investment opportunities, Kubhera's clients are now able to diversify their portfolios with alternative assets like art, real estate, venture capital, private equity, and more.
Zogo
Zogo, a technology company that works with financial institutions to promote financial education and wellbeing through short-form content, announced its inclusion in the Fidelity Alliance Network, a network of experienced providers offering discounts and special offers to help advisory firms add more value to their service model. Fidelity Institutional clients will now have discounted access to Zogo's modules that make it easier to engage with young investors on topics most relevant to their life stage and to help educate the next generation of investors. Through the Fidelity Alliance Network, Fidelity Institutional clients can work directly with Zogo to bridge the financial education gap by providing their clients with educational materials to better understand their investments.
---