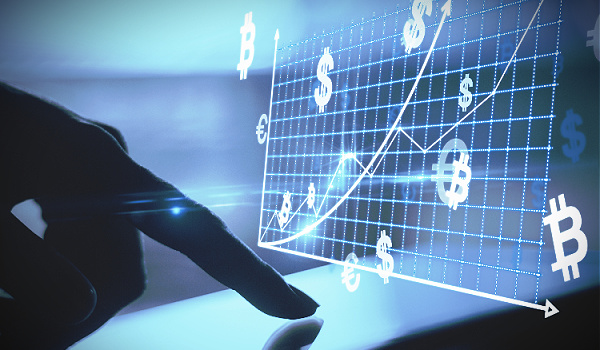 ---
By Christopher Hamman
The Canadian wildfires and its effects show how fast things can change.
 Our thoughts and prayers are with the victims. 
Bloomberg launched its Fund Data product, Tether launched gold-backed tokens, and Amazon entered the BNPL game with a new partner. Renters have a new method of improving their credit scores.
And AI now builds blockchains!
This is your week in digital wealth.
---
WealthTech, RegTech, Regulatory & Treasury
Bloomberg L.P.
To improve decision-making and business processes for the financial industry, Bloomberg launched its Funds Data Solution, with global coverage of over 12,000 unique exchange-traded products (ETPs) and 135,000 funds.
The new service flexibly offers unique insights from several angles, including ESG data, liquidity, portfolio exposure, Fundamental Review of the Trading Book (FRTB), and other quantitative assessment measures.
BNY Mellon/Pershing X
Advisors now have "single window" access to all their tools with BNY Mellon's/Pershing X's "Wove", an all-in-one platform that powers wealth management solutions in one place.
Wove combines regular applications advisors use with investment research and analytics tools such as the " BNY Mellon Precision Direct Indexing S&P 500®, managed by Mellon" and the "BNY Mellon Investment Management's indexing specialist".
 For starters, senior professionals from BNY Mellon Advisors, Inc. will proffer solutions to boost Wove.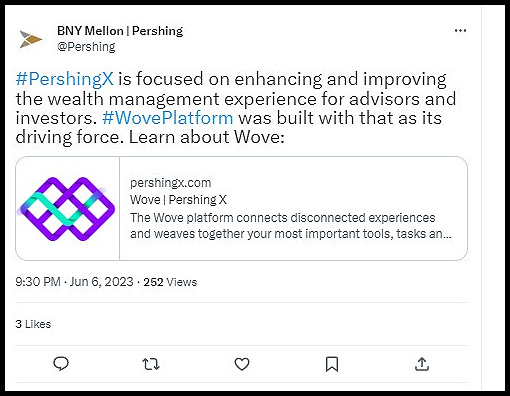 MarketAxess Holdings, Inc./Investortools, Inc.
Fixed income platform operator MarketAxess revealed its partnership with market solutions provider Investortools.
Per the cooperation, MarketAxess integrated its offerings, including its municipal bond product with Investortools' ecosystem, including its "Investortools Dealer Network (IDN)", "Smart™ portfolio management systems", "Investortools Perform®" via the FIX® protocol.
Traders also get faster order routing capabilities and greater liquidity with the partnership.
G Treasury SS, LLC (GTreasury)/C2FO
Liquidity needs for Treasuries got easier with the revelation of a partnership between treasury solutions firm GTreasury and capital provider C2FO.
Per the partnership, access to "liquidity-on-demand" via C2FO's ecosystem integration with GTreasury's product suite will enable improved forward-leaning payments for treasury departments alongside balance sheet credit lines or funding partner solutions.
Crypto, Blockchain, and Digital Assets 
Tether/Uquid
Tether, the company behind the USDT stablecoin, launched Tether Gold (XAUT) and Euro Tether (EURT) on Uquid, a Web 3 shopping platform.
XAUT is a gold-backed token. EURT has Euro backing.
ONSChain Chat GPT 4
Finally, AI joined the cryptospace with ONSChain, a blockchain created and managed end-to-end by AI. Chat GPT 4, the popular regenerative AI model, created the blockchain and the management components, all of which are automated.
Kava/Hover
The noncustodial liquidity ecosystem Hover, indicated it had integrated its platform with Kava, the Layer-2 ecosystem.
Hover will take advantage of Kava's interoperability features via the Cosmos SDK (software development kit) to enable other levels of functionality within the cryptospace.
Fireblocks/MetaMask Institutional
MetaMask Institutional, the "big gun" arm of the popular Web3 wallet, added Fireblocks, a multi-party computation (MPC) ecosystem as one of its custody technology providers.
Users can deploy Fireblock's MPC technology to stake Ether from MetaMask's institutional dashboard.
FinTech, Personal Finance, and Apps
Amazon.com, Inc./Affirm Holdings Inc.
As part of big tech's push into the financial space, Amazon selected Affirm Holdings Inc., to power its "Buy-Now-Pay-Later (BNPL)" solution, a part of the Amazon Pay ecosystem.
Customers can now choose the BNPL option via Amazon's checkout, with Affirm's tech holding things down on the backend. 
Affirm enables biweekly and monthly repayments for purchases above $50 without credit scores for customers who select the option.
American Express/Plaid
Open banking reached new heights with American Express announcing a partnership with payment API provider Plaid. Per the collaboration, American Express will share customer data with Plaid (with permissions) and integrate APIs between both parties, giving customers options in their financial decisions.
Backend bank and FinTech integrations are also available via Plaid.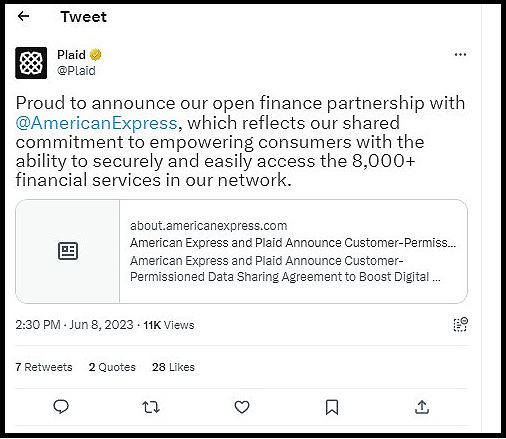 Reink Media Group/Investor.com
Investor.com launched a credit card cashback rewards calculator that shows side-by-side options for Americans in an age where everything gets checked to the last cent.
The calculator is available throughout the website and on its two credit card guides.
Banking, Payments, and Infrastructure  
Momnt/Cross River Bank
Businesses can breathe easy with a new partnership between FinTech lending provider, Momnt and Cross River Bank, a premier financial infrastructure solutions firm.
Per the partnership, the API integrations between both parties enable merchants within Momnt's ecosystem to offer customers lending options.
PortX
Financial Integration-Platform-as-a-Service (iPaaS) infrastructure firm PortX announced the release of version 2.0 of "Integration Manager", its product that allows for the seamless deployment of solutions for financial institutions.
Integration Manager offers several user-friendly "on-the-go" features, including self-service deployments, improved compliance, simplified error identification and correction (debugging) processes, five-star data privacy, and more.
BAFS (Business Alliance Financial Services)
Financial institutions now have the best of both worlds with the launch of "BLAST", a lending cloud platform developed and introduced by BAFS, a boutique lending solutions firm.
BLAST is integrated with BAFS' solutions, giving FIs a one-stop shop for loan product development and deployment.
REtech, Insurtech and Investing
Policygenius/Labyrinth Financial Services (LFS)
The cumbersome life insurance origination, processing, and approval can now become seamless with Labyrinth Financial Services, a premier insurance support services firm integrating with Policygenius, an online insurance marketplace.
Partners and agents working with LFS can onboard clients via "Policygenius Pro", a life insurance ecosystem that allows smooth applications and approvals.
Qira/Tackle
Here's good news for renters. Adding rent repayment ability to credit reports is possible through a partnership between Qira, a rental financial solutions firm, and credit reporting company Tackle.
Per the cooperation, renters within Qira's ecosystem can include payment details in their credit reports.
Monthly fees are charged, which can be paid by maintenance companies.
Turbo Insurance Group/Insured.io
Enterprise-based insurer Turbo Insurance revealed it deployed "LeadGen Platform (LeadGen)", the high-powered customer generation and onboarding ecosystem owned by solutions provider Insured.io.
Engaging, onboarding, and retaining customers via LeadGen, Turbo Insurance's processes are handled very quickly and focus on delivering results.
---