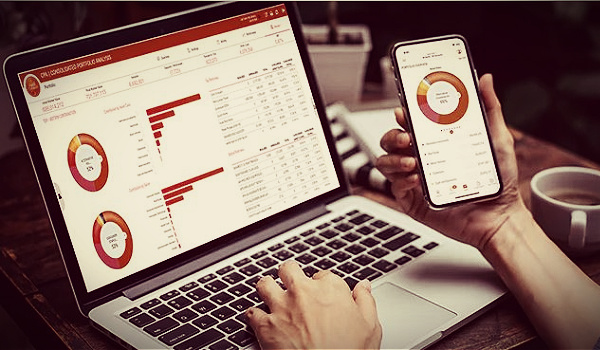 ---
There are no summer doldrums (yet) to be found in the wealth tech space, as we have another interesting collection of advisor technology headlines.
Leading off is the relatively new behavioral finance-oriented platform Atlas Point with a big upgrade to its technology. We whittled down the release to include mostly information to help familiarize readers with Atlas Point, but a deeper dive into what the company offers surfaces much of interest from this player in the growing advice engagement space.
We also have what appears to be the first big announcement from Nitrogen, the rebranded tech firm formerly known as Riskalyze, and news that TIFIN is spinning off a chunk of its AI-powered platform as a standalone company.
That's enough from us this week, we'll let you get right to the rest of the advisor tech news below.
---
Atlas Point
Atlas Point announced the launch of Atlas Point Edge. Since 2020, Atlas Point has been delivering cutting-edge behavioral finance insights and outcome-driven educational resources to connect financial professionals and their clients in an increasingly complex and uncertain financial world. The Atlas Point Edge platform is comprised of three key solutions: Client BeFi Insights, a Productivity Library and Enterprise Intelligence. Use of the platform has resulted in more effective client conversations for 96% of Atlas Point clients (according to a 2022 Client Results survey). Most recently, Atlas Point was named a finalist in the highly competitive Artificial Intelligence category as part of the esteemed 2023 Wealth Management Industry Awards.
Envestnet | Yodlee
American Express announced an API-powered data access agreement with Envestnet | Yodlee that will provide new digital banking options for customers without compromising their account security and providing a seamless connection to financial tools that they trust, including apps that help manage finances and build wealth. Through this new arrangement, American Express customers will now more easily leverage their American Express account information to better manage their personal finances and business expenses through secure connections with a variety of applications they trust on the Envestnet | Yodlee platform. Integrating Envestnet | Yodlee into American Express' Account Financials API will empower customers to direct American Express to share their American Express account data in a secure and more seamless way. In doing so, it eliminates the need for credential sharing, improves data accuracy and reliability, and accelerates financial data access.
Nitrogen
— Nitrogen announced major platform enhancements and a new product plan – Nitrogen Ignite – designed specifically to help firms with two to 10 advisors acquire clients, improve client satisfaction and increase retention rates. New platform capabilities available in both Nitrogen Ignite and Nitrogen Ultimate include executive dashboards for book-wide assets under management (AUM) metrics, advisor performance, compliance analytics, and risk controls. Nitrogen Ignite, designed for growing wealth management firms, builds upon the features of Nitrogen's flagship toolset for individual advisors (Nitrogen Elite) and introduces a suite of firmwide capabilities.
PureFacts Financial Solutions
PureFacts Financial Solutions announced that its fee and billing calculation engine will be added to the Wove wealth management platform of Pershing X, a technology provider and new business unit of BNY Mellon. With the addition of PureFacts, wealth management firms using the Pershing X platform will be able to better account for every dollar of value, with less overhead and more automated, accurate, and repeatable workflows.
SMArtX Advisory Solutions
SMArtX Advisory Solutions announced it has added 24 strategies to its managed accounts platform, with Baillie Gifford, Carrick Lane, MFS Investment Management, and Tom Johnson Investment Management joining the SMArtX model marketplace.  The platform now features 1,219 strategies from 292 asset management firms. The new firms are adding several distinctive, limited distribution strategies, including Baillie Gifford's International Alpha ADR and Carrick Lane's Put Writing strategies. Tom Johnson Investment Management is offering a comprehensive suite of fixed income solutions, while industry heavyweight MFS Investment Management is delivering a mix of six strategies focused on both domestic and international markets. The SMArtX platform also welcomes 10 strategies from existing asset management firms Broxton Capital Advisors, Madison Investment Advisors, and WisdomTree Asset Management. These firms continue to deepen their presence on the platform as SMArtX continues to expand its scope within the managed accounts industry.
TIFIN
TIFIN AMP announced the successful close of a Series A round and the establishment of a new board independent from parent company TIFIN. Leading the round is Motive Ventures, the venture arm of Motive Partners. This move marks an expansion of the collaboration between TIFIN and Motive Partners, building on the investment Motive Partners made in TIFIN's Series D round last year. TIFIN AMP's integrated distribution platform is the first of its kind in the asset management industry. Powered by advanced machine learning and data science, it empowers top-tier asset management firms to unearth untapped fund and managed account distribution opportunities within their existing client and prospect base. With its integrated Nurture capabilities that provide real-time feedback, asset managers can now design their own custom algorithmic platforms that are learning and evolving automatically when targeting wealth managers. When combined with data that is unique to TIFIN AMP, the algo and feedback capabilities can change how the industry distributes products to advisors and consumers.
---