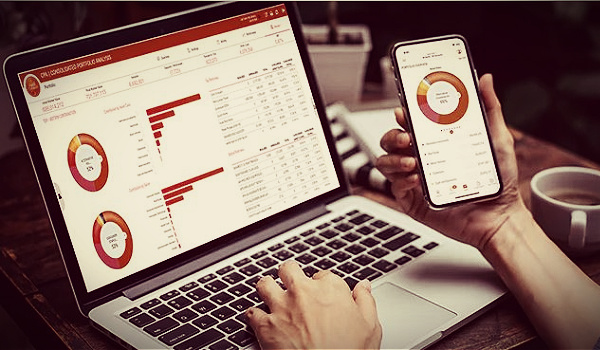 ---
Still no summer doldrums in the advisor tech world.  
Maybe it's a symptom of the post-pandemic reality—when more, if not most, of us are working from home, the old seasonal ebb-and-flow of activity and information is no longer as impactful as it once was—but it seems like the mid-summer slump of wealth management news is a thing of the past.  
Not only were there a few very big deals in the advisor merger and acquisition space, like Pathstone's acqusition of Veritable LP—but there was also plenty of technology news as well. This week we have a new partnership announced by mar-tech innovator Snappy Kraken, key integrations for FusionIQ and STP Investment Services and re-vamped retirement plan tools from Morgan Stanley.  
There was also a nice smattering of newsy tidbits from newer and/or less familiar fintech and wealth management names, but we don't want to spoil all of the week's headlines, so without further ado, here's your Advisor Tech Talk. 
---
AssetBook
AssetBook, a SaaS-based portfolio monitoring and reporting solution, announced a partnership with Wealth.com, an estate planning platform. By joining forces with Wealth.com, AssetBook's clients are able to seamlessly introduce estate planning into the financial planning process, ultimately delivering more scalable value to their clients and enabling better outcomes. Wealth.com's holistic estate planning ecosystem empowers advisors to lead the creation, visualization, maintenance, and administration of clients' estate plans. Whether creating a complex trust for multiple generations or delivering a straightforward will, Wealth.com's intuitive software simplifies estate planning. Its modern platform enables advisors to facilitate estate planning activities in a secure environment. This partnership with AssetBook will allow advisors to offer enhanced estate planning services and more dynamically visualize their clients' entire financial picture. 
Beneficient 
Beneficient, a technology-enabled platform providing liquidity and related trust and custody services to holders of alternative assets, announced the public launch of AltAccess, which is its flagship platform that allows those holders to accelerate the monetization of otherwise illiquid holdings through a secure, rapid and cost-effective online process. Liquidity, the Ben® Way, means that investors can exit their alternative assets, based on their individual needs, through cash, equity or debt securities. 
Along with opening AltAccess to the public, Beneficient is also launching AltQuote, a web-based tool for rapid pricing of professionally managed alternative assets. With a database of more than 57,000 funds, AltQuote can generate an indicative quote in minutes for investors looking to understand the value they may obtain in an early exit. 
FusionIQ  
FusionIQ, a provider of cloud-based wealth management solutions with their all-in-one digital platform for financial advisors and institutions, announced a strategic integration with Blueleaf, a platform offering reporting, billing and client aggregation tools. The integration between FusionIQ and Blueleaf aims to empower financial advisors and institutions with comprehensive tools for seamless digital transformation and enhanced user experience (UX) for advisors and the clients they serve. FusionIQ's goal is to make it easy for financial advisors and institutions to implement a digital wealth management platform. The FusionIQ One platform with four easy-to-activate, pay-as-you-grow modules – Digital Advice, Self-Directed Investing, finTAMP, and Digital Model Marketplace – enables credit unions, banks, RIAs, and Independent Broker Dealers to implement a white-labeled, all-in-one platform in as little as six weeks, with onboarding of clients in five minutes on many of the most trusted custodians. The integration with Blueleaf will enable financial advisors to customize, schedule and deliver reporting with ease in a white-label environment. 
InvestCloud 
InvestCloud, the global software-as-a-service (SaaS) provider of digital transformation services for the wealth management industry, announced the appointment of Heather Bellini as President and Chief Financial Officer, leading finance, legal, HR and business operations. Ms. Bellini has served on InvestCloud's Board of Directors as Chair of the Audit Committee since May 2022 and brings extensive experience in the technology and financial services sectors to her new role. She served as a Partner and Managing Director at Goldman Sachs for nearly 10 years before joining cybersecurity software company Deep Instinct as CFO in 2021. Ms. Bellini was named to the inaugural Barron's 100 Most Influential Women in Finance in 2020. 
Morgan Stanley 
Morgan Stanley at Work announced the latest batch of technology enhancements to its stock plan platforms Equity Edge Online® (EEO) and Shareworks, which together serve roughly 40% of the S&P 500 in the US.1 The updates focus on improved administration, automation, and private market client liquidity solutions, all to further advance Morgan Stanley at Work's ongoing integration journey and help deliver a more unified experience for corporate clients and their workplace participants. 
Additionally, Morgan Stanley at Work now offers deferred compensation technology solutions to support plan sponsors and participants, from record keeping, to digital enrollment, plan management and reporting. And lastly, for both EEO and Shareworks, Morgan Stanley Financial Advisors now have increased visibility to access stock plan details when private company participants engage an Advisor.  
Snappy Kraken
Snappy Kraken, the martech innovator serving financial advisors, today announced its partnership with Idea Decanter, a company driven by a fundamental belief in the power of video. This collaboration aims to address the challenges faced by advisors seeking to adopt video as a powerful marketing tool and will empower them to create engaging, impactful video campaigns with confidence. Snappy Kraken and Idea Decanter have joined forces to offer advisors video strategies that will not only fuel their business success but also enable them to preserve their unique voice and message. The goal is to instill confidence, empowering advisors to fully embrace the opportunities of video marketing. Snappy Kraken clients are able to utilize Personal Connection Videos (PCVs), providing them with a streamlined approach to creating and promoting videos at scale. With access to pre-built PCV campaigns, advisors can personalize and record videos using the provided scripts. These videos can then be distributed across email and social media channels to drive awareness, attract subscribers, and humanize the advisor. 
STP Investment Services 
Passthrough, a provider in fund workflow automation for investors, fund managers, and other fintechs, and STP Investment Services (STP), a technology-enabled services company, announced a strategic partnership to transform the investor onboarding experience and drive operational efficiencies for STP's clients and their investors. STP serves as a trusted partner providing front, middle, and back-office solutions to investment managers, funds, family offices, wealth managers, and plan sponsors. With Passthrough's digital platform, STP's clients and their investors can benefit from a streamlined and convenient subscription and onboarding process. This partnership will enable STP clients and their investors to experience a seamless digital journey. Initially, STP clients' subscription documents will be implemented directly on the Passthrough platform, where potential investors can review materials, complete subscription documents digitally, execute agreements electronically, and submit them for acceptance. STP and its clients will have the ability to review, collaborate, and approve subscription documents in digital workflows providing all parties a more efficient experience. Data will then be seamlessly transferred into STP's core processing engines, allowing for faster onboarding and more focus on client service. 
Titan 
Titan, the investment management platform backed by Andreessen Horowitz and General Catalyst, announced the launch of Smart Cash. The goal is simple: Optimize for the highest after-tax rate that clients can earn on their cash. Smart Cash scans rates across treasury funds and cash on Titan alongside individual tax details. Its AI-leveraged algorithm then calculates the highest rate not only before, but after tax, and automatically moves money if a better one is found. Smart Cash provides a higher rate than traditional savings accounts while also being extremely low risk. Currently, that rate is up to 5.11%* compared to the national savings average of 0.4%. 
Wealth.com 
Wealth.com, the industry's leading estate planning platform, announced the appointment of Thomas Kopelman as Head of Community. In this newly created role, Kopelman will proactively interface with the company's primary audience, which comprises financial advisors and registered investment advisers (RIAs), forging strong connections with these critical stakeholders. His appointment underscores Wealth.com's deep commitment to continually innovating and creating value for the wealth management community. Currently, Kopelman is the co-founder and financial planner at AllStreet Wealth, a virtual, fee-only financial planning and investment management firm for millennials. He has been recognized as a Top 100 Financial Advisor by Investopedia in 2022 and 2023, a 2023 Young Advisor to Watch by Financial Advisor Magazine, and a Top 23 Millennial Financial Advisor by Business Insider. Kopelman is the host of The Long Game podcast and is frequently invited to speak at wealth management industry conferences. In addition, he has been featured in various publications such as Kitces.com, Fortune, and Barron's.