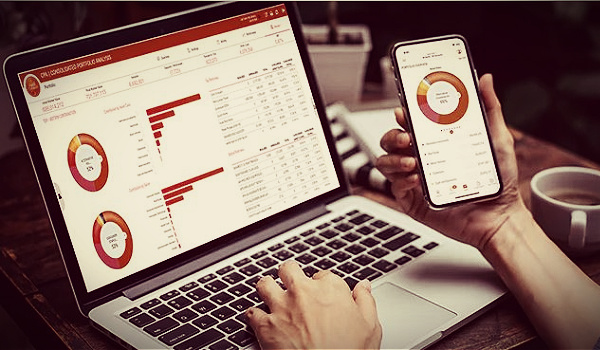 ---
It was an extremely busy week in advisor tech, and most of the headlines came from new or littlle-known wealth tech firms. 
Oh sure, we had big AI-related announcements from Capco and from JPMorgan, but filling in the gaps this week are new green shoots from firms working in hot niches like financial wellness and educational financial planning.  
Stalwarts like YCharts and iCapital also announced new functionality for advisors. 
Without any further ado, let's get to the advisor tech headlines for this week.
---
Capco 
Capco, the global technology and management consultancy dedicated to financial services, and Pyramid Analytics, a leading business analytics and decision intelligence platform provider, announced a partnership to help financial institutions simplify their decision-making through AI-augmented, automated, and collaborative insights. The new partnership brings together Capco's deep financial services experience and expertise in data and analytics with Pyramid Analytics' strategic, enterprise-wide approach to business intelligence. Pyramid's Decision Intelligence Platform offers a low-code/no-code solution to data preparation, business analytics, data science, and machine learning, empowering the organization – from the C-suite leaders to frontline professionals – to make faster, more intelligent decisions. 
Entrustody 
Entrustody, adigital-first custodial platform, announced the appointment of Brian Kutmas as its new senior vice president of product and technology. With considerable experience in wealthtech and fintech, Kutmas joins the company to spearhead the acceleration of its strategic roadmap. Entrustody's goal is to develop the custodial platform of the future for registered investment advisors (RIAs) to better serve end investors. Kutmas's track record, cultivated over a span of more than two decades, positions Entrustody for continued success. Throughout his career to date, Kutmas has excelled in constructing enterprise SaaS solutions for fintech and wealth tech enterprises. Before joining Entrustody, Kutmas held the position of vice president of product at ContinuumCloud, a company specializing in cloud-based software solutions for the behavioral health and human services sector. Previously, he served as vice president of product development at NaviPlan, now a part of InvestCloud, and held product development leadership roles at Metavante Technologies and FIS Global. 
iCapital 
iCapital, a global fintech platform driving access to alternative investments for the wealth management industry, unveiled iCapital Architect, an innovative portfolio construction tool that empowers financial advisors to build robust, personalized client portfolios incorporating alternatives and structured investments. Advisors can use Architect – which combines a user-friendly interface with sophisticated analytics – to evaluate alternatives and structured investments alongside traditional assets and seamlessly design portfolios that align with their clients' return objectives and risk profiles. Among the tool's many features are resources for evaluating historical performance and running institutional-quality risk factor analyses — key attributes for developing insightful investment recommendations. Architect's launch comes at a time when there is a growing need for delivering outcome-oriented portfolios that span alternative, structured, and traditional investments. It marks a significant step forward for iCapital and underscores its commitment to investing in innovation for the benefit of the wealth management community. 
Nuveen, the $1.1 trillion investment manager of TIAA, has expanded its partnership with iCapital, the global fintech platform driving access to alternative investments for the wealth management industy, to offer investors and financial advisors the opportunity to allocate to high-quality, globally diversified agricultural assets. The Nuveen Global Farmland strategy is managed by Nuveen Natural Capital, the largest manager of global farmland1, with $12.4 billion in assets currently under management. The strategy invests across major agricultural regions of the world, with an asset mix that currently includes winegrapes in Napa, Monterey, Sonoma and Madera counties in California; U.S. row crops, including corn, soybean, rice, cotton and other vegetables; and, horticulture crops, such as almonds, raisin grapes and pistachios. This is the fourth Nuveen private market strategy available to wealth advisors and their clients on iCapital's technology platform, adding to a list of offerings focused on real estate, private credit and private equity. 
LibertyFi 
LibertyFi, a technology and operations consultancy that helps growth-oriented Registered Investment Advisors (RIAs) drive revenue and scale their businesses using technology, announced that the company now serves 29 clients and has $13.5 billion in assets under administration (AUA) on their enterprise platform. The company has averaged 42% year-over-year revenue growth and maintains a 98% client satisfaction rating — highlighting the effectiveness of its value proposition and superior client service. 
According to DeVoe & Company, RIAs, on average, are seeing a 4% organic growth rate versus LibertyFi clients who saw an average 18% organic growth range in 2022. Utilizing LibertyFi's outsourced model for operations, compliance, and investments allowed them to focus on expanding services for their clients, increasing their enterprising value, and grow organically almost 5 times the industry average. 
PocketNest 
Pocketnest, the female-founded financial wellness platform, announced Pocketnest for Independent Practices—aimed at independent wealth advisors, CPAs, mortgage brokers, financial advisors, and more. The latest product addition brings three new practices to the Pocketnest roster, with 44 total enterprise customers, marking 42 percent enterprise customer growth since Summer 2022 and 10 percent average monthly growth since launch. Identifying an average of $575 million in cross-sell revenue for financial institutions, Pocketnest unleashes its financial wellness tool to all independent practices nationwide to grow its footprint and offer smaller practices lead-generating tech that can bring their communities financial wellness. 
Ren 
Ren announced it has received a strategic growth investment from Bain Capital Tech Opportunities and Valeas Capital Partners. The investment, Ren's first institutional capital to date, will be used to fund new product features, rapidly scale the team, support financial advisor and client awareness of donor-advised funds (DAFs), and expand Ren's charity network. Financial terms of the private transaction were not disclosed. DAFs are the fastest-growing mechanism for charitable giving in the United States, enabling contributions in a simpler, easier, and more cost-effective manner. DAFs have grown from 7% of annual charitable contributions in 2017 to 15% in 2021, and represent more than $234 billion in Assets Under Administration. 
SkyView 
SkyView announced the launch of SKYVIEW 1, Inc., a white-label digital banking platform. SKYVIEW 1 partners with RIAs and broker-dealers to provide a bespoke digital banking service for consumers, including a cutting-edge mobile experience. This new banking as a service (BaaS) platform enables advisors to provide end-to-end service and advice, grounded in a foundational understanding of their clients' complete financial picture, that can steer high-net-worth investors toward greater financial momentum. 
Standard Custody & Trust 
Standard Custody & Trust Company, a NYDFS chartered company providing institutional-grade custody, escrow, and settlement services for digital assets, announced a groundbreaking partnership with L1 Advisors, a pioneering onchain wealth management platform for financial advisors and their clients. This partnership signifies an industry-first product offering for registered investment advisors, wealth managers, and family offices. The collaboration ushers in a new era of digital asset management, providing financial advisors with a hybrid approach to digital asset custody, management, and advisory for the first time. This innovative approach combines the security and convenience of qualified custody with the portability and self-sovereignty of self-custody. The newly bundled product offering enables advisors to offer both discretionary and non-discretionary advice, facilitating a more personalized approach to digital asset advisory. 
TIFIN 
TIFIN, an artificial intelligence (AI) platform for wealth, announced the launch of TIFIN.AI. TIFIN.AI is dedicated to conceiving and developing TIFIN's second cohort of AI-powered fintech companies. J.P. Morgan has joined TIFIN in funding TIFIN.AI. The formation of TIFIN.AI builds upon the success of TIFIN Studios, which created five companies between 2018 and 2021. The first iteration of Studios yielded profitable launches and exits including J.P. Morgan's acquisition of 55ip in 2020, the spin-off of Paralel Technologies, and the foundation of TIFIN's three subsidiaries Magnifi, TIFIN Wealth, and TIFIN AMP. TIFIN.AI ushers in a new phase of fintech innovation in wealth management across advice and products through the use of AI capabilities across use cases that include client portfolio insights for advisors, alternative investing, wealth management in the workplace, and insurance among others. Drawing upon the insights gained by the previous cohort, TIFIN.AI has refined a template for repeatable innovation, one that bolstered efficiency and led to shorter time-to-market for forthcoming innovations. Operating as a subsidiary within TIFIN, TIFIN.AI will be directly overseen by TIFIN's founder and CEO, Dr. Vinay Nair. 
Vestwell 
Vestwell announced it has entered into an agreement to acquire Gradifi Solutions, a student loan benefits provider. The acquisition adds several new products to the Vestwell platform, including programs to help employees manage and pay down student debt, contribute to education savings accounts, and refinance student loans. The strategic acquisition solidifies Vestwell's commitment to offering best-in-class workplace financial benefits. In addition to its state savings programs, Vestwell now powers both workplace retirement and education benefits, providing employees with a modern and holistic approach to saving. Gradifi Solutions offers workplace education solutions including financial literacy and student loan refinancing tools, as well as student loan repayment programs. Focused on financial wellness, these tools enable employees to access resources designed to help them achieve their holistic financial goals through the workplace. 
YCharts 
YCharts, a cloud-based investment research platform empowering wealth management professionals to make smarter investment decisions and enhance their client communication, announced the release of its latest product enhancement, the Portfolio Optimizer. This cutting-edge addition to the YCharts toolstack reimagines the portfolio research and optimization process, enabling users to construct well-balanced and highly efficient portfolios. In response to the ever-evolving needs of the Wealth Management industry, YCharts has developed Portfolio Optimizer to enable advisors to make data-driven portfolio decisions and build out optimal allocation strategies that achieve the ideal risk-reward balance, maximize portfolio performance, and align with client objectives. Featuring an intuitive and user-friendly interface, Portfolio Optimizer supports four types of Efficient Frontier strategies, as well as a Correlation Matrix that unveils heavily correlated relationships between holdings and/or sleeves, thereby mitigating risk and enhancing portfolio diversification. 
---