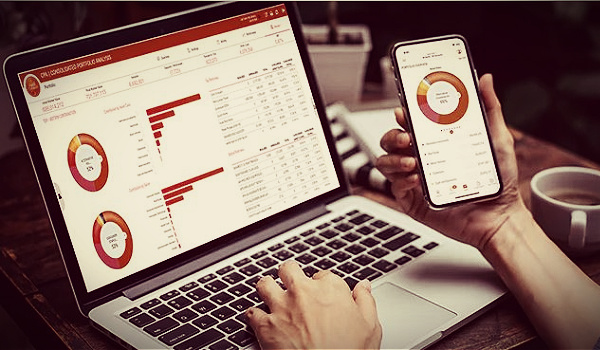 ---
This was not a quiet week on the advisor side of fintech news. 
I know, it feels like we find a way to say that every week, but it is striking this year that through the summer the advisortech news has remained very steady—and here we are already heading into the busy fall season. 
This week we have some AI headlines from Nitrogen, in the form of rapid adoption of its new artificial intelligence tools, and from Snappy Kraken, who has launched a new AI email assistant. 
There's also a big integration for Apex and new hires at TIFIN and SMArtX to round things out for us, amid other headlines you won't want to miss. 
Without further ado, here are your advisor tech headlines for the week: 
---
Advisor360 
Advisor360°, a provider of software for enterprise wealth management firms, is bolstering its go-to-market capabilities with the addition of Jeff Schwantz as Chief Revenue Officer. In this newly created role, Schwantz will steer Advisor360°'s revenue generation strategy, including overseeing sales and marketing. Schwantz brings with him over 24 years of financial services expertise, with a strong focus on leveraging technology to enhance the end-user experience for financial advisors. Prior to joining Advisor360°, he held various significant roles at Morningstar, including serving as the Global Head of Client Solutions and Channel Partnerships. He also acted as the General Manager and Global Head of the Advisor Client Experience (ACE) team, spearheading the software business catering to enterprise wealth management firms, which in turn served over 180,000 advisors in the U.S. and Canada. Schwantz has an extensive background in leadership, having led eMoney's Enterprise Sales, Relationship Management, and Strategic Partnerships teams, as well as holding senior client relationship positions at BNY Mellon Pershing, Allstate, and Wells Fargo. 
Apex Advisor Solutions 
Apex Advisor Solutions, a product of Apex Fintech Solutions ("Apex"), the fintech for fintechs powering innovation and the future of digital wealth management, announced a new integration with AdvisorArch. The collaboration will provide advisory firms and fintechs alike with a premier solution to modernize and automate the investment process and is customizable to fit their tech stack to better serve clients and help to grow their businesses. AdvisorArch's independent status and open-architecture approach will be a welcome addition of choice and flexibility to a rebalancing landscape that has seen significant consolidation. 
Apex Advisor Solutions, through AdvisorArch's integration, will offer advisors and fintechs access to a rebalancer to help support tax loss harvesting capabilities, direct indexing, fractional share trading, concentrated position management and more with seamless connectivity to their current portfolio management tools. This innovative solution will enable advisors the capability to customize their settings and standardize models, access direct indexing and ESG/SRI strategies, leverage goal-based automation systems including glide path and risk score-based automation, view client holdings and targets with pre-built back-office dashboards, and trade execution across all of their accounts. 
Conquest Planning 
Conquest Planning Inc. ("Conquest"), a technology platform modernizing financial planning with customized and convenient advice, announced an integration with Vancity, Canada's largest community credit union. With assets exceeding $34 billion, including assets under administration, Vancity is the first credit union to join forces with Conquest. As a result of this partnership, Conquest will integrate its cutting-edge digital financial planning tools into Vancity's services, potentially extending this valuable resource to its more than 560,000 members. This will further empower these individuals to take control of their financial futures. 
Lincoln Financial 
Lincoln Financial Group (NYSE: LNC) continues to enhance the experience it provides to employer clients with a new digital implementation tool. Powered by onboarding software provider GUIDEcx, the digital tool works to simplify and expedite the implementation process for new group benefits customers by offering real-time progress updates and 24/7 access to the platform. 
Staying on track and connected to your provider during the onboarding experience helps ensure employees have timely access to key workplace benefits. Benefit offerings are a key component to talent acquisition and retention, and with an average of 312,000 U.S. jobs gained each month1, ensuring a smooth transition through the benefits onboarding experience is more important than ever. Through the new implementation platform, employers can view critical milestone dates and collaborate with their administrative team to assign tasks and stay informed of what's ahead. 
Nitrogen 
Nitrogen announced the significant traction demonstrated by Nitrogen AI, an AI-driven virtual marketing content assistant embedded into its Advisor Marketing Kit. The tool, available to Elite, Ignite, and Ultimate plan users since its rollout in May, has already been implemented by more than 500 customers for emails, social posts, and blog content, significantly augmenting advisors' marketing efforts. The introduction of Nitrogen AI coincided with the Nitrogen brand reveal earlier this year. Initially powered by OpenAI's GPT 3.5 Turbo and since upgraded to GPT 4.0, it became the first wealth tech platform to adopt this advanced system. Nitrogen AI seamlessly complements human capabilities, serving as the dedicated virtual content assistant with tailored advisor-specific content. The revolutionary aspect of the tool lies in its adaptability, allowing users to select a specific tone of voice and target audience, ensuring personalized communication at scale. By offering a relevant starting point for content creation, it empowers advisors to infuse their own insights while easing compliance with relevant regulations. As such, Nitrogen AI solidifies its role as an indispensable ally, allowing marketing teams and individual advisors to accomplish much more in greatly less time. 
SMArtX 
SMArtX Advisory Solutions ("SMArtX"), architect of the SMArtX Turnkey Asset Management Platform ('TAMP'), announced that the firm's founder, Evan Rapoport, is stepping down from his role as Chief Executive Officer and handing the reins to the company's current President & COO, Jonathan Pincus. Mr. Rapoport will continue his service on SMArtX's board of directors. 
Evan Rapoport founded SMArtX Advisory Solutions in 2017 with a commitment to change the way managed accounts are administered.  Under Mr. Rapoport's leadership SMArtX has become widely recognized as an industry leader in the managed accounts technology industry. 
Jonathan Pincus, SMArtX's President & COO for the last three years, has been named Chief Executive Officer effective immediately. Formerly the Global Head of Investment Operations at Northern Trust Asset Management, Mr. Pincus has worked closely with Evan on a daily basis during his tenure with SMArtX and brings a wealth of experience to execute SMArtX's vision for the future.  
Snappy Kraken 
Snappy Kraken announced the launch of an artificial intelligence (AI)-powered email builder, enabling advisors tired of staring at a blank screen to craft compelling client and prospect emails in a fraction of the usual time. This breakthrough reimagines mundane headlines into captivating ones; generates personalized and brand-consistent images; and crafts impactful calls to action (CTAs) that yield positive outcomes. 
This drag-and-drop email builder, enriched with AI capabilities, encompasses the following features: 
Magic Image: Empowering advisors to quickly generate unique images, enhancing the visual appeal and hyper-personalization of their emails. 
Smart Headlines: Instantly transforming monotone text by creating engaging and intriguing alternatives that fit advisors' brand and voice. 
Smart Text: Allowing advisors to shape their thoughts into well-organized, summarized, simplified, expanded, or revised prose. 
Smart Button: Infusing CTAs with vibrancy to encourage active participation and drive advisor conversions. 
TIFIN 
TIFIN AMP, an artificial intelligence (AI) platform for the intelligent distribution of funds, announced the appointment of Sal Gagliano as the Chief Executive Officer. The firm also announced the addition of Charlie Shaffer as the President and Chief Revenue Officer. Dr. Vinay Nair continues as the Founder and Executive Chairman. Sal Gagliano has joined as Chief Executive Officer at TIFIN AMP. He brings over twenty years of leadership experience from the financial services industry, including general management, strategy & business operations, and product development. Previously, Sal spent nearly 15 years at Broadridge in various roles, including Division COO and Head of Strategy for the Asset Management segment, VP of Strategy for the Global Sales & Marketing organization, and VP of Corporate M&A. Most recently, he was the SVP & GM of the Marketing & Regulatory Communications business, where he drove the transformation of investor communications from conventional print and email to outcomes-focused, data-driven, multichannel experiences for the Asset Management, Retirement, and Insurance segments. 
Charlie Shaffer, as TIFIN AMP's new President and Chief Revenue Officer, has deep knowledge and roots in the world of fund distribution and transition management at leading financial services firms. Previously, he served as the Head of Distribution at Voya Investment and the Global Head of Distribution at Credit Suisse Asset Management. Most recently Charles was Global Head of Distribution at Russell Investments overseeing all go-to-market (GTM) functions, including regional sales, client service, and business intelligence. 
Vestwell 
Vestwell, a small business retirement provider and individual savings platform, today announced it will power the Maine Retirement Investment Trust (MERIT), the newest state-facilitated retirement program in the country. MERIT is designed as a state automatic IRA savings program available to businesses in Maine. MERIT has selected to partner with an existing Vestwell auto-IRA program, Colorado SecureSavings, to launch the pilot program in late 2023. Administered by Vestwell, the partnership creates the first live multi-state auto-IRA program. Once established, the MERIT program will provide an estimated 40 percent of private-sector workers in Maine with expanded access to workplace retirement savings.  
---