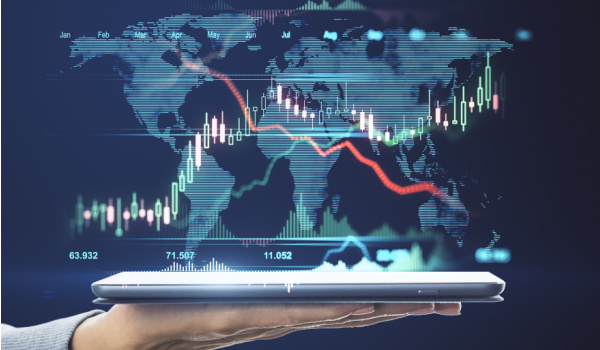 ---
As fall sets in, the industry has continued to churn.
New products, it seems, are always in fashion.
TS Imagine launched a new dashboard.
Planatir is going places. The AI firm has its sights set on the financial space.
Google continued to lower the bar for financial firms with support for eleven blockchains.
Banks can now know how much student debt is on their books (via Payitoff).
Plus, Citi unveiled an ongoing concern for FI managers.
There's a new consulting service that helps insurance firms go digital.
And, Prudential deployed AI to enable seamless disability claims.
It's your week in digital wealth!
---
WealthTech, RegTech, Regulatory, and Treasury
TS Imagine
Boutique trading solutions firm TS Imagine introduced its dashboard product ("WealthSmart") for private financial institutions and wealth managers.
"WealthSmart" has several features. They include risk, data, and trading management.
S&P Global Inc.
S&P Global, the financial information services giant, unveiled the latest iteration of "Capital IQ Pro", its desktop data solution.
The firm also revealed plans to add a generative AI tool to the product ("ChatIQ").
Qoudd Financial
Qoudd, a premier market data solutions provider, indicated the return of its ecosystem ("QX Digital Platform" and "QX Data").
The return follows its February acquisition of an API firm (Xignite).
CAZ Investments ("CAZ")/Palantir Technologies
Boutique investment manager CAZ Investments unveiled its partnership with Palantir, a leading AI firm.
The 5-year collaboration gives CAZ access to Palantir's AI ecosystem.
Crypto, Blockchain, and Digital Assets
New York Department of Financial Services (NYDFS)
Per media reports, New York State's financial regulator, the NYDFS, said crypto players would soon operate by higher standards per guidelines.
The regulator also requested policy submissions from the firms.
Google Cloud
Google Cloud added support for eleven blockchains via its BigQuery data warehouse infrastructure.
The blockchains include Polkadot, Polygon (Mumbai testnet), Avalanche, Ethereum (Goerli testnet), Arbitrum, Cronos, Tron, Near, Fantom, Optimism and Polygon.
Onchain interactions and integrations with end-user apps are now possible.
Valkyrie Funds
Per a filing by Nashville-based Valkyrie Funds, its Bitcoin Futures ETF will take off on October 20th.
Valkyrie had earlier filed an October 3rd expected launch date.
FinTech, Personal Finance, and Apps
SAS Institute/Microsoft Azure/Kamakura Corporation
AI behemoth SAS revealed the inclusion of "SAS Asset and Liability Management (ALM)" as a part of its partnership with Microsoft.
"SAS Asset and Liability Management (ALM)" works off the "Kamakura Risk Manager" framework, a product of the Honolulu-based financial services company within Microsoft's cloud infrastructure ("Azure").
Debt solutions firm Payitoff unveiled its "Bank Deposit Impact Estimator tool" for financial institutions.
The solution helps FIs to gauge the numbers per student debt.
The "Bank Deposit Impact Estimator tool" helps FIs calculate several metrics, including bank deposits (monthly and annually), federal beneficiaries, and the estimated number of debtors.
BofA, the banking giant, launched "Open Account Automation", the first module of its trade product ("CashPro Supply Chain Solutions").
"CashPro Supply Chain Solutions" is the supply chain option of its "CashPro" banking platform.
SentiLink, a leading identity FinTech company, launched a new fraud detection solution ("Facets").
"Facets" enables banks and financial institutions to keep up with the latest exploits via integrations with in-house models.
Banking, Payments, and Infrastructure
The B2B industry got an enormous boost with a partnership between tech giant Oracle and payments behemoth Mastercard.
The cooperation enables banks to integrate with the "Oracle Fusion Cloud Enterprise Resource Planning (ERP)" for seamless payments.
In related news, the software company added new features to its " Oracle Banking Cloud Services " ecosystem, including support for retail accounts and term deposits.
SWIFT revealed its partnership with cross-border payments firm Wise.
The collaboration increased Wise's payment capabilities, including easy payments to destination accounts via SWIFT's infrastructure.
The IBM Payments Center, the tech behemoth's payments-as-a-service (PaaS) product, joined the SWIFT Partner Programme.
According to the "FUTURE OF CROSS-BORDER PAYMENTS — Who Will Be Moving $250 Trillion in the Next Five Years?", the latest iteration of the "Global Perspectives & Solutions (Citi GPS) report" by the banking colossus, there are opportunities per cross-border payments in the coming years.
That, however, will come with stiff competition from the FinTech space.
According to a survey, about 90% of FIs believe FinTech firms will take away a 5% market share.
Citi also unveiled a new set of payment products for FIs. They include confirmed value transfers, single-window SWIFT payments, and clearing services for commercial and retail customers.
REtech, InsurtTech and Investing
Exdion Insurance
Going digital in the insurance industry has become easy thanks to consulting services unveiled by Exdion Insurance, a key player.
The ecosystem service offers several products, including AI and machine learning (ML) capabilities.
Zelis/Google Wallet
Zelis, a premier HealthTech company, revealed its integration with Google Wallet.
Customers can now add and use their health insurance cards to Google Wallet.
Lincoln Financial Group
Lincoln Financial Group, a top-tier firm, launched its InsurTech platform ("LincSmart").
Developed for employer clients, "LincSmart" provides several features, including workplace availability, employee plan onboarding, and insurability.
Prudential Financial/EvolutionIQ
Insurance behemoth Prudential unveiled its partnership with boutique InsurTech EvolutionIQ.
The cooperation automates Prudential's disability claims via integrations between the platforms of both parties.
---