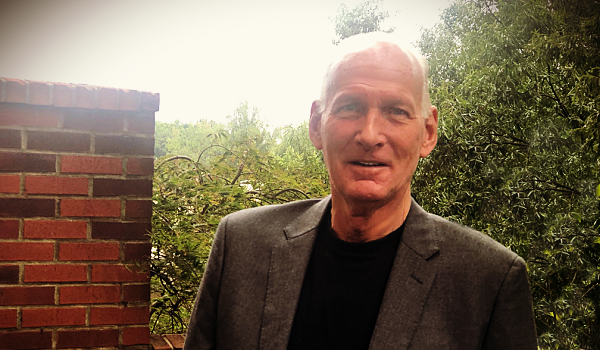 Simple Thoughts in Complex Markets
By Bill Taylor, Contributor/Entoro Wealth
---
The opinions expressed below are my own & do not necessarily represent those of Entoro Wealth or any of its affiliates
We compare the price of Bitcoin, Ethereum, Gold & the S&P500. We use the CME Bitcoin Indexes (BRR & BRTI) and the CME Ethereum Indexes (ETH_RR_USD) & (ETH_RTI_USD) for reference as well as the London Bullion Market afternoon price settlement on the digital assets & gold.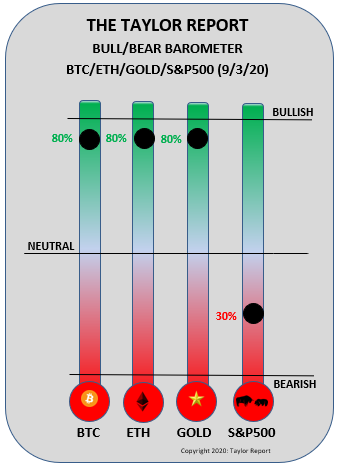 ---
9/3/20 Closing Prices:
Bitcoin: $10,870.49 (-$454.52)
Ether: $412.84 (-24.82)
Gold: $1,923 (-$15.00)
S&P 500 3,455.06 (-125.78)
Trading Summary Notes for Thursday, 9/3/20
WELCOME TO SEPTEMBER WHEN REALITY HIT! MARKETS DO NOT ACTUALLY GO UP DAY AFTER DAY. WHO COULD KNOW?
Summer has come to an end with equity markets hitting all time highs and recovering all (and more) the losses caused by the Covid 19 pandemic. Lockdowns coming to an end, businesses beginning to re-open, kids heading back to school (somewhat), people going back to work (from home or office), hummingbirds starting to migrate south and……………oh wait. That's why the equities have rallied so much, right? Anticipation of recovery. Now, the always present "fun killer"…………REALITY pops up.
So now what?
Well for starters let's congratulate…….ME! BITCOIN hit our near term price target of $12,500 (OK, just a touch under) we called for in our mid-August Taylor Report.
Since BTC did not break above that $12,500 mark the next target of $15,000 will be put on hold…..for now.
So, some profit taking and retrenching should be expected and BTC may see the lower $10K area before resuming onward and upward.
The acceptance of digital currencies (BTC, ETH) is constantly gathering steam. Institutional interest is being bolstered by new regulations, regulated custodians and exchanges AND even Fidelity is launching a BITCOIN exposure fund (announced this past week).
The dip the last few days is a "glitch." News had it that a South Korean firm was seized by regulators for selling "bogus" tokens. This will pass.
NOTE: PLEASE DON'T BUY THINGS LIKE SUSHI OR HOT DOG TOKENS. YOU KNOW BETTER!
Now, on to ETH. After a long time of being BTC's "little sister" ETH has begun a life of its own. Cheers.
ETH has rocketed ahead as more and more central banks have begun steps to create digital currencies mostly based on ETHEREUM blockchain.
Can ETH keep it up? Yes, probably with the renewed BTC strength. Look for ETH to move to $550.
Again, let's congratulate….ME! We have been yelling buy GOLD for going on four (yes 4) years. Indeed, over the past year and a half we have been yelling BUY, BUY and BUY. With the recent rise to over $2,000 (all time highs) what now?
BUY the dip. With luck GOLD may back down to the $1,825-$1,850 and that would be a good dip. Of course this dip is near term. Long term? Keep buying.
GOLD near upside target is $2,500……yup, $2,500. Longer term? $3,000-$3,500.
Ignore the rhetoric. Forward looking, after throwing money (and continuing to print $$$) to ensure a recovery, inflation may soon be on the rise and geopolitical/pandemic risks are only getting stronger. Positive for GOLD;
Now on to the equity market, or at least the S&P 500. The last few months have been insane. Nothing…..I repeat NOTHING……..goes up forever. FOMO (fear of missing our) has been in full force. Enough already.
Once again, let's "pre-congratulate…….ME." This is my quote from the last Taylor Report in mid-August. "What is up (literally) with the equity markets? Our we in the midst of a huge "melt up"? Yes, pretty close. Exuberant valuations plus a very crowded bullish investor bias is spelling "WATCH OUT." Might want to start putting some S&P short positions on. You can't always pick the exact top, but you can come close;"
This "dip" in the S&P 500 is NOT a buying opportunity. Psychology, or Market Behavior Analysis, has changed. Keep putting some "gentle" shorts out on strength.
S&P500 "dips" to 2,500-2,600?
Current trading positions: LONG BITCOIN, LONG ETH, SHORT S&P 500
---
Bill Taylor is Managing Director/CIO at Entoro Wealth & is widely published in financial industry media throughout the world