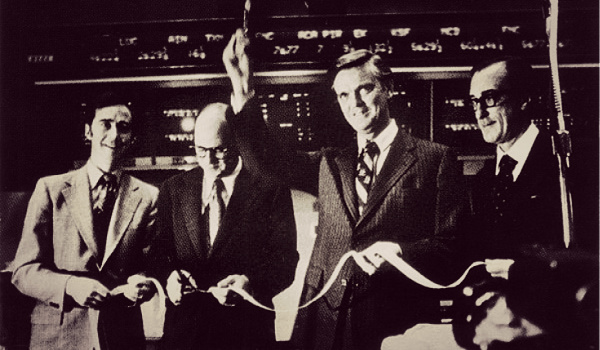 ---
Earlier this week, Cboe issued a statement announcing the passing of the exchange's founder Joe Sullivan on October 2nd. Sullivan is depicted on the far left in the photo above, on the exchange's opening day, with ticker tape in hand.
Ed Tilly, Chairman, President and CEO of Cboe Global Markets remarked: "On behalf of all of Cboe, we are deeply saddened to lose a visionary leader like Joe Sullivan. His dedication, determination and commitment to launching Cboe, in spite of many challenges, laid the foundation for the vibrant options market that exists today. Joe was immensely proud of what Cboe and the U.S. options industry would become. Our industry simply would not be what it is without Joe's innovative thinking and leadership and we are forever grateful for his passion and genius."
Sullivan launched the exchange after first starting his career in media, as a reporter at the Wall Street Journal, and then later moving over to the Chicago Board of Trade. He then went on to launch the CBOE in April 1973. Only around 30 stocks had listed options trading and there were just a few hundred members on the floor when the exchange launched.
As original Cboe member Bill Taylor, CIO of Entoro Wealth, recalls, "Joe introduced listed options to the world. Listed options did not exist until Joe had the vision to convince all the clearing members at the Chicago Board of Trade to launch an innovative new exchange for a new asset class. Every trader in the CBOT building knew and benefitted from Joe's vision."
"We'll always remember Joe coming down to the Cboe's first trading floor – which was created from the old smoking room of the CBOT and smiling at how his creation was becoming so successful."
According to Taylor, "(B)efore the launch of the Cboe, there was no listed options. You would go to the back of the Wall Street Journal, and there was a tiny little ad with options quotes. You had to go to your brokerage firm and call somebody who might want to sell you some options, if you wanted to buy them, but there was no central exchange for them and no liquidity. It was buying options by appointment, for lack of a better word."
Taylor has often commented on how the launch of the digital asset class closely mirrors the early beginnings of the listed options markets.
---