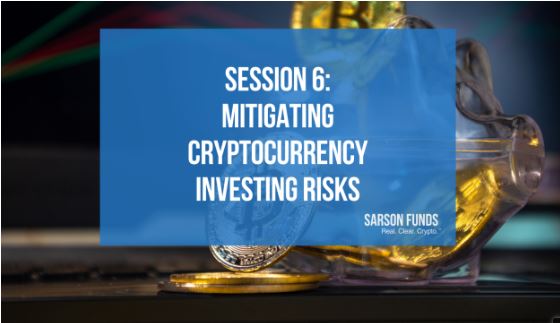 ---
Presented By:

Session #6: Mitigating Cryptocurrency Investing Risks
This webinar was recorded on Tuesday, November 30, 2021 and is now available for on-demand viewing.
This webinar qualifies for 1 Hour of CE Credit. Those who complete the entire 8-part course are also eligible to receive a Level I Crypto Advisor Certification*
---
This is part 6 of an 8-part webinar course that is designed to support financial advisors in their efforts to have constructive and informed client engagements on digital asset investment opportunities.
Session six focuses on ways to mitigate risks when investing in digital assets.
Participants will learn the risks associated with cryptocurrency investing and the steps that can be taken to mitigate those risks.
Key items covered in this webinar include:
o Smart Contract Risk
o Custody / Counterparty Risks
o Spotting Scams / Pump and Dump Schemes
o Regulatory Risk
This webinar provides for an interactive discussion and a live Q&A session with the experts.

Speaker: Jahon Jamali, CMO & Cofounder of Sarson Funds

Jahon Jamali is a leading expert on emerging technologies, global risk management and international relations. After receiving his BA & MA from Johns Hopkins University, he began his career as a U.S. Intelligence Officer with the Pentagon's Defense and Intelligence Agency. He has served worldwide as a trained human intelligence officer and former interrogator and is a recipient of the Defense Intelligence Agency Award for Excellence. Jahon is currently a renowned digital assets and crypto educator and community influencer. He is routinely sought by media to explain the current events in digital asset landscape and to explain the intersection of cryptocurrency, blockchain technology and security. He has been featured on Cheddar News, Real America's Voice News, Forbes, Financial Times and NTD News.

Moderator: Dara Albright, Partner at DWealth Education

Dara Albright is a recognized authority on fintech & digital wealth with a distinguished 29-year career in finance & the host of DWealth Muse podcast, appearing weekly on Digital Wealth News. She is also the co-founder of DWealth Ed, a novel financial EdTech platform offering incentivized learning for financial professionals, business executives and modern-day investors/consumers ("investumers") as they seek to understand the monumental impact fintech is making on financial services, businesses and economies at-large.
---
---
* Continuing Education and Certification: Investments & Wealth Institute® has accepted this webinar for 1 hour of CE credit towards the CIMA®, CPWA®, CIMC®, and RMA® certifications. Those who complete the entire 8-part program will also earn a Level I Crypto Advisor Certification from Sarson Funds, demonstrating their cryptocurrency and digital asset expertise. The completion certificate will be issued as a non-fungible token (NFT).