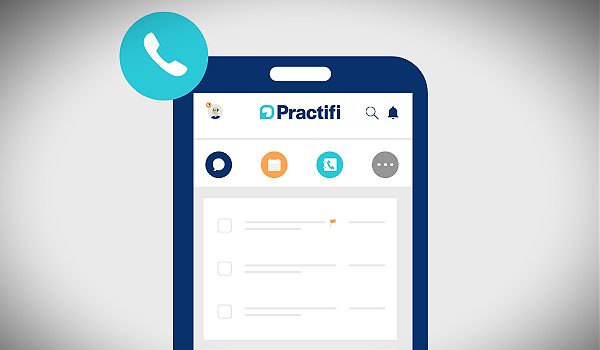 ---
By Chloe Howard/Practifi
For many modern advisory teams, staying on top of daily to-do lists, communicating with clients and collaborating with team members can be difficult. This is made even more challenging with hybrid (or fully-remote) work setups, commuting and traveling or attending conferences and events. 
However, with the right technology, advisory teams can keep up with their tasks and collaborate seamlessly no matter where they are. When integrated with their core technology infrastructure, mobile solutions allow advisors to execute tasks with greater speed and efficiency, while improving collaboration with their clients and their teams.
The Practifi mobile experience allows your firm to work more efficiently from anywhere, without compromising performance. If you'd like to learn more, get in touch with a member of our team today.
The challenges of today's "always-on" culture
According to Accenture, wealth management firms are 'increasingly under pressure in an evolving "always-on" working environment', where client expectations for more frequent communication and around-the-clock access are reshaping how the industry operates.
Nowadays, financial advisory teams, similarly to their clients, have become increasingly mobile and are no longer bound to a desktop workstation. And while the conventional model of in-office advising is still an integral part of effective client management, we're now seeing an increasing number of advisors opting to work remotely.
This evolution towards a hybrid model of in-person and remote advising provides a more personalized, holistic approach that allows advisors to better scale the delivery of advice. In fact, research from PWC revealed 35% of employees in the financial services sector are choosing to conduct business outside of the traditional office setup.
But today's new "always-on" work culture has magnified many of the common pain points for wealth management firms. Building trust with clients, collaborating within a team, staying up to date with daily tasks and managing performance in this environment is by no means an easy feat.
To overcome these challenges, firms need to consider how their employees will stay connected to their teams and their clients as they move between in-office and on-the-go work environments.
Work smarter from anywhere
Telecommuting shouldn't keep advisory teams from accessing the important data they need to service clients effectively. Built with the modern advisor in mind, Practifi's mobile experience puts your business in your pocket — helping you work smarter and faster, from anywhere.
The Practifi mobile app is here to help you stay on top of your schedule when you're on the go by providing instant access to your upcoming tasks and calendar. You can also deep dive into client and prospect records to view basic information, and any associated tasks or interactions — helping you effectively prepare for any upcoming meetings.
While modern advisory teams can face a number of efficiency and communication challenges when working on-the-go, Practifi's mobile experience provides a valuable solution to keep teams on track and connected.
Interested in learning more?
As today's highest performing advisory firms continue to evolve towards hybrid (or fully-remote) work setups, mobility has become more critical than ever for teams to collaborate seamlessly and service clients more effectively.
With a personalized view of daily tasks and access to important client data, Practifi's mobile experience can help your teams work smarter and faster, from anywhere.
To learn more about Practifi, get in touch with a member of our team or contact us today.
Get the latest insights delivered straight to you inbox.
---
To learn more about Practifi, visit www.practifi.com.