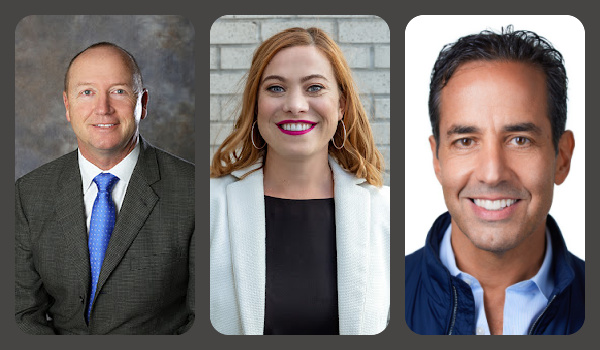 ---
It seems like just yesterday that publications around the world took the opportunity to look back on 2020 to discuss what had been learned in the wake of the COVID-19 pandemic. Now, nearly two years into the ebb and flow of this continued health crisis, the hackneyed concept of the "new normal" is not that new anymore…even as it has become completely normal.
But as the wealth management sector looks toward the future and considers the digitization trends accelerated over the past 24 months, it is clear some of the technology enabled modifications to everyday business are here to stay. No where else is this more pronounced than in the recruitment and on-boarding of advisors to new platforms.
Digital Wealth News asked four executives from a diverse group of wealth management firms to discuss how the pandemic impacted this critical function and how they expect these innovations to continue to evolve as we face down year three of pandemic impacted advisor outreach.
Michael Nessim, CEO, President and Managing Partner, Kingswood US
The digitization of recruiting amid the pandemic forced our executives into a new reality and transformed the practice in unexpected ways. Before advisors went remote, it was customary for executives to fly across the country to meet one recruit a week. Online meetings make it possible for executives to meet as many as 50 recruits a week – and the firms embracing this extraordinary change are seeing the greatest gains. This technology enables recruiters to scale relationships, while potential recruits don't need to leave their living rooms to meet with two or three firms before providing a final decision on affiliation.
Technology has not alienated us. Rather, firms are using technology to warm up business relationships on a more frequent basis, in conjunction with select, safety-conscious, in-person events to further foster personal relationships and culture. Companies should revamp their websites to be more inviting and interactive to build ties with recruits before the first meeting. When accompanied by a dedicated recruitment team, technology can enable exponential growth while ensuring each independent advisor's needs are met. The key is for firms to invest in the right technology and people to get this job done right.
Cammy Smith, MBA, CEPA®, CEO & President, Integrated Equity Management
While machines and systems are important, they are only tools. To successfully implement new tech to enhance user experiences and become revenue-generative, you need great people taking care of great clients. How we leverage technology to save time, scale and provide an "easy to work with us" experience for advisors and clients is our number one tech-focused priority. Embracing fintech helps Integrated Equity Management (IEM) support culture- and community-minded advisors desiring more freedom, independence, and ownership of their practice, without the headaches.
Our bet continues to be leveraging fully unified and integrated technology stack to enhance our clients' and advisors' experiences. The combination of boutique life planning bolstered by intuitive and integrated technology provides IEM the opportunity to support the "client first" approach needed to be competitive in 2022 and beyond.
Commonwealth, our b/d and RIA platform, provides cutting-edge, streamlined, efficient, and effective technology for IEM's advisors and their clients. But we take it one step further by building out digital workflows for the entire client life cycle. We also have developed our proprietary playbooks using project management software to create systems for the advisor's business cycle: recruiting, advisor transition, practice management, succession, and strategic planning.
Thomas Goodson, President, The AmeriFlex Group
The pandemic did us a perverse favor and forced us to change how we speak with potential partner-advisors and earn their trust. And technology has enabled this shift. In the past, this process would involve a home-office visit, in-person meetings, lunch at a restaurant. But in 2022, this doesn't work. The challenge we still are addressing is how to develop meaningful relationships in this brave new world.
As a firm we've fully leveraged the power of social media to deliver our message to targeted groups of advisors. Our content does the initial filtering for us, then we showcase our offerings which we develop to give our partner-advisors what they want from us – because any firm that wants to grow or become dynamic must be prepared to offer what advisors are looking for.
We also aim to use tools that make succession plans as friction-free as possible through seamless integration of technology and human engagement. The pendulum has swung, and business as usual will always include a significant technology component. But without a clear message and value proposition, even the best technology will not help drive growth or enhance value for independent financial advisors.
Mark Contey, Senior Vice President, Business Development, LaSalle St.
Undoubtedly, the pandemic transformed our approach to prospective advisors. However, aside from the obvious health and safety changes everyone incorporated into their business operations, we continue to refine our recruiting process to meet the needs of our prospective advisors. LaSalle St. has always used technology to identify and speak with recruits.
For years we've used email, targeted advertising, and direct social media engagement to establish new relationships and start the process of onboarding new advisors to our platform.
However, the most significant shift we have seen in the wake of COVID-19, relates to our advisors' clients' willingness to utilize technology, which streamlines the transition process. Five years ago, there would have been significant reluctance to use digital document execution services or e-signatures. Today, very few clients would question the use of technology to execute transition documents with their advisors.
Over the past two years, we built and refined a full suite of technology, some third-party solutions and some developed in-house, to enhance the advisor transition process. These innovations have significantly improved our process and provide our advisors' clients with the greatest value.
---
Kingswood U.S. is a network of independent wealth management firms that oversees more than $3 billion in client assets and over 200 financial advisors across two FINRA-licensed broker-dealers and two SEC-registered RIAs.
Integrated Equity Management is an independent wealth management firm based in Bloomington, MN.
The AmeriFlex Group is a rapidly growing, advisor-owned hybrid RIA based in Las Vegas, NV.
LaSalle St. is a family of wealth management firms encompassing an independent broker-dealer and RIA platform based in Chicago, Ill with more than 300 financial advisors, over $12 billion in total client assets and is registered in all 50 states.