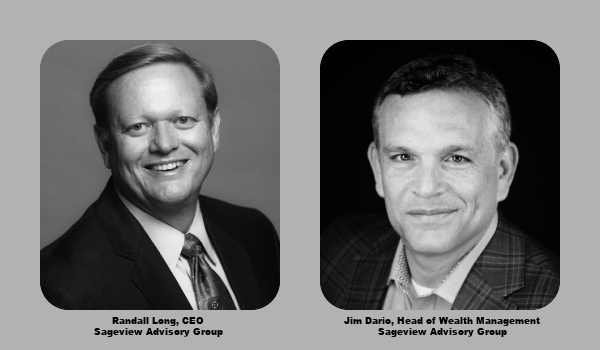 ---
Long-time custody space leader Jim Dario was recently named the Head of SageView Advisory Group's rapidly growing comprehensive wealth management business.
While the Aquiline Capital Partners-backed independent RIA has always offered wealth management services, the firm has traditionally been more focused on the qualified retirement plan space until the past two years.
Since then, SageView Advisory Group has been capturing multiple organic and M&A driven growth opportunities to accelerate the growth of its wealth management business. 
This includes delivering more holistic financial planning services to mass affluent and high net worth clients, according to the company.
Organic Growth, Acquisitions and Financial Advisor Solutions
It's a unique opportunity for Dario, who most recently served as Head of Product Management & Strategy at TD Ameritrade Institutional.
In this new role, Dario will oversee acquisitions of independent wealth management firms, organic growth opportunities that leverage the firm's existing relationships with retirement plan participants and supporting SageView's existing financial advisors through the development of new and improved platforms and tools.
According to multiple industry experts, qualified retirement accounts often represent the single most significant financial asset for most mass affluent individuals and families, outside of their primary residence. This, in turn, creates a potentially significant growth opportunity for firms that can find new ways to convert qualified retirement plan business into wealth management clients.
Digital Wealth News recently spoke with Dario to better understand the opportunities he sees at the intersection of qualified retirement plans and comprehensive wealth management, as well as the tech-enabled solutions he is looking at to best fuel future growth and advisor service.
---
DWN: Why did you choose to join SageView at this time? And what about its position in the market makes it a unique provider of wealth management services?
Dario: SageView's retirement and wealth management distribution channels are strengths that few firms in the industry can match. Our firm advises on over $175 billion in assets within 1,500 retirement plans representing 1.5 million participants and has grown our wealth management AUM to over $4 billion. And now with the recent investment from Aquiline Capital Partners, we have added fuel for further outsized asset and revenue growth.
The trust SageView has built as a fiduciary with leading employers opens doors to help their employees focus on financial wellness. By understanding the benefits that each employer provides and combining those offerings with holistic financial advice and wealth planning, SageView can offer a truly comprehensive and personalized approach.
From robust financial education to access to a group of certified financial planners, to the relationship support that comes from working with a dedicated advisor, our broad platform of services along with the support of dedicated advisors is a differentiator that clients seek out.
DWN: Your stated goals include "supporting the growth of SageView's existing financial advisors with best-of-breed technology, tools and talent to drive an exceptional service experience for their clients." What are you doing now and plan to do moving forward in this regard?
Dario: Without question, technology is dramatically changing wealth management and how financial planning and investment management solutions are delivered. Clients expect personalized and tailored advice, which fits with our approach of supporting clients in a manner of their choosing.
We feel strongly that collaborative relationships are strengthened by digital technologies and will continue to enhance our platforms to create even greater client engagement. And, we'll keep our clients at the forefront of their guided relationship by providing transparent access to meaningful relationship information at any time from anywhere.
DWN: You spent a significant portion of your career at some of the largest custody platforms in the industry. Now that you're on the other side, what do you see as the essential technological improvement the industry should make to fuel future growth?
Dario: Fintech's impact on wealth management has been significant, especially on advice delivery and investment management. The emergence of automated advice platforms and investment models has been one of the biggest benefits for financial advisors in recent memory. Advisors who embraced streamlined delivery of investment management can now allocate more time to helping clients with comprehensive wealth planning.
After years of focusing on monetizing advice offerings, wealth management firms are now seeking technology to drive efficiencies to their businesses.
I strongly believe that the next phase of strategic innovation for wealth management firms will come from the creation of a comprehensive platform focused on service and operations, with digital workflows that will enable advisors to manage their businesses more efficiently while creating a superior client experience.
---