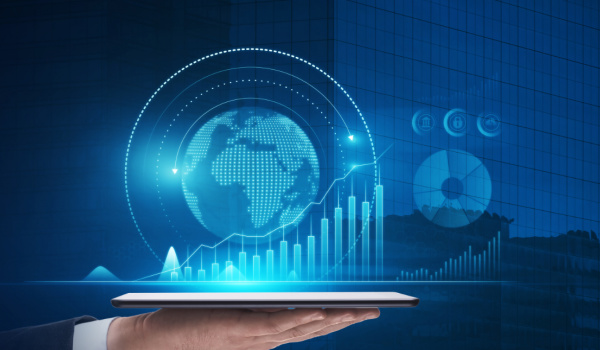 ---
By Christopher Robbins
Believe it or not, this holiday week in digital wealth was a busy one.
On the Wealthtech side, we have a major organizational announcement from our partners at Orion Advisor Solutions as well as a number of smaller announcements that did not make it into our Advisor Tech Talk column this week. In the real of payments,  international payments giant Paysafe annoucned a new CFO.
On the crypto side of things, the always busy KuCoin platform introduced new swap functionalities in the KuCoin wallet that have the potential to cut down on the time and resource cost of transacting across its exchange, and on the traditional fintech front, the planned merger between UBS and WealthFront has been cancelled.
---
WealthTech and Investments
Orion Advisor Solutions—Orion announced a new strategic operating model that provides a greater focus on helping advisors grow their business while unlocking new growth opportunities for the organization. Orion's new organizational model is focused on three business lines – TAMP, Advisor Tech, and OCIO – to allow for greater focus on each of its client segments and distinct lines of business. Orion announced the promotions of three seasoned professionals who report to Eric Clarke as business line owners and members of Orion's Executive Team.
Ryan Beach, President, Orion Wealth Management
Brian McLaughlin, President, Orion Advisor Tech
Kurt Brown, President, Orion OCIO
They join fellow Executive Team members Daniel Applegarth, Chief Financial Officer; Kylee Beach, General Counsel; and Julie Lane, Chief Human Resources Officer.
VRGL—VRGL announced it has raised $15 million in a Series A round led by MissionOG and FINTOP Capital. Founding investors Sallyport Investments and Checchi Capital also participated. The round also included investments from other venture firms and strategic partners including Dynasty Financial Partners, Northwestern Mutual Future Ventures, Flyover Capital, Fin Capital, and The Compound Capital.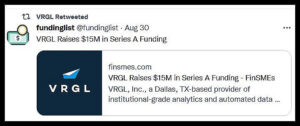 VRGL is led by co-founders Josh Smith, CEO, and Josh Zimmerman, COO, both of whom have a proven track record developing multi-asset class analytics and SaaS-based platforms. Josh Smith was the co-founder and CEO of Solovis, Inc, a Nasdaq company, which is the investment and performance book of record for many of the largest institutional and family office investors in the world. With this Series A financing, VRGL will scale its operational resources, further grow its sales and partnership capabilities, and execute its product and marketing roadmap.
Numerix—Numerix announced that it has been acquired by Genstar Capital, a leading private equity firm focused on investments in targeted segments of the financial services, healthcare, industrials, and software industries. Founded in 1996, Numerix has over 19 offices, 225 clients and 90 partners across more than 26 countries. Numerix – which pioneered and is the leader of the multi-asset class pricing market – is recognized across the industry for its many breakthroughs in quantitative research.
Numerix is proud of its reputation for being able to price and manage risk for any derivative instrument – vanillas to the most sophisticated exotic products – in addition to the entire spectrum of fixed income securities.
CI Financial—CI Financial and CGI have entered into a long-term strategic partnership under which CGI will transform CI's investment fund transfer agency operations into an industry-leading platform with enhanced capabilities.
CGI will assume responsibility for managing CI's proprietary transfer agency ("TA") platform, modernize it and deliver it to CI in a holistic software-as-a-service ("SaaS") based platform. CGI will also manage CI's mutual fund unitholder record-keeping and client service operations, applying a blend of advanced technology and experienced operational expertise. As part of the partnership, CGI will welcome to its team new members from CI's IT, operations and client services groups, who will continue to support CI's business at CGI.
Fintech, Personal Finance and Apps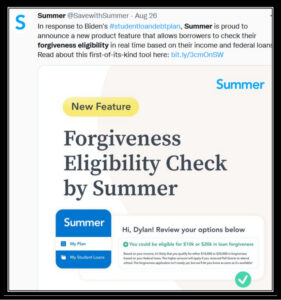 Summer—Summer, a certified B Corporation that advises hundreds of thousands of student loan borrowers across the country, has launched Forgiveness Eligibility Check that allows borrowers to check their loan forgiveness eligibility in real time. Based on an individual's household income as well as a detailed look at their loan information, the Summer platform can tell borrowers instantly whether they qualify for at least $10,000 of loan forgiveness, and assess their eligibility for other important loan assistance programs like Public Service Loan Forgiveness (PSLF) and income-driven repayment (IDR) plans.  
Banking, Payments and Infrastructure
Paysafe—Paysafe appointed Alex Gersh as its new Chief Financial Officer. Gersh joins the company on October 3, 2022, and will report into Paysafe CEO, Bruce Lowthers. Paysafe is a specialized payments platform. Its core purpose is to enable businesses and consumers to connect and transact seamlessly through industry-leading capabilities in payment processing, digital wallet, and online cash solutions.
Blockchain, Crypto and Digital Assets
KuCoin—KuCoin launched the native swap function in the service's flagship product – the KuCoin Wallet. The new feature is designed to provide users with a streamlined and convenient digital asset swap at the lowest fees. KuCoin is applying the innovative Pathfinder algorithm developed by 1inch in the KuCoin Wallet application to give users access to the lowest rates based on aggregation of over 250 liquidity sources. The launch has become possible after extensive beta testing of KuCoin Wallet, which included over 70,000 registered users and provided valuable feedback about the application's operability.
The native swap function frees users from having to redirect to third-party services and exchanges, allowing them to conduct all swap operations directly through the KuCoin Wallet. The swap also comes with a high degree of security, provided by the non-custodial nature of the KuCoin Wallet, which hands over all asset custody and access to the users.
Inswitch—Inswitch and Binance announced they have signed a strategic partnership, which will enable both sides to improve their fintech solutions and offer Binance Pay to all merchants in LATAM. The partnership between Binance Pay and Inswitch will provide millions of LATAM merchants with intriguing options in crypto space, allowing them to increase revenue by accepting crypto, and enable all companies with a new way to service payments.
Fintech, Personal Finance and Apps
Earnin—Earnin announced the appointment of Angela Hung as Head of Research. In her role, Hung will support Earnin in solving the challenge of inequities in the financial system stemming from the traditional two-week pay cycle and contribute to Earnin's mission of providing consumers more choices to balance their finances and take control of their money, starting when they earn it.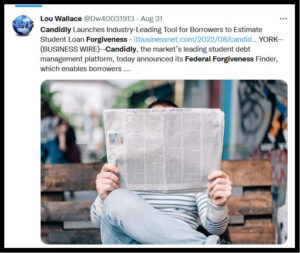 Candidly—Candidly announced its Federal Forgiveness Finder, which enables borrowers to determine how much loan forgiveness they are eligible for under the student loan relief plan announced by President Biden on August 24, 2022. Candidly bases its forgiveness estimates on the borrower's household income and an analysis of their federal student loan data, which includes a real-time search for evidence of Pell Grant receipt. Candidly then surfaces a personalized estimate of the forgiveness amount borrowers can expect to receive. The end-to-end experience takes less than two minutes. While the Department of Education has not yet released the application for forgiveness, Candidly will alert users as soon as it is available and they can take further action to complete and submit the application, which will include integration of income verification.
WealthFront— UBS and Wealthfront have mutually agreed to terminate their merger agreement, initially announced 26 January 2022, under which Wealthfront was to be acquired by UBS Americas Inc. UBS will purchase a USD 69.7 million note convertible into Wealthfront shares. UBS said it saremains committed to its growth plans in the US and will continue the build-out of its digital wealth management offering.
---