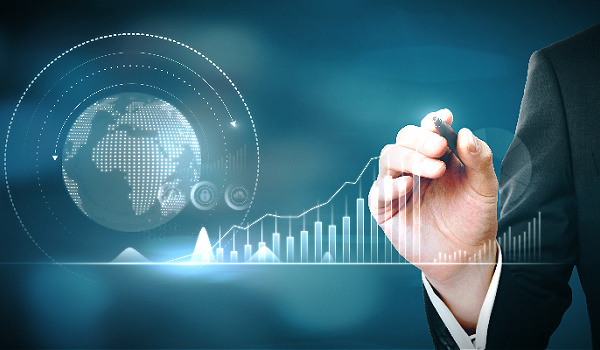 ---
By Christopher Robbins
This was a very busy week in digital wealth. In the banking world, BankiFi took a big step forward in expanding its North American business, while in the personal finance space investing fintech Merlin Invest launched financial planning tools.
In the crypto and blockchain space, Circle announced a new "know your business" verification protocol, while in the insurance realm, Guidewire is applying artiificial intelligence to the claims verification process.
In the investments realm, Hamilton Lane has struck a deal to tokenize some of its funds, while in plaudits, a new section, we have a couple pieces about awards and superlatives earned by fintech and wealthtech companies.
Here's your digital wealth headlines of the week:
---
Banking, Payments and Infrastructure
BankiFi—BankiFi announced a partnership with Axium Bank to serve U.S. small-and-medium-sized businesses. The partnership is BankiFi's first North American client since launching in the U.S. earlier this year. As part of its continued efforts to support SMBs around the world, BankiFi has announced the launch of a new partnership with Axiom Bank. Moving forward, Axiom Bank's SMB customers will be able to better track and manage their business finances using BankiFi's leading embedded banking services. BankiFi's Open Cash Management platform has been built with speed in mind. The system will help to put Axiom Bank and its associated digital channel back at the heart of relationships with business customers.
Finastra-Finastra announced a strategic collaboration to integrate its Fusion Trade Innovation software with Contour, the global digital trade finance network, providing banks and corporates with a streamlined end-to-end back-office workflow. Users may access their data through either platform, providing banks with increased efficiency and faster turnaround times when processing Letter of Credit transactions. Ultimately, it opens the door for increased access to trade finance and stronger returns for banks.
Softline—Softline announced the signing of an agreement to acquire Indian digital infrastructure and cybersecurity solutions & services company Value Point Systems.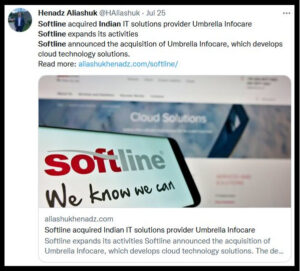 The transaction further strengthens Softline´s business operations and capabilities in cybersecurity, digital infrastructure, managed solutions and services in India. Because of this acquisition, which embodies Softline´s strategy and vision for India of "investing in India for India", Value Point System´s 2,000 local customers will now have access to Softline´s full portfolio of solutions and services.
Fintech, Personal Finance and Apps
Merlin Invest-Merlin Investor, a multi-asset educational, strategizing and tracking tool, announced the launch of its platform that provides retail traders with strategic planning capabilities and a more comprehensive view into their investment portfolios. Users can access financial data, social sentiment, news and content to create their personal investment strategies in a highly customized way across stocks, cryptocurrencies, ETFs and funds, currencies, bonds, indexes, NFTs, real estate as well as any other asset category which can be manually added to the platform.
Crypto, Blockchain and Digital Assets
Provenance Blockchain Foundation—Provenance Blockchain Foundation announced the appointment of Dan Garzia as its Chief Marketing Officer. Garzia will be responsible for building out the full range of Provenance's global marketing capabilities with the goal of building brand awareness, driving growth of new users and developers, and broadening usage of HASH, Provenance Blockchain's native utility token. An experienced marketing executive, Garzia joins Provenance Blockchain Foundation after serving most recently as Chief Marketing Officer at Securitize, a leading blockchain digital asset securities firm.
Chainlink—Chainlink announced that Two Sigma Securities, a systematic liquidity provider and trading business, has joined the Chainlink network as part of its effort to bring its high-quality market data to the blockchain ecosystem.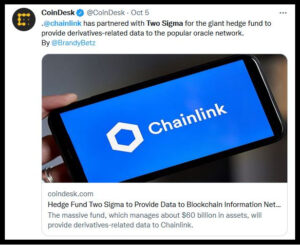 Two Sigma Securities is contributing its high-quality proprietary data to Chainlink decentralized oracle networks (DONs) to generate tamper-resistant oracle reports.
FTX–West Realm Shires Services Inc. and FTX Trading Limited, the companies behind FTX US and FTX.COM respectively (collectively referred to as "FTX"), and Visa, a world leader in digital payments, today announced a long-term global partnership. As a part of the alliance, FTX will begin by offering FTX-branded Visa debit cards to FTX customers internationally—with a focus on countries in Latin America, Europe and Asia in the initial phases of the rollout.
Circle-Together with Archblock, the team behind the TrueFi protocol, MetaMask Institutional and Parallel Markets, Circle Internet Financial has built the first proof-of-concept for "know your business" (KYB) verification using Verite for decentralized digital identity credentials. Verite credentials are portable, interoperable and easily stored in a crypto wallet. Critically, these privacy-preserving credentials eliminate the need for sharing personally identifiable information and users have total control over when and how their identity attestations are accessed by different organizations or protocols that accept the credential.
Investments
Qraft Technologies-Qraft Technologies, an AI-driven, invest-tech company, announces the U.S. launch of the Qraft AI Risk Indicator. Powered by Qraft's proprietary artificial intelligence (AI) models, the AI Risk Indicator forecasts risk in the U.S. equity market for the upcoming week. The indicator provides direction to help actively position portfolios for expected risk using an easy-to-interpret scoring methodology.
InsurTech
Cerity—Cerity, a digital provider of workers' compensation insurance policies, has teamed up with Thimble to provide small business owners with a full suite of easy-to-access insurance solutions to protect their employees and businesses. Cerity is part of Employers Holdings, Inc.
Guidewire-Guidewire (NYSE: GWRE) and expert.ai, a provider of artificial intelligence (AI) solutions in language understanding, today announced that expert.ai's new Ready for Guidewire validated accelerator for ClaimCenter is now available in the Guidewire Marketplace. By combining machine learning (ML) and knowledge-based AI, expert.ai's hybrid natural language technology quickly derives context and meaning from data and augments every step of the claim validation process, reducing insurance document review times and expediting decision-making.
Investments
Hamilton Lane-Securitize, a digital asset securities firm, and Hamilton Lane (NASDAQ: HLNE), a leading global private markets investment firm, announced a partnership to expand investor access to Hamilton Lane's funds through tokenization.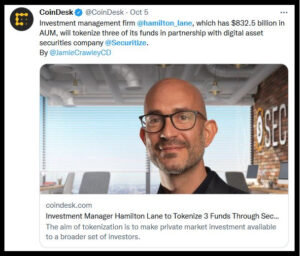 Through this partnership, qualified U.S.-based investors will be able to more easily access three distinct Hamilton Lane funds, which will be available through new tokenized feeder funds. The component funds provide exposure to direct equities, private credit and secondary transactions, and will be tokenized by Securitize's digital transfer agency, managed by Securitize's digital asset management arm, Securitize Capital, and be available for investment on its broker-dealer, Securitize Markets in Q4 2022.
Real Estate and PropTech
Pinnacle Realty Advisors-Cloud-based real estate brokerage, Pinnacle Realty Advisors, announced the closing of its seed round led by Launchpad Capital and the acquisition of technology firm, Realthy.io, to fuel growth of the subscription-based real estate firm and bring transparent pricing and proprietary software to its agents. Launchpad Capital's Founder, Ryan Gilbert, will join Pinnacle Realty Advisors Board of Directors.
Fintor-Fintor, the next-gen fintech company enabling easy access to invest in real estate, today announced the launch of its mobile-first platform on both iOS and Android devices.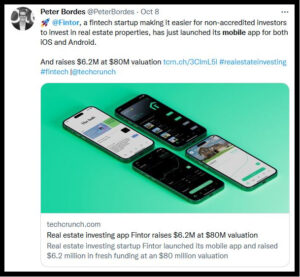 This news comes in tandem with the platform's funding extension, raising an additional $6.2M, bringing its total funding to-date to $9M. Notable investors within the round include Public.com, Hustle Fund, 500 Global, VU Ventures, Graphene Ventures and angel investors, including real estate influencer Manny Khoshbin, Andy Madadian, Cindy Bi and Marcus Ridgway, co-founder of Invitation Homes.
Plaudits
Guidewire-Guidewire (NYSE: GWRE) announced that ICEYE has been named the winner of its first-ever Insurtech Vanguards Pitch Day. ICEYE's Flood Insights enables governments and insurers to gain rapid situational awareness of any flood event globally. High resolution flood imagery is captured via ICEYE's proprietary synthetic aperture radar (SAR) satellite constellation and combined with auxiliary information, including elevation models, ground sensors and river gauges, to generate flood extent and depth insights within 24 hours of a flood's peak.
Atomic-CB Insights named Atomic to its fifth annual Fintech 250 ranking, showcasing the 250 most promising private fintech companies of 2022. Atomic's payroll integrations provide the infrastructure to connect consumers to their financial data, automate set-up and updating of direct deposits, digitize income and employment verifications, repay financial obligations from their paycheck, access earned but unpaid wages, and tap tax filing advantages.
---