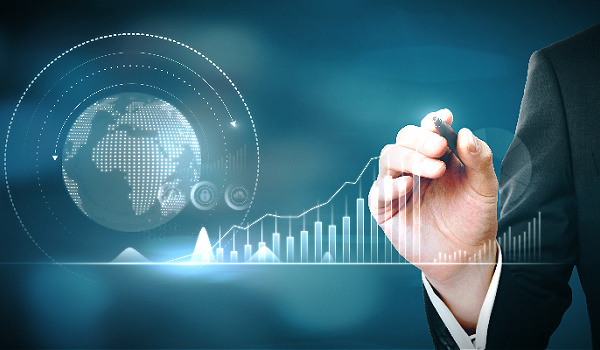 ---
By Christopher Hamman
It's been quite the week in the fintech sector!
Goldman Sachs and Qontigo deepened their collaborations.
Friendly white hat hackers are coming to the rescue within the crypto space (so it seems), and housing affordability in Colorado is now possible with Rook Capital coming to the rescue.
Here's your digital wealth headlines for the week:
---
Banking, Payments, and Infrastructure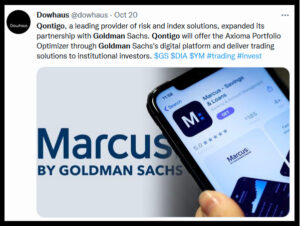 Qontigo/Goldman Sachs-Risk analytics firm Qontigo disclosed an extended partnership with Goldman Sachs to offer clients several products. 
They include Axioma Equity Factor Risk Models via the Goldman Sachs Financial Cloud for Data platform and Axioma Portfolio Optimizer™. Clients on the Goldman Sachs Marquee were not left out. 
The partnership enables insightful decision-making for top guns at leading institutions. 
PayPal-PayPal announced equity awards of performance-based restrictive stock units (RSUs) to new employees under its "2022 Inducement Equity Incentive Plan" to recent hires in a notice to investors. 
The Compensations Committee of PayPal Holding's Board of Directors approved the stock awards.
MX/ebankIT-OpenFinance leader MX disclosed a collaboration linking MX's MX's Insights and Personal Financial Management (PFM) tools with ebankIT's Omnichannel banking platform. 
Financial institutions will now be able to offer clients automated financial solutions, including state-of-the-art personalized recommendations via ebankIT.
FinTech, Personal Finance, and Apps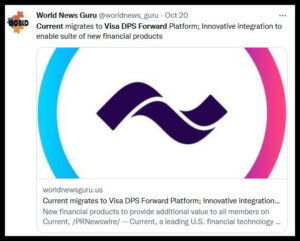 Current/Visa-Top FinTech services provider Current announced a successful move of over 4 million accounts to payments processor Visa's DPS Forward platform. 
DPS Forward enables seamless integration with banking application programming interfaces (APIs) for card issuance, payment solutions, and digital payments. 
Fyle-Automated expense management software provider Fyle announced its Payment Card Industry Data Security Standard (PCI DSS) certification. 
Prepaid Ventures-New York-based cloud payments service provider Prepaid Ventures announced its name change to Expanse Financial Technologies, Inc. The company will continue to do business under the "ExpanseFT" name.
Crypto, Blockchain, and Digital Assets
Commodity Futures Trading Commission (CFTC)-The US CFTC increased regulatory enforcement against erring digital asset businesses by over 20% in the 2022 fiscal year. 
The agency procured over $2.5 billion in orders via " restitution, disgorgement and civil monetary penalties either through settlement or litigation". 
Tesla-Tesla's Q3,2022 report shows that its digital asset holdings have remained unchanged. The self-driving automaker retains about $218 million (about 9720 in BTC) in digital assets on its balance sheet.
Galaxy Digital-A new report from New York-based crypto investment firm Galaxy Digital suggested that NFT owners have been paid over $1.8 billion in royalties. 
OpenSea still remains the top dog with the highest payouts, and enforcement of royalty payments remains a marginal issue for collectors.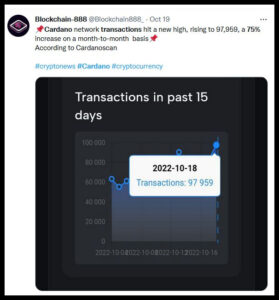 Cardano-As Cardano's Smart Contract capabilities came on stream, its Month-on-Month (MoM) transactions increased by over 75%, and the blockchain has become the third-largest NFT-enabled blockchain. 
Data from the ADA blockchain show that transactions hit 97,959 on October 19th, 2022, while NFT trading volumes grew to 3 million $ADA within 24 hours. 
OlympusDAO-The white hat hacker who stole over $300,000 worth of tokens from OlympusDAO's " BondFixedExpiryTeller " contract returned the funds in two transactions (here and here) on October 21st, 2022.
The DAO, which has over 120,000 members with over $260 million in assets, confirmed this in its Discord channel, noting that other funds remained safe after the attack that took place 11 hours earlier.
InsurTech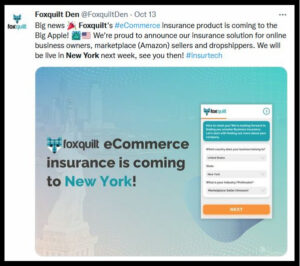 Foxquilt-North American Insurtech company Foxquilt disclosed the introduction of its eCommerce insurance product in New York State. 
The product offers coverage for online vendors and is fully compatible with leading online platforms and marketplaces. 
Vendors can purchase the product through licensed agents and advisors. The product offers no-fee monthly payments alongside $0 deductibles and low premiums. 
The National Association of Professional Insurance Agents (PIA)/Breeze-The National Association of Professional Insurance Agents (PIA) revealed a partnership with online disability insurance firm Breeze. 
PIA members can now access Breeze's platform to offer insurance quotes, submit applications, and interact with the customer success team.
Investments
Achieve-Low-end Fintech financial services company Achieve successfully secured a $225 million debt facility from O'Connor Capital Solutions and an anonymous asset manager. 
Achieve aims to expand its technology solutions and increase market research with the funds, among other activities. 
Real Estate and PropTech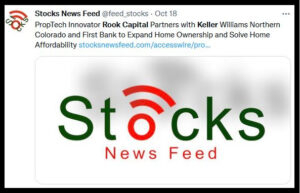 Rook Capital/Keller Williams Northern Colorado/First Bank-Rook Capital announced a synergy with Keller Williams Northern Colorado and First Bank to help solve housing affordability issues. 
Rook Capital brings buyers and community-based investors together with its "Shared Value Investment™" product.
Plaudits
Uphold-Leading payments company Uphold made first place in the 2022 San Francisco Business Times "Fast 100 List of fastest-growing businesses" within the SF Bay Area. 
F.N.B Corporation/First National Bank-F.N.B Corporation announced that its subsidiary First National Bank received the Top Workplaces "Culture Excellence award for Diversity, Equity, and Inclusion (DEI) Practices" for 2022.
---