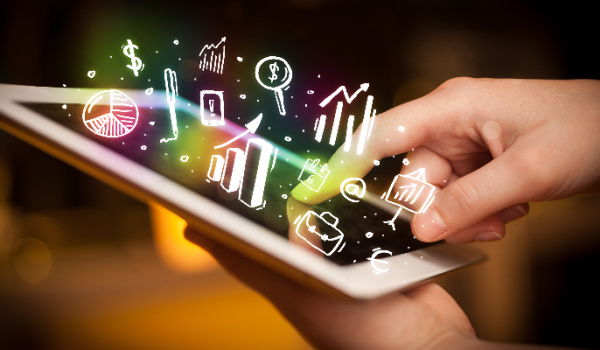 ---
Marketing technology for financial advisors and wealth management firms, which exploded in popularity during COVID-19 social distancing and remote work policies, arguably have become even more essential to connecting with prospects and clients in the post-pandemic era.
The crucial question is how advisors and firms should best use "martech" now that many people are eager to meet in-person again after spending so long apart, even though virtual communication is often quicker, more cost-effective and easier for achieving scale.
Human nature suggests that face-to-face gatherings – where people are in the same place, can talk without digital surveillance and read each other's body language – would naturally be more advantageous for advisors looking to win new business and cultivate strong client relationships.
Yet online marketing allows advisors to find thousands of high-potential prospects as well as share an abundance of information with investors, about everything from economic forecasts and asset class correlations to considerations when buying a home or planning for retirement.
Rise of Third-Party Martech Solutions Providers
That's where third-party providers of compelling features like lead-generation platforms, interactive websites, videos and podcasts, automated email and social media campaigns, targeted thought leadership content and webinars all come into play.
Even so, older investors often are wealthier and less tech savvy than younger investors. So there's no guarantee martech alone will succeed with all client types.
Furthermore, depending on the target clientele, different types of marketing technology may be more useful than others.
Testing and Learning
"In many ways, we're fortunate that the pandemic happened at a moment in time when the technology already existed to drive digital communications and virtual events, and to enable these kinds of interactions to happen as seamlessly as possible," says Marissa Fox Foley, Chief Marketing Officer at Choreo, a private equity-backed RIA with 28 locations nationwide.
"There's no question the pandemic transformed marketing technology for wealth management firms, and not just for the short-term," she says. "Many of the ways in which industry professionals fundamentally connect and engage with clients, prospects and strategic partners has undergone a seismic shift."
For one thing, virtual marketing means firms that previously were too far away geographically to compete can now effectively go head to head, she warns. Foley suggests that digital marketing challenges advisors and wealth management firms to constantly test and learn.
This makes it imperative to select and deploy the proper virtual marketing tools in line with a cohesive strategy, as well as to use data and analytics tools in tracking and measuring their efficacy. Foley has found that, when implemented correctly, these tools allow advisors and firms to be much nimbler in capturing and sharing intelligence in real-time.
"There are complexities involved here that would burn substantial amounts of time and attention from financial advisors if they take a DIY approach," Foley says. "The proliferation of martech presents enormous growth opportunities, but only if you know how to bring all the different solutions together."
Generational Targeting

Marketing tools and platforms are no longer relegated to ad-hoc or "bolted on" solutions, according to Brad Swineheart, Senior Vice President of Business Development and Channel Marketing at White Glove, a wealth management marketing solutions provider.
He sees marketing tools and platforms as integrated into the fabric of an organization's wealthtech operations, financial planning, investment research and commentary, growth and practice management and other key disciplines.
Swineheart notes that although in-person relationship building has surged to the forefront again, the pandemic triggered long-term usage among financial advisors in virtual event providers for client prospecting and meeting purposes. The trend also may benefit business when working with people across generations.
To be sure, baby boomers, who control a significant amount of wealth, didn't grow up as "digital natives" and may be less interested in using certain forms of digital marketing as their primary communication. But Swineheart points to the Great Wealth Transfer and estimates that the savings power of Generation X could be in the trillions of dollars.
"Digital marketing is so useful because it can 'flex' according to the needs of your target audience," Swineheart says. "It also enables you to tap into so many more elements that represent your value."
"Navigating the emotional side of 'what wealth means to you' is different from client to client and can be a wonderful path to differentiation. Thoughtful marketing as well can blend digital and traditional channels, depending on your current and future client mix."
Content Strategy Is King

Advisors and wealth management firms can invest in a content strategy that keeps them top-of-mind for their ideal customers so they are their customers' first solution when the need for financial guidance arises, according to Susan Theder, Chief Marketing & Experience Officer at FMG, another wealthtech marketing services company. She suggests developing a strategy with several steps.
First on her list is creating a monthly content calendar with a diverse set of topics, ranging from critical financial planning dates and market updates to holidays and lifestyle content. In Theder's view, it also is essential to prepare to act quickly during breaking news to give clients and prospects confidence that their firm or advisor is on top of events that may impact their portfolio. Content should range from long-form 3,000-plus word blogs to emails and social posts to cover multiple channels and increase the likelihood of engagement.
"Given the effort required to develop, write, post, share, and send a large amount of content consistently, automation is critical to scaling your marketing plans by empowering a 'set and forget' approach for all but timely content," Theder says.
For example, advisors can establish a holiday email and social sequence at the beginning of the year to distribute automatically on specified dates. Personalization is then applied to automation at scale by using variable data fields in emails written to target specific client segments, allowing communications to read as though they were written individually for each customer.
"With that said, automation is not a supplement for authentic, one-on-one communication," Theder cautions. "But advisors and firms that use digital marketing to send relevant and timely content to clients and prospects will benefit from being top-of-mind when the need for a financial professional arises. You can never know when that will be."
"Staying in front of target audiences by consistently delivering valuable content that proactively answers their questions ultimately is what will help grow the business."
Lead-Generation Services
Quite a few third-party marketing technology providers also offer lead-generation services for advisors and firms. Two of the most well-known lead-gen providers include SmartAsset's SmartAdvisor offering and Snappy Kraken.
SmartAsset's online platform matches investors who complete a survey with vetted fiduciaries, generating more than 50,000 matches per month according to its website. Its SmartAdvisor offering provides advisors with leads by either email or live phone conversations.
The platform also shows advisors the investors' contact information, investable assets, and survey responses. This process helped the advisors on SmartAsset/SmartAdvisor raise a total of $20 billion in new assets under management in 2021, double the $10 billion in 2020, according to its website.
Snappy Kraken provides automated campaigns that encompass original content, lead generation, prospect nurturing, niche marketing, client engagement, referral generation and event promotion. Its lead-generation platform features multi-step funnels.
These begin with a landing opt-in webpage that can trigger appointments between advisors and investors as well as targeted email and social media campaigns. In addition, Snappy Kraken runs online ads targeting the advisor's desired audience. The company recently partnered with Orion Advisor Solutions on a new CRM martech launch.
Making It Work

"There is no such thing as overcommunication with your clients during times of market volatility," says Tarah Williams, President and COO of Prospera Financial Services, an independent broker-dealer with 94 locations nationwide. "And the type and tone of content you send matters. Keep messaging brief and positive, but frequent.
She suggests a multi-pronged approach to marketing strategies in the post-pandemic era. This involves providing visual representations whenever possible, such as an easy-to-read chart that illustrates how market downturns throughout history are almost always followed by times of growth. These resonate with clients when they can see it for themselves, according to Williams.
Williams emphasizes that video updates from advisors don't need Hollywood production quality or require expensive lighting. Short, sweet, and to-the-point updates taken on a smartphone, in the advisor's office, are enough. The point is to be their voice of reason when everything else on the news is click-bait and hyperbole.
Williams also points out that a good old-fashioned phone call or a quick handwritten note is a high touch way to stay close with clients. That's because – for as valuable as digital marketing tools can be – physical presence as their trusted advisor cannot be replaced.
"Marketing has always been a practice of trial and error," Williams says. "You must find the right combination of tools that works for your practice. You may find your marketing strategies gain momentum for a while, and then a year later, plateau. That's why reevaluating your strategies regularly is crucial. Continue what's working and drop what's not – it's that simple."
---