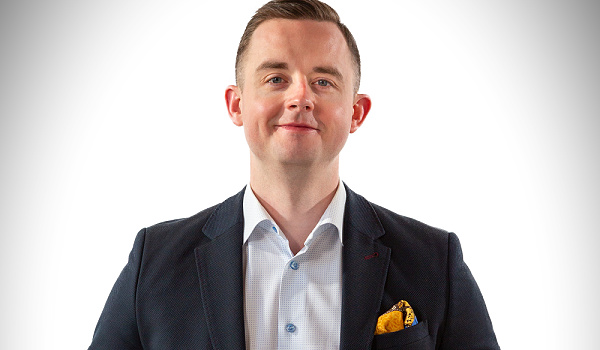 ---
CapIntel, the Canadian tech-enabled turnkey client proposal firm, is making waves across the U.S. wealth management industry.  The firm tells Digital Wealth News that it is "working intentionally and strategically to build its presence" in the world's largest wealth management market.
The Fintech Collective and Fengate Asset Management-backed start up believes its offering will position it as the clear leader in the emerging automated proposal space.  This is especially the case given as financial advisors are facing increased demand among prospective clients for customized proposals that can deliver insightful perspectives on investment management during a volatile market environment.
James Rockwood, Founder and CEO of CapIntel, did not follow the traditional fintech track towards where he is today.  He received his accounting degree with distinction from Dalhousie University, earned his CPA and CA, and then started his career as a staff accountant at KPMG in Toronto.
But as he moved into new roles with KPMG, Rockwood saw major opportunities to utilize his experience to make the financial services sector better – all while improving the lives of those engaging with the solutions he developed.
Digital Wealth News recently spoke with Rockwood to discuss his trajectory to tech start-up leadership, the dynamic regulatory environment in the U.S. and general wealthtech trends.
---
Digital Wealth News: You started your career in what many would consider a traditional accounting role. What sparked your interest in this niche of the wealth management space?
James Rockwood: I've always wanted to build a business that positively impacted the lives of as many people as possible. While I've always been great with numbers and accounting played very well to my strengths, I wanted to find a place to apply both my skills and my passion to improve the way businesses work.
So, while working at KPMG, I started seeing significant opportunities to use my expertise to improve the wealth management space. There is no end of data in this sector but very few ways for advisors to help clients use this information to meet their goals. I founded CapIntel to develop intuitive, web-based applications for financial professionals to deliver data-informed, actionable advice to help their clients achieve their goals.
Specifically, at the earliest stages of client-advisor relationship, data-informed and personalized materials can make a significant difference in what happens next. When a client feels like they are heard, and they can hold something in their hands – or read it on their screens – that is supported by real, personalized information they can understand, it results in a meaningful increase in client engagement with advisors long-term.
That is why I got into this industry and believe CapIntel has the potential to change how proposals are delivered across the industry.
DWN: CapIntel provides turnkey client proposals for its clients – a timely solution for US-based financial services providers as the SEC marketing rule went into effect late last year. How does this new regulation change your approach to the space, and what should advisors and firms ask their marketing solutions providers in the future?
Rockwood: With CapIntel, wealth management businesses have a service provider that understands how wealthtech infrastructure is fluid and must adapt to changing industry dynamics, including changes to compliance supervision.
Our set of solutions builds compliance into every step of the processes and business workflows, enabling a real-time user experience that remains well within the lines of regulatory expectations.
Put differently, the SEC-Marketing rule, which has a much larger impact on our products than it might on another kind of technology is part of the overall network of regulations that govern firm behavior. All of our products take this into account. Our workflows are specifically designed to comply with current regulations and be flexible enough to remain complaint as new rules are issued by regulators.
This foundational approach to embedded regulatory requirements makes us well positioned to deal with this new rule and any changes that may be issued.
DWN: As you look toward the second half of 2023, what major technology trends do you expect to impact the Canadian and American wealth management industry? 
Rockwood: While much of the world will remain fixated on the incredible advancements in natural language AI, like ChatGPT, I believe the wealth management industry should focus on a slightly less exciting aspect of the space: automation. There is so much value for firms and providers to deliver through the strategic application of automation.
As we developed products for our clients, we have seen that the automation process not only simplifies the user experience and drives efficiencies, but it also reduces errors which in the end makes for happier clients. This is vital for financial advisors and asset managers as they are forced to work with more clients as the demographic realities of this industry's aging workforce come to fruition.
---