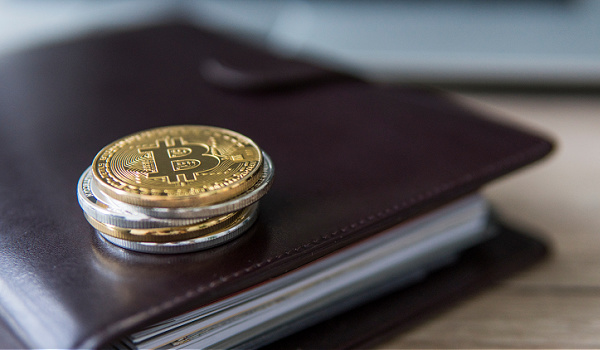 ---
By Christopher Hamman
Will the 2024 presidential race be all about crypto?
It looks that way with candidates from both parties declaring their positions (you'd be surprised).
The FTX chaos continued with attorneys suing SBF, and the Department of Justice tried to claw back donated funds from politicians.
Plus, a "wholesale dollar CBDC" prototype already exists. 
And, there may still be rainy days for the cryptospace (or not). 
These are your decentralized diaries!
Bitcoin Continued to Test Selling Pressure, Remains at $26.9k
As the volatility continued to pull back prices, Bitcoin prices fell to a $26,488.14 low from a $27,456.27 "marginal" high. As of 5/22/23, Bitcoin prices are currently at $26,89.70.
The altcoins followed in tow, with Ethereum (ETH) prices at $1,821.22, Avalanche (AVAX) at $14.71, Polkadot (DOT) at $5.32, and Solana (SOL) at $19.73. 
Circle Shifted $8.7 Billion to Repo Agreements
As part of moves to avert the risk posed by a potential U.S. debt default, USDC stablecoin issuer Circle shifted $8.7 billion from short-term treasuries expiring at the end of the month to cash and overnight repurchase agreements. 
Securities with a 72-hour maturation cycle weren't part of collateral obligations for the transactions.
Tether Announced Bitcoin Purchase to Bolster its Reserves
In similar news, the USDT stablecoin issuer Tether announced a massive Bitcoin purchase of up to 15% of its net operating profits.
Tether also withdrew $4.8 billion in bank deposits in Q1 2023 and $481 million remains within the banking system. 
U.S Bitcoin Corp. Signed Agreements to Host 150,000 Mining Rigs
In what seems to be a ray of light at the end of the tunnel for the crypto mining industry, U.S. Bitcoin Corp. (US BTC) signed hosting agreements with key players, including TeslaWatt, Decimal Group, Foundry, and Sphere 3D (ANY). 
The deal represents a turnaround from 2022, when Compute North, US BTC's hosting partner, went bankrupt. 
FTX Sued Bankman-Fried Over $220 Million Purchase Made Before its Bankruptcy
Attorneys for FTX, the bankrupt crypto exchange, sued former CEO Sam Bankman-Fried, former director of engineering Nishad Singh, and former co-founder Zixiao "Gary" Wang over the $220 million acquisition of Embed, a stock-clearing FinTech platform.
The purchase occurred in 2022. 
FTX accused the trio of improper due diligence when making the purchase.
Similarly, the United States Trustee for FTX asked a Delaware bankruptcy court to reverse its February 2023 decision to appoint an examiner, citing costs. 
In related news, the Department of Justice (DoJ) wrote lawmakers and requested the return of FTX-linked donations. 
Advocacy Group Prompted Congress Over Crypto Regulatory Progress
The Chamber of Digital Commerce, an advocacy group, pushed Congress to act swiftly per the creation of a legal framework for the cryptospace. 
The group called for the creation of a "Digital Asset and Blockchain Technology Solarium Commission" that will create sweeping policies that could regulate the digital space. 
In related news, two competing draft bills were under consideration by the House Committee on Financial Services' new Subcommittee on Digital Assets, Financial Technology, and Inclusion on May 18, 2023. 
The Republican-backed bill focuses on creating a two-level system where stablecoin operators can work with state regulators without necessarily going through the Fed. 
The Democrat-backed version pushes for full regulation by the Federal Reserve.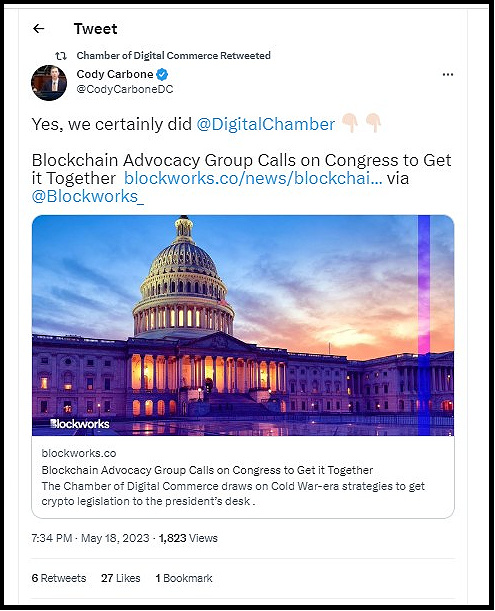 The New York Fed and the Monetary Authority of Singapore (MAS) Publish "Positive" CBDC Results
The NY Fed's New York Innovation Center and the Monetary Authority of Singapore (MAS) published the results of "Project Cedar", a project that studied the feasibility of cross-border "wholesale" payments. 
The project achieved an average rate of 6.48 payments per second, with a settlement period of less than thirty seconds. 
Singapore launched its "Ubin" Project in 2016, and the "Cedar +Ubin" version launched in November 2021. 
In related news, Ripple Labs Inc, the company behind the XRP token, announced the launch of its CBDC platform that allows full-scale CBDC operations, minting, redemption, and management.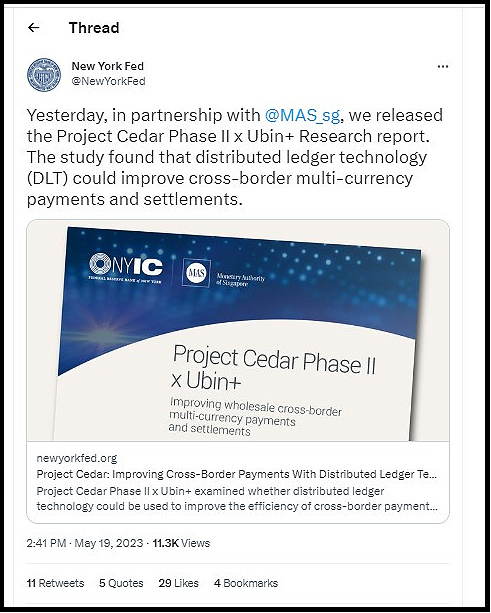 The CFTC Chairman Considered the DeFi Space as its Regulatory Domain
CFTC Chairman Rostin Benham, in an interview, indicated that DeFi platforms with no institutions or identifiable persons but which issue derivatives to U.S. residents will be regulated. 
Benham also indicated that the CFTC lacks the legal powers to regulate cash crypto markets in the case of fraud. 
2025 Presidential Candidates on Either Side Are Pro Crypto
Robert F. Kennedy (D) of dynastic fame became the first presidential candidate in history to accept cryptocurrency donations. 
While he is "pro-crypto", the Democrat has repeatedly iterated his "anti-CBDC" stance.
Republican hopeful Vivek Ramaswamy (R) is the second hopeful in history to accept crypto donations as the race heats up.
 The Republican Party has skewed "pro-crypto" though there are certainly detractors, too, such as President Trump who has very publicly expressed his distaste for BTC.  
Digital Currency Group Missed $630 Million Payment, Gemini Remained Patient
Grey skies might line the crypto skies soon, with behemoth Digital Currency Group missing a $630 Million payment to the Winklevoss-owned Gemini per its shuttered "Gemini Earn" product.
To calm frayed nerves and prevent fear, uncertainty, and doubt (FUD) in the industry, Gemini exercised the "forbearance" option, which will involve further negotiations and discussions to alter payment terms. 
Vitalik Buterin Warned Against Ethereum Consensus Overloads
In a blog post, Ethereum co-founder Vitalik Buterin warned against overloading the cryptocurrency's consensus mechanism. 
Using low-risk (like proof of wealth) and high-risk (project-related) scenarios, Buterin alluded to the fact that simplicity in staking remains the key to maintaining the fidelity and security of the ecosystem. 
---