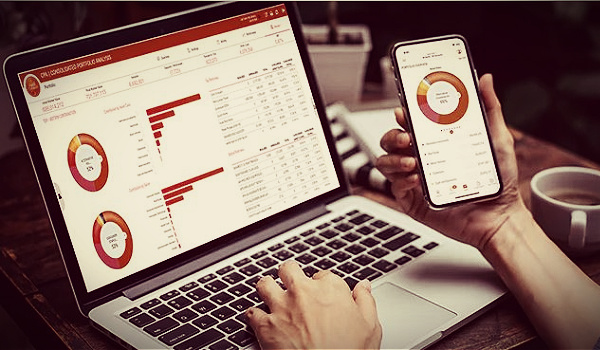 ---
This week in advisor tech news we have headlines that impact almost every conventional element of an advisor's technology stack—and one or two stories that promise to progress advisor technology. 
For example, in the realm of outsourced investing, we have an updated white-label app from a fintech developer that allows broker-dealers to provide a mobile client portal and trading capabilities, not unlike several tech-driven investing solutions that have been brought to market over the past decade. 
But we also have news about a growing outsourced behavioral finance solution from Shaping Wealth. 
360 View, one of many financial advisor CRM options out there, announced an update of its platform—great for 360 View and their users, of course, but not exactly earth-shaking news. But we also have a fundraising announcement from AdvisorCheck, a tool to help investors (and firms) more thoroughly vet advisors before entering a relationship. 
For every conventional piece of news on advisor tech, it seems like there's at least one more that pushes the boundaries of what advisor tech—and the advisors, clients and prospects themselves—can do.
Let's get to the advisor headlines. 
---
360 View
360 View announced the release of the official update to their popular CRM platform. Entering the business space 22 years ago, 360 View offered one of the first CRM's built specifically for banks and credit unions. Leveraging that experience along with a finger on the current industry pulse ensures the update is reliable and relevant. Recording every customer touchpoint in real time, then channeling those interactions into tools that help their clients offer dynamic personalized service is how 360 View impacts the customer experience for their clients. 
AdvisorCheck
AdvisorCheck announced its $1.8M seed round of funding. AdvisorCheck's Advisor Search will allow users to locate and search for any financial advisor in the United States. The search records will help distinguish whether or not a financial advisor is a fiduciary (putting client's interests ahead of theirs) or if they act more as a traditional broker (suitable investments where they or their firm may benefit). Advisor Search can be used to locate financial advisors by inputting their name, city and/or state, or the firm that they work at. The database will also help distinguish whether a financial advisor is an Investment Advisor Representative, Registered Representative, or both. The company recently launched AdvisorCheck+ AC+, a first-of-its-kind tool that allows investors to perform comparison background checks of advisors they are vetting as well as continuous monitoring of the advisor they select for the life of their relationship. 
Alto
Alto announced the appointment of Scott Harrigan as CEO of Alto Securities and Oliver Plattner as Chief Product and Technology Officer. Before joining Alto, Harrigan was previously the CEO of Securitize Markets where he launched a leading platform in the digital asset security industry. There, his main focus was on  providing investors with access to alternative investments and providing issuers with an all-in-one digital solution to raise capital and offer shareholder liquidity. With more than 20 years of experience, Plattner joins Alto from a distinguished background. His most recent position was Chief Product Officer at ALT, a platform specializing in alternative asset transactions, initially focusing on investment-grade trading cards.
Ategenos Capital
Ategenos Capital announced they have received approval from the Securities and Exchange Commission to be a registered investment adviser. Ategenos will now offer discretionary investment advisory solutions under the oversight of co-Chief Investment Officers Jeff Raupp, CFA, and Amy Magnotta, CFA. The suite of investment solutions will be distributed to insurance and independent broker-dealer financial advisors as well as registered investment advisors through the Envestnet platform. Ategenos will offer investment solutions focused on both the mass affluent and affluent markets, beginning with their Ategenos Portfolios ($10,000 minimum), which are model portfolios utilizing third-party ETFs and mutual funds and their Ategenos Access Portfolios ($500,000 minimum), a discretionary UMA model solution utilizing third-party SMAs and ETFs. These investment solutions will be co-managed by Jeff Raupp and Amy Magnotta.
Devexperts
Devexperts announced the launch of DXtrade XT Mobile, a new fully functional mobile app for its DXtrade platform, that will offer retail investors a more user-friendly way to trade and gain market share. The app – which is available in all online stores – is a fully customizable, white-label solution for brokers offering stocks, options, futures, mutual funds, and bonds. The new mobile function was designed for trading on the go with real-time portfolio monitoring, market data streaming, risk management, and news.
Future Proof
Future Proof Festival announced the return of the Future Proof Fintech Demo Drop, a unique opportunity for fintech innovators to present and display the newest and most innovative technology platforms and tools to thousands of the fastest-growing financial advisors live from the event. Seven selected fintech companies, who submit an application, will be given the opportunity to demo live in front of an audience of thousands of financial advisors, asset managers, venture and private equity investors, and the media. In addition, each presentation will have its audio and video professionally recorded, edited, and published to the Future Proof YouTube channel for digital distribution to more than 200,000 financial services professionals. There's no bigger stage for fintech companies building wealthtech and advisor tech solutions to unveil their tools and technologies. 
Hexure
Hexure announced an integration between its sales automation platform, FireLight, and Annuities Genius, an insurtech annuities decision-making platform offering a user experience to streamline the sales and compliance process. With this new partnership, users of Annuities Genius and FireLight will be able to streamline the quote-to-apply process by enabling Annuities Genius products to flow directly into FireLight for electronic submission to carriers. With this integration, advisors can save time and decrease errors by reducing duplicate data entry. Plus, this integration will enhance the overall purchasing experience for customers by digitizing the entire process.
Holistiplan
Holistiplan, a tax planning technology solution for financial professionals, today announced that their advisor client base has surpassed 20,000 users – marking a major milestone in a tax planning movement that aims to bring comprehensive financial planning tools first to advisors and then to families everywhere. 
ProNVest
ProNvest, a WealthTech solution specializing in personalized services for workplace retirement plan participants, has rebranded as Future Capital. This name change reflects the firm's focus on empowering advisors and investors with advanced digital tools, customized 401(k) managed account solutions, and essential personalized guidance to make well-informed decisions regarding their retirement assets. Future Capital equips financial advisors with the tools to effectively engage participants on a large scale through personalized coaching and education services within a goals-based framework. 
Sanctuary Wealth
Sanctuary announced the launch of an enhanced version of its Haven platform, the firm's proprietary, fully integrated advisor workstation that will elevate the advisor experience by driving efficiencies, improving client service and ultimately accelerating advisor growth. The platform has been completely revamped to reflect advisor feedback, add functionality and take advantage of the latest digital technology. Haven was designed as a comprehensive platform to empower advisors by fostering community and connections, while providing resources, analytics and training, all in one centralized location. With Haven, advisors gain access to a robust set of tools and resources that will revolutionize their operations and drive productivity, allowing them more time to build deeper relationships with clients and prospects. It is also the gateway to all home office activity and information, including practice management-related content, training materials and best-practices white papers.  
Shaping Wealth
Shaping Wealth announced the expansion of its Outsourced Chief Behavioral Officer (OCBO) learning and development platform to include free access to weekly, monthly, and quarterly content resources. The subscription-based OCBO program delivers users a steady flow of applied behavioral insights and tools that are both easy to understand and easy to share with clients. Now, select content resources will be available free of charge through the proprietary dashboard. 
---