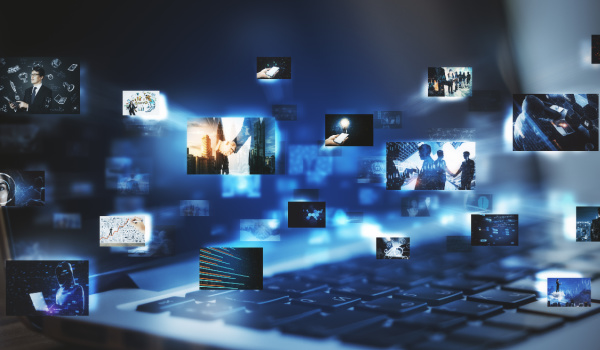 ---
Images generally capture the eye faster than text, so a bold visual can get your prospect to read your headline and increase clicks to your content. An effective image can also maintain interest, support your message, and break up text on the page. This has become increasingly important as more content gets consumed on a mobile device these days.
In this article, the marketing experts at TIFIN Wealth provide five easy best practices to help you deploy images that will drive clicks and engagement with your content. Consider deploying some of these ideas in your newsletters, social media or blog posts.
1.  Make it Bright (But Consistent)
Bright colors pop and are more likely to garner attention. However, it's essential to ensure your visuals fit your advisory firm's branding – even if that means using images that feature rich pastels. Consistency is crucial, so your clients and prospects recognize you in the crowd.
2.  Mirror Your Audience
Your audience is more likely to click on an image if they can relate to it or see themselves in it. So, try to select or create pictures that feature your target market, such as retirees, Millennials, families, etc.
Bonus Tip: You can find free stock photos on Pexels and Unsplash. Not finding what you need? Consider a subscription to iStock or another stock photo platform where you may download a certain number of images per month depending on your subscription level.
3.  Be Accurate
Consider how jarring it could be to a knowledgeable reader if you post a piece about the Indian economy and post a picture of a city in Brazil. Make sure you know what you're posting and that it aligns with your content.
Bonus Tip: Make sure you have the rights to each image you use. Many images are protected by copyright. Stock photo platforms generally have information on acceptable use.
4.  Be Unique
Your prospects probably see the same stock images over and over again. So, try to make your visuals unique to encourage clicks. Of course, the best way to do that is to take your own photos. But, most of us don't have the time, know-how, or equipment to do so. One idea is to select pictures further down the search results page when you look for images. That way, other creators are less likely to use them. You can also use filters and other tools that can make a visual seem more interesting and branded, so don't shy away from putting your own mark on images which can be done for free and even if you have limited technical experience through platforms like Canva.
5.  Consider Accessibility
Did you know that adding alternative text to photos through your chosen content management system is a key way to improve your web accessibility for people who are visually impaired? Visually impaired people dependent on screen readers will be read an "alt attribute" to better understand an on-page image. The other benefit is that adding alt text means it will be displayed if an image file cannot be loaded. It can also help your search engine optimization (SEO), which makes you more discoverable on the web.
Getting Started
In the end don't stress too much, remembering a simple image is still better than no image at all. You can even measure your impact by doing an A/B test with different images as you work to refine your strategy.
Recognize the importance of marketing in your practice, but simply don't have the time? Talk to TIFIN Clout, we're happy to help you automate your digital marketing – or even create bespoke content on your behalf.
---