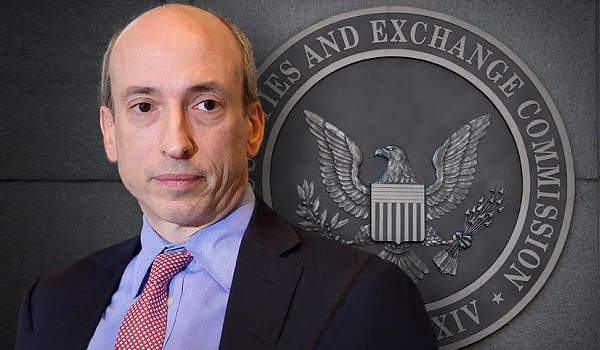 ---
PUBLISHER'S NOTE: The following is an op-ed offered by John Sarson of Sarson Funds and should not be considered to reflect the viewpoints of Digital Wealth News or it's ownership.  
---
By John Sarson
US Congressman, Warren Davidson, has officially filed legislation that would restructure the US Securities and Exchange Commission (SEC) and fire its chair, Gary Gensler. Moreover, in a recent Twitter post, Davidson called Gensler a "tyrannical chairman" from whom Congress must protect the markets.
Gensler's Fumble
The end of Gary Gensler's 'Reign of Terror' at the SEC is upon us. Relief is in sight, and hopefully so are the chances for effective crypto regulation. This change comes too late for many. It's too late for the clients of FTX, Celsius, and Blockfi, and too late for investors in LUNA, Iron Finance, OlympusDAO, and UST. As Gary himself pointed out last week: "Hucksters, Fraudsters and Scam Artists" ran rampant during his reign. Not exactly something I'd be boasting about if all of this happened under my regulatory watch while lunching with SBF, attending speaking conferences in the Bahamas, and spending agency resources extracting fines from Kim Kardashian. Chair Gensler is right that people were hurt by crypto, but his response, which was to fine and sue companies that actively sought his office's advice on how to come into compliance, is widely viewed as hurting US companies seeking to be regulated and has served only to push the crypto industry offshore. Read on to see how we got here.
The Crypto-Currency Act of 2020
As Gary Gensler took control of the SEC as Chairman in April 2021, there was already a deep understanding in Congress and at the SEC as to how crypto should be regulated to protect investors. "The Crypto-Currency Act of 2020" sponsored by Arizona republican Paul Gosar, had already been circulated in Washington DC (you can read about this bill on the Sarson Funds website, we worked to help support the legislation) and SEC board member Hester Pierce had already been crowned "Crypto Mom" by her legions of supporters. The industry was starting to agree on the need for several existing regulatory agencies to be involved to adequately regulate the emerging industry, the SEC for securities-like tokens, the CFTC for commodities-like tokens, and FinCen for cash-like tokens. Congress, the CFTC, and FinCen then deferred to the SEC to see if this power-sharing arrangement would be a good path forward for the country.
Greedy Gensler and the SEC
In the early days, Gary Gensler's most damaging contribution to the crypto regulation conversation was his unwillingness to provide guidance. Despite being recorded as previously saying that many cryptocurrencies were not securities, as the head of the SEC he refused to provide any clarity around this classification. When crypto exchanges like Coinbase came with questions on how to comply with securities regulations, they were not answered, and instead were fined. How many times did Coinbase ask for guidance? According to their recent twitter post, 30 times!!!
The SEC by its nature, is not structured to manage a commodity. Companies and commodities must be regulated differently, something that Gary Gensler understood and even taught during his time at MIT as a blockchain professor, but then failed to put into practice when he was put in a position to create a novel regulatory framework.
The only conclusion that I can reach for this failure is that doing so would place large portions of the cryptocurrency market under the regulatory authority of the CFTC and away from the SEC, something that Gary Gensler was unwilling to do.
Regulation by Enforcement and the Destruction of an Agency
Gary Gensler's tenure at the SEC will be rightfully blamed for retarding the growth of the crypto industry in the United States. If that was the agency's goal, which it may well have been, history would be kind to it and to Gary Gensler. If the agency's goal was in fact to provide investor protection and effective regulation, there is little denying that they have done a terrible job.
Investor losses under Gary's watch reach well into the tens of billions, and the affected US investors number in the tens of millions of US citizens.
The SEC always had two tools at its disposal. The first choice for the SEC was always negotiation with an offending company. It had the ability and a great track record of extracting a fine or penalty from an organization to change their behavior going forward.
The restitution payment would sometimes go towards compensating victims that suffered damage or funding the SEC's operations. Historically, we recognize these as payments made by firms that 'admit no wrongdoing,' but agree to make a restitution payment and change corporate practices going forward. The other tool at the disposal of the SEC is to take legal action against an offending company. Before Gary Gensler, this path was rarely, if ever, chosen by a company, as it could lead to the complete destruction of business. Nor was it often preferred by the SEC since it was long, costly and victory was not guaranteed. Also, as the trial progresses over years, it does not necessarily halt the offending behavior.
Legal action was clearly a last resort. However, the current belief in the crypto industry after examples such as Blockfi paying a $100m fine and then continuing to be persecuted by the SEC, is that paying the SEC exorbitant fines does not clear a regulatory path for your continued business operations, so why pay them? That change in sentiment has caused the SEC to lose its overall effectiveness and is the reason why Congress must now recall and restructure the agency, certainly without 'Greedy Gensler' at the helm moving forward.
---
Disclosures: Not investment advice. The Author, Sarson Funds, Inc. and its affiliated managers may hold positions in the projects mentioned. Talk with your financial advisor before making any investment decisions or have them contact Sarson Funds directly at [email protected]