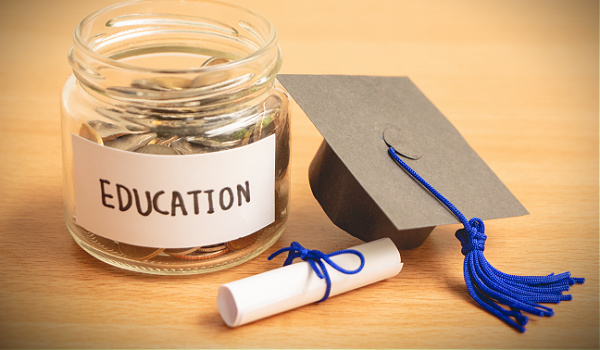 ---
Financial literacy, which benefits from financial education, directly correlates to making sound financial decisions that help one manage and grow financial assets confidently.
There can be no doubt that understanding how to select suitable loans, credit cards, and investment options appropriate for one's needs is utterly essential to financial stability. Financial literacy also helps individuals understand how to save for a down payment on a house, pay for college expenses, save for retirement, and meet other short and long-term financial goals. But financial literacy must also include inflation, blockchain, cryptocurrency, financial markets, and more since these topics impact our world today.
It's no secret to many of us in the industry that the United States needs to do a better job of educating our youth on financial topics. A lack of financial literacy often leads to being financially challenged in adulthood.
Today, only eighteen states require a course in financial education to graduate from high school.   You'll notice that 5 of the 6 most populated states – New York, California, Texas, Pennsyslvania & Illinois, are missing from this list (Florida is in the list, happy to see)- as is our own state here at Digital Wealth News –Montana:
Alabama (existing)
*Florida (starting in 2027)
*Georgia (starting in 2025)
Iowa (existing)
Kansas (existing)
*Michigan (starting in 2028)
Mississippi (existing)
Missouri (existing)
Nebraska (starting in 2024)
New Hampshire (existing)
North Carolina (existing)
Ohio (starting in 2025)
Rhode Island (starting in 2024)
*South Carolina (TBD)
Tennessee (existing)
Utah (existing)
Virginia (existing)
West Virginia (starting for the 2023-24 school year)
Source- Next Gen Personal Finance
A recent review by Uplift Legal Funding identified the most financially challenged states in America. Only two states listed above have some financial education already implemented in their schools- Alabama and Utah – but yet the states still
Their review analyzed six factors relating to the personal finances of each state and scored each one out of 10 to create an Index score for all 50 states. Included in the scoring were factors such as household debt-to-income ratio, ability to save for retirement and emergencies, bankruptcy rate, and other financial considerations.
The data used in the review was obtained from the U.S. Bureau of Economic Analysis (BEA), the Federal Reserve System, and Google Keyword Planner (Google searches by IP addresses located in each state) was used in creating a Money Management Index Score for all 50 states. Here are the ten most financially challenged states in America: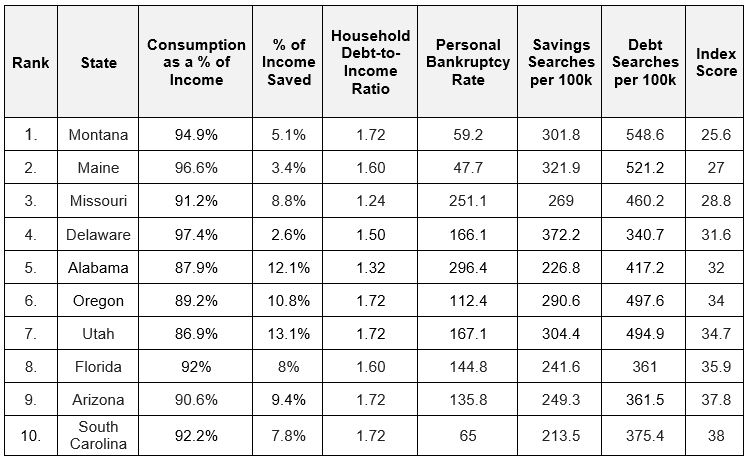 Source: Digital Journal
The National Financial Educators Council has identified problems that, despite having financial education courses in school, can still undermine results:
Few Require Testing or Evaluation. Most states with personal finance education mandates do not require testing or evaluation, so educational success cannot be quantified.
Inadequate Curriculum Lessons. In many states, mandated lessons do not align with national standards, and represent a random collection of topics rather than thoughtfully-designed lesson plans.
Curriculum Quality. The materials used to teach are often subpar in educational value, and promote financial products and government organization agendas. Many simply provide teachers a list of links to random resources.
Access. The materials are often difficult for educators to locate.
Not a Stand-alone Class. The states neither mandate when the class is taught nor require stand-alone testing. Thus implementation is at risk and many students are likely to miss out on the learning.
No Educator Training. There is no training provided or mandated for teachers to teach this subject
We must work toward accurate, timely, and non-biased financial literacy education initiatives at the state level since the U.S. government doesn't mandate financial education. This movement will require state legislation, approved financial literacy modules, and testing to help ensure that our youth enter adulthood with tools that can help them be financially confident throughout their adult lives.
---