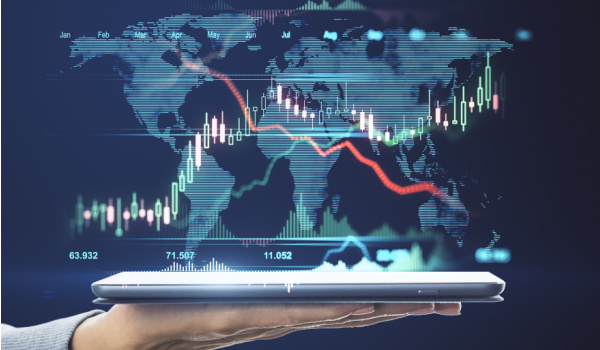 ---
The SEC has revealed it uses AI tools for its enforcement activities (who knew, right?).
State Street has a new liquidity offering.
Deloitte's "romance" with the cryptospace continued.
QuickBooks is back (in the cloud this time).
Plus, what do customers really want?
And tenancy document fraud is fading thanks to an AI-driven solution.
This is your week in digital wealth!
---
WealthTech, RegTech, Regulatory, and Treasury
TS Imagine/eflow
TS Imagine, the premier cloud trading solutions firm, partnered with eflow, a boutique RegTech firm.
eflows' solutions will integrate with TS Imagine's Order-Execution-Management-System (OEMS) across all trading instrument types.
At a Senate oversight hearing, SEC Chairman Gary Gensler hinted that the regulator had deployed AI tools for market surveillance.
Gensler didn't give any specifics on the types of tools deployed.
Intercontinental Exchange (ICE)
ICE, the leading market infrastructure provider, unveiled plans to create a transatlantic data service ("ICE Global Network") connecting the United States and Europe.
The solution will merge the Illinois, Aurora, and European wireless services.
State Street Corporation/LoopFX
State Street, the financial behemoth, revealed its partnership with liquidity provider LoopFX, which is available via FX Connect.
Crypto, Blockchain, and Digital Assets
Deloitte/Bitwave
"Big Four" accounting firm Deloitte revealed its partnership with Bitwave, a premier digital asset accounting software firm.
The collaboration integrates Deloitte's processes and services with Bitwave's enterprise infrastructure.
Crypto payment company BitPay revealed its support for PayPal's stablecoin (PYUSD).
Ecosystem users can pay merchants with any compatible Ethereum wallet.
Citi Securities Services/BondbloX Bond Exchange (BBX)
Citi Securities Services, a subsidiary of the banking behemoth, unveiled its custodianship status of the BondbloX Bond Exchange (BBX).
BBX is the world's first fractionalized bond exchange driven by a distributed ledger technology (DLT) engine.
FinTech, Personal Finance, and Apps
Intuit, the firm that gave the world Mailchimp, Credit Karma, TurboTax, and QuickBooks, unveiled the SME-focused iteration of the accounting platform.
"QuickBooks Money" is quite the deal. It comes subscription-free and has personalized features, including invoicing and payments.
Microsoft/Xbox/Barclays/Mastercard
Gaming enthusiasts now have extended flexibility with a credit card that has gaming-related and everyday uses ("Xbox Mastercard").
Powered by Barclays US Consumer Bank, the "Xbox Mastercard" will be available to Xbox Insiders from September 21st and across America in 2024.
Accenture/Workday
Services giant Accenture revealed the expansion of its partnership with boutique HR solutions firm Workday.
The cooperation will enable the development of automated and data-driven corporate finance solutions.
Broadridge Financial Solutions/Salesforce
Corporate-focused FinTech company Broadridge revealed its partnership with cloud software giant Salesforce.
The cooperation improves business conditions for wealth management firms via several product integrations.
In related news, Salesforce revealed the additions of several ESG features to its Net Zero Cloud sustainability management solution, including the EU's Corporate Sustainable Reporting Directive (CSRD).
Banking, Payments, and Infrastructure
Mastercard/Paysend/Visa/CurrencyCloud
Across the pond, payment behemoth Mastercard revealed its partnership with Paysend, a leading UK FinTech firm.
The cooperation has enabled the development of a seamless SME-focused open banking platform ("Open Payment Network").
In related news, Visa unveiled its nontraditional FX solution ("Visa Cross-Border Solutions"). "Visa Cross-Border Solutions" was developed in partnership with UK-based CurrencyCloud.
Temenos/Varo Bank, N.A
Leading digital bank Varo revealed the extension of its partnership with Temenos, a premier cloud banking software provider.
The cooperation focuses on the scalability and flexibility of Temenos' solutions.
Opus, a leading payment FinTech company, revealed its readiness to integrate banks and financial institutions into the FedNow real-time payments ecosystem and was an early bird in FedNow's pilot program.
IBM Institute for Business Value (IBV)
According to a study by the IBM Institute for Business Value (IBV), managers are missing out on customer expectations.
70% of banking executives consider embedded finance solutions as critical while 20% deliver solutions.
Customers still have conservative choices (80%). Savings is the go-to product.
16% want a fully digital experience, while 75% would welcome investment advice.
Nav Technologies, Inc.
Also, small-business-focused FinTech Nav unveiled its credit-building product ("Nav Prime").
"Nav Prime" is an addition to the FinTech's ecosystem and comes with its credit card.
REtech, InsurtTech and Investing
National Mortgage Insurance Corporation (National MI)/Calyx Software
National MI, a premier insurance firm, unveiled its integration with Calyx Software's loan origination system (LOS).
Key players can order mortgage insurance seamlessly without exiting National MI's ecosystem.
Insurance identification solutions firm Evident launched its AI-based product ("Evie").
"Evie" simplifies the workflows in the process, including documentation and reporting.
SecurityScorecard/Measured Analytics and Insurance
SecurityScorecard, a leading cybersecurity firm, and Measured Analytics, a boutique cyber insurance company, revealed their partnership.
The combination will enable incentives on cyber insurance premiums based on data-driven insights.
Leading RETech company Inhabit revealed the addition of document fraud detection capabilities to its platform ("ResMan").
Powered by a tenant screening ecosystem ("Snappt"), "ResMan" scans applicants' documents for authenticity determination and suspicious applications.
---